Social & Emotional Learning (SEL)
Making School About Connection
To create meaningful experiences and possibilities for students, let's begin by recognizing them as people and remaking schools and classrooms to value the human experience.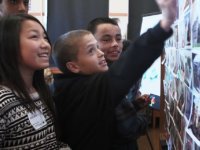 Traditionally, schools have not promoted human-centered relationships. With the exception of the primary years, students are expected to rush from class to class, searching for meaning in short periods of time allotted with each of their teachers. In this model, each course is meant to pack in as much content as possible while pausing only for exams which are supposed to determine how much a student "knows."
In the real world, meaning comes from relationships, from feelings of belonging, and from work that allows for exploration, self-expression, and self-examination. No one looking back on his or her school experience remembers a particularly poignant test. Instead, people remember the teacher who reached out to them at a vulnerable moment, the unit that changed the way they understand an issue, or the project that seemed impossible at first but then became something far beyond everyone's expectations.
Teaching and learning are incredibly complex and impossible to script. What we can do is commit ourselves to practices and structures that value our students as people with real human needs. By working to meet these needs and working to make schools more people-centered, we help transform potential experiences of alienation and disconnection into joyful examples of supportive community where young people can explore, take risks, and discover themselves.
There are many small and large ways for teachers to build deeper connections with students. Below are a few suggestions of approaches that have worked for me.
1. Check In With Students
The small moments before or after classes, during lunches, in the hallways, and at activity times are all opportunities for small conversations with students. Warm, genuine greetings and attempts to connect can have a large impact. At other times, teachers can take a moment to ask a student about a sick grandmother or find out if someone is still struggling with work that frustrated him or he the day before.
2. Create a Classroom of Respect
Classrooms based on a foundation of respect encourage people to be kind and the best versions of themselves. These behaviors happen because they are the right thing to do in a community that values people, not because an authority figure demands it. Work to establish a tone of shared respect where issues are dealt with through conversation and where the entire group feels invested in maintaining a positive classroom culture.
3. Be Present
Teachers' days are filled with interruptions. It is not always easy to abandon a large pile of work and listen deeply to a student who comes in during an unscheduled time. Yet moments like these are often the times when real connections are made and when people develop deeper, authentic understandings and relationships.
4. Host the Party
In the same way that party hosts should welcome and situate their guests, teachers should maintain an awareness of the experience of everyone in their classroom. Are people being excluded? Are there negative dynamics or interactions between certain students? What can be done to bring more students into the mainstream and alleviate feelings of marginalization?
5. Respond to Student Work With Kindness and Validation
Human-centered environments help people grow. Feedback for student work is an opportunity to validate effort and success while encouraging learners to grow and strengthen their skills. If the first message that students get about their work is what is wrong or how it is deficient, they are less likely to invest themselves in revision, and less likely to work hard in the future. If students hear what is interesting, special, or unique about their work, they will more likely be open to suggestions for improvement.
6. Make It Fun
Being in community is a joyful and challenging experience. Create rituals that help everyone laugh and be willing to pause the action to appreciate each other. Congratulate a class when they complete a large project. If there are two extra minutes at the end of class, let a student tell a joke to the group. Try ending each week by having a different student sing the class a song. Also, laugh at yourself -- it's the best way to break down barriers and share your own humanity.
Teaching is wonderful because it involves people. As much as I plan, I can never foresee the rewarding and challenging moments that will fill each day. By recognizing students as people and working to create schools and classrooms that value the human experience, we can create spaces for possibility and deeper meaning for students, for people, and for ourselves.
The six suggestions I've listed above are by no means the last word in humanizing the school experience. Please add your own ideas in the comments below.