Maker Education
Fostering Creativity With Makerspaces
The creative possibilities of a school makerspace will become obvious once you find the space, find the money, find the tools, and find the students.
I've always found a sense of peace in the creative process. It's a time when I feel like I don't have to stick with the rules in place for all the different parts of my life. That freedom helps me come up with some of my most creative ideas and exciting projects. This has been true my entire life. When I entered the classroom, I wanted to give my students as many chances as possible to be creative. Over the years, I've seen amazing projects from students who dared to take creative chances. Until very recently, I thought these creative opportunities were the best way to engage kids in this process. It wasn't until I dove into the maker movement that I realized how much more is possible.
I always come up with some big projects for my own students, but what about the rest of the building? I'd never been supported in larger school or district ideas, but this past year was different. With the support and challenge to do something for students outside of my classroom, I decided to go for it. After talking with some friends and our amazing media specialist, a makerspace in the library made the most sense.
Here are some tips and tricks for putting together a makerspace in your school, and some thoughts on how it can be beneficial to your students.
1. Find the Space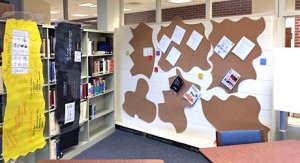 Photo Credit: Nick Provenzano
Before anything else, you need to have a space that will work for students and teachers. This space must be easily accessible to students. It should not be a classroom that's used by other teachers or locked up during the day. It needs to be a place where students can drop in before school, during lunch, after school, or even during the day if the teacher allows them to visit. For my school, the library made the most sense. We had a nice area that wasn't being used for much, and we could design an entire makerspace around it. Even when space is tough to come by in your building, the library can work because it should be the hub of learning, open all day, and already monitored by staff. All of these aspects are key in building a makerspace.
2. Find the Money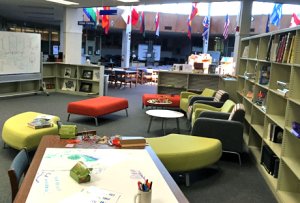 Photo Credit: Nick Provenzano
Once you've found the space, you'll need seed money. How much really depends on what you have to do for the space. For example, you might have appropriate furniture already on hand, or there might be school or district funds available for some aspects of this project. I highly recommend reaching out to every institution that awards grants. Write as many grant proposals as possible. Have students help write grant proposals. We were lucky enough to fund our makerspace with grant money, and we passed that model on by allowing students to write mini-grants to us for projects that they wanted to complete in the space.
If grants aren't an option, you can also try crowdfunding, a practice where you use a software tool to raise lots of small donations from your community. Here is a guide to raising money through crowdfunding.
3. Find the Tools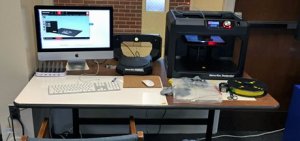 Photo Credit: Nick Provenzano
One of the things that we didn't want to do was buy tons of tools for the students and tell them, "Do something with these." We wanted the space to be filled with tools that students wanted. We wanted to seed the space with some tools to get the students thinking. We invested in a few things that have been popular in other makerspaces and ended up being used immediately.
a. Makerbot
There are many other 3D printers on the market, but I've been very pleased with Makerbot. They have great customer service and supported us with every question we had along the way. The students loved it as well and printed many personal designs using the printer. It was a good purchase for our space. The printer really gave students an extra option in stretching their creative muscles.
b. Ideapaint
We wanted to give our students as much room to design as possible, and Ideapaint is great for covering walls and letting students get creative. We covered a 95-square-foot portion of our wall in the paint and let the students use that area to design. It was nice to see them write out parts and think out designs. We also had a mobile dry-erase board that students were using before the painting was done, designing a blimp drone. Sometimes, students just need to be given the space to be creative, and amazing things will happen.
c. Makey Makey
Makey Makey is a great tool to get kids thinking about programming. Using everyday items, students can program a musical instrument or create a video game controller. This tool didn't arrive until near the end of the year, so we didn't see students use that much, but it interested them, and I expect to see a bigger use in the fall.
d. Chromebooks
The big purchase for the space were Chromebooks. We're a GAFE school and wanted to keep everything web-based so that students could access their work from home. They can use Code.org, TinkerCad.com, and other web-based sites to explore the world of STEAM.
You'll find that every school is different, and the tools you purchase for a space might not be needed in every building. It's important to listen to what students are interested in doing, and then using that information to outfit the makerspace.
4. Find the Students
There are students that have been waiting for a space like this our school. The minute word got out that a makerspace was going in, those students started hanging out in the library. Use the school newspaper, put something on the announcements, hang fliers in the hallway, visit classrooms, and do anything else you can think of to get students talking about the space. They're the ones who will make or break the space. Promoting the creativity aspect will make a difference. A makerspace is a great place to get away from the standardized testing and try something new and exciting. Maker contests are another way to bring kids in. We hope to run one per semester. Once the students populate the space, the rest will take care of itself.
The Value of Creativity
Many people have asked me why makerspaces are important. It can be tough to explain the value of creativity to some people who see only data, so I tell them about an email I received from a student. I'd taken my students to visit our space before it was completed and show them the possibilities. Later that afternoon, I received an email from a freshman girl who wanted to use the space to design apps and possibly 3D print some things. She said that she wasn't sure exactly what she wanted to do, but she was excited to get in there and try. This interaction is exactly why schools need makerspaces. When a young girl is excited to try new things in coding and 3D design, that's a huge deal. We need to encourage STEAM across the board for all students, and makerspaces can be an ideal entryway for students who might not be natural to these fields of study.
Makerspaces can be the spot that encourages a whole new generation of creative minds to explore and solve the big problems. It gives students a chance to see what they can do when they aren't limited by four multiple choice answers. Creativity is a valuable resource -- and a makerspace is the perfect tool to enhance and harness it.