Student Engagement
5-Minute Film Festival: Inspirational Teachers
What inspired you to become an educator? For many people, an exceptional teacher can inspired a lifelong interest in education. This video playlist collects stories of inspiring educators across the country.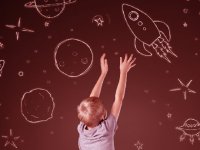 People have so many different reasons to join the education field -- what inspired you to become an educator? Perhaps you feel a desire to give back to the community, or you relish the intellectual challenge, or perhaps the simple reward of seeing a student smile every day is your motivation. But I suspect that for many people, an encounter with an inspiring educator might have been the spark that led to this career path. Read on for more video profiles of inspiring teachers across the country and their stories.
Video Playlist: Inspirational Teachers
Watch the first video below, or watch the whole playlist on YouTube.
video
More Resources on Inspiring Teachers
For more stories about educators that go above and beyond the call of duty, check out these additional articles!