Curriculum Planning
5-Minute Film Festival: 9 Videos for Exploring the Universe on Space Day
Space Day is celebrated in early May each year. For teachers and students interested in the universe, VideoAmy has collected some of the most fun videos and resources to bring astronomy into the classroom.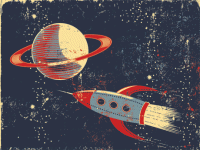 Space... the final frontier... and also an amazingly cool topic to engage kids in science, at any level! Early May is usually when Space Day is celebrated. Schools, museums, and educational organizations around the country will be participating by doing space-related projects and hosting events. I've gathered a playlist of universe and space-themed videos and resources for you to host your own Space Day -- what else will you do to explore the vast reaches of the universe from within your classroom walls?
Video Playlist: Exploring the Universe and Space
Watch the first video below, or watch the whole playlist on YouTube.
video
More Resources to Learn About the Universe and Space
If you're starry-eyed and ready to start exploring the outer reaches now, there are tons of resources online. Lots of space-themed teaching resources look pretty old-school, but they've got good materials if you dig a bit. I hope these links and videos inspire you to take your kids on an intergalactic journey!