STEM
5-Minute Film Festival: 8 Videos to Encourage Girls in STEM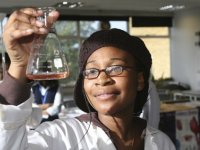 There are some wonderful discussions in the Edutopia community right now about girls and STEM education -- have a peek at Women (and Girls) in STEM or Are We Getting Too Aggressive Promoting STEM to Girls? The fact is, women still make up less than a quarter of the STEM workforce in the United States, according to the U.S. Department of Commerce. The good news is that there are some amazing people, organizations, and companies working to remedy this. I've collected some videos to ignite your imagination about what girls can do in science, technology, engineering, and math -- when given opportunities and encouragement.
Video Playlist: Encouraging Girls in STEM
Watch the first video below, or watch the whole playlist on YouTube.
video
More Resources on Keeping Girls Engaged in STEM
To paraphrase one of the articles below, supplying feminized traditional STEM toys to appeal to girls (hello, Lego Friends?) is not enough. Adults need to encourage girls to be curious and to tinker, find female role models in STEM careers, and offer chances to participate in programs or clubs that focus on STEM. Looking for ideas for other ways to motivate the girls in your classroom, your family, or your community to dig into STEM? Start by checking out the resources below, which include tip sheets, informational articles, and links to organizations who are dedicated to closing the persistent gender gap in STEM.