5-Minute Film Festival
5-Minute Film Festival: Design Thinking in Schools
August 17, 2012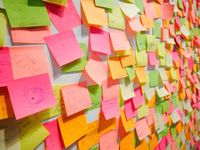 Though I've long been intrigued by the idea of design thinking, it was the recent launch of a "Design Thinking for Educators" workshop here at Edutopia that compelled me to learn more about it. What I found is that design thinking can be a powerful tool for problem-solving in any discipline -- and what's more, it's hands-on, creative, collaborative, optimistic, and fun.
Since it's a mindset more than anything else, you'll find a variety of explanations and ways of implementing it out on the Web. I've gathered a collection of videos and resources about design thinking in schools so you can see how other educators are using it.
Design Thinking for Educators
This moving video by design thinking pioneer IDEO tells the story of one teacher's evolution from skeptic to believer in the value of design thinking for educators. Full disclosure: IDEO is co-producing the workshop with Edutopia. They also run the excellent Design Thinking for Educators website, where you can find lots more videos. (Note: I've embedded this one as an extra here since it's not available on YouTube.)
Watch the first video below, or watch the whole playlist on YouTube.
More Design Thinking Resources
I know I'm ready to bust out the sticky notes -- are you? Check out the links below for more good stuff about design thinking for education. And if you want to go deeper, you can still register to join the workshop, though we're halfway through. There will definitely be resources to check out after it's over to keep the conversation going.