Student Engagement
6 Engaging End-of-Year Projects
Let your students choose one of these creative, hands-on projects to show their learning.
May 21, 2012
Updated May 19, 2015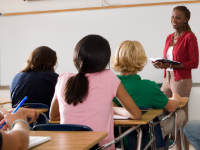 I don't know about your students, but so many of mine, who have a case of senioritis, were done after state testing. The well had run dry, no blood from a turnip—all those sayings applied. With just a few precious weeks left in the school year, what do you do to keep the kids energized and on board with learning?
One thing I knew for sure when it came to my high school students: They had to feel as if they weren't actually doing work. Yep, I had to trick them.
Whatever you plan, especially for secondary students, three elements are essential: choices, creativity, and constructing. In other words, as long as you present options and then have them create something that includes using their imaginations, you really can't go wrong. In the project ideas below, I list the cognitive demands.
6 Worthwhile Projects
1. Show what you know: Give students an opportunity to teach the rest of the class something, like origami, a new app, or a martial arts self-defense move (design, construct, apply).
2. On-campus field trips: Take students outside to write observational notes on what they see through the eyes of a scientist, historical figure, artist, or character from a book or film (discover, examine, report).
Or journey to the library for a scavenger hunt. There are many online that you can revise to fit your content and/or your students' interests (locate, investigate, compile).
One more idea: Join another class and have a poetry slam, or a science or math mini-fair. This gives students a chance to share a project or product with a different audience. Consider doing this in a neutral zone like the cafeteria or library (discover, demonstrate, evaluate).
3. Become an expert: Have students take ownership of a planet, song, decade, career, author, country, scientist, medical breakthrough, etc. With this activity, students become experts on whatever they choose and then present it to the class or in small groups. The product can be, for example, a mini-book, PowerPoint, or iMovie (select, prepare, research, design).
4. Craft a new ending: Students take their favorite book, speech, short story, poem, or historical event and write a new ending. Ask them to also include rationale for their ending. They can also illustrate it (infer, devise, conclude, reflect).
5. Create a commercial: Host a class competition where students cast a vote, and give an award to the team that produces the most clever, creative 30-second ad. Decide first as a class on the product to be pitched (plan, design, critique).
6. Portfolio showcase: Students compile a collection of their best work from the school year or last semester, and include explanations for their choices. This can be done in hard copy or digitally, and can include illustrations and photos (select, assess, categorize, prepare).
Whatever you decide to do with the last handful of instructional days, stay flexible and open to taking the journey with your students.