Diversity
6 Edtech Tools for Black History Month
Tools like More Than a Mapp and Digital Backpack Classroom let students access archives, galleries, and databases during and beyond Black History Month.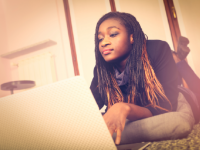 In today's classroom, it's important to embrace diversity and technology. Teaching Black History Month this February with rich activities will help you accomplish these goals. You can teach Black History as American History and World History simultaneously. This will enable you to cross multiple disciplines and meet Common Core standards. Here are some suggestions to help you engage all of your learners with differentiated instruction. Most importantly, these suggestions are all technology-based so that you can keep pace with the demands of the 21st-century student.
For primary documents, lesson plans, and curriculum ideas, these sites offer excellent resources:
If you're trying to figure out ways for you and your students to use tablets, laptops, and smart boards without sacrificing all of your planning hours, here are a few of my favorite edtech tools that will inspire your students all month long and beyond.
1. History All Around Us
More Than a Mapp offers a free iPhone/iPod app that allows users to discover and document the African American history embedded in the places where we live. The location-enabled app highlights sites of significance to Black history in your city through a map interface like Google Maps or Google Earth. Users can explore historic locations through a rich multimedia experience that offers directions and links to audio, texts, and videos of relevance to the selected location. You can even add locations to the map that will be available to all users once verified as accurate. Also included are an educator's guide and a link to the companion film More Than a Month, which explores one man's goal to expand the appreciation of Black history. Recommended for grades 4-12.
2. An Interactive Library
Books That Grow offers a diverse digital library with texts that can be read at three to five levels of difficulty. Students can alter the text level while reading, or you can assign each student a specific level. The types of texts include classic fiction, primary source documents, biographies, myth, and folklore, as well as original science and history books. Some titles are accompanied by teacher guides. Titles of particular interest include:
Letter from a Birmingham Jail
A History of Hip-Hop
The Truth About Race: It's Not What it Looks Like
What to the Slave is the Fourth of July?
Biographies of Dr. Martin Luther King, Jr., Malcolm X, Harriet Tubman, Frederick Douglass, and Jackie Robinson are also available. Registration is free. Recommended for grades K-12.
3. Infamous Voyages
The TransAtlantic Slave Trade Database offers free information for more than 35,000 slave voyages that transported over 12 million Africans to the Americas between the 16th and 19th centuries. The database offers a chance to investigate the entire breadth of slavery as experienced throughout the world in Europe, Africa, Brazil, the Caribbean, and the Americas. There are interactive maps, customizable charts and graphs, and an African names database that tracks where Africans landed or died at sea. Lesson plans and guides are also available. Recommended for grades 6-12.
4. America's Art Gallery
The Smithsonian American Art Museum allows you to create podcasts with your students that will help you foster multiple literacies. They can record essays, poems, and other expressions to one of the artworks in the museum's vast collection. The site includes step-by-step instructions on how to design your project and provides completed podcasts from elementary, middle, and high school students. There are literally thousands of images that you can explore for free. Two past exhibitions offering images produced by Black artists and about Black subjects are "African American Masters: Highlights from the Smithsonian American Art Museum" and "African American Art: Harlem Renaissance, Civil Rights Era, and Beyond." Recommended for grades 4-12.
5. The National Underground Railroad Freedom Center
The Digital Backpack Classroom is a learning experience designed to allow participants to explore and analyze the relationship between the transatlantic slave trade, the Underground Railroad, and modern-day slavery. The center offers a catalog of free iTunes downloads of student-created videos, gallery talks, panels from scholars, artists, award-winning authors, and archives from the center's internet radio station. For additional ideas, the center offers "traveling trunks" for $50 that provide lesson plans and curriculum for three themed-units:
Freedom Suitcase: Civil Rights Over Time
The Price of Freedom: The Civil War
Freedom Box: The Underground Railroad
Recommended for grades 2-12.
6. Free Pass to the National Archives
Docs Teach offers free, self-guided activities for thousands of primary documents from the National Archives. Each activity was created by educators and provides teacher tools, tips, and guiding questions for every document. You can explore multiple periods ranging from the American Revolution to the present. You can even create and upload your own activities. Free registration provides access to the complete archives. Recommended for grades 6-12.
These are just a few of the countless edtech tools that can be useful during Black History Month. Try them all, but don't be shy about searching for more. Document your students' experiences and share what activities really kept them engaged.