Social & Emotional Learning (SEL)
Creating More Compassionate Classrooms
I had been trying to start class for several minutes. Our normal post-weekend check-in had failed. Instead of hearing updates from each other, students were having side conversations about the school dance. Once I regained everyone's attention, two girls walked in late and the whole class stopped to watch as they gave each other a consoling hug before they moved toward their seats.
I was losing patience. This was not the strong start I had envisioned for the first in-class workday of our project. "Who is ready to share the main question for their project?" I asked in an attempt to refocus everyone and manage the energy emanating from 33 frenetic 15- and 16-year-olds.
The number of decisions that teachers have to make in the course of a teaching day, or even during a ten-minute period, is enormous. Like so many other teachers, I feel stretched to my max during a school day, so the thought of setting another goal feels daunting. Yet I wonder if, in the midst of the controlled chaos of classrooms, it is possible to increase compassion.
At Science Leadership Academy, where I teach, we talk of creating a school-wide Ethic of Care (as described by Nel Noddings). As I continually investigate new ways to help more students find success in their work and confidence in their abilities, I become increasingly convinced that I must develop a stronger ethic of compassion within the daily, overflowing moments of a class period.
What Can Compassion Mean in a Classroom?
A compassionate classroom environment is not an environment that lacks academic rigor. In this environment, students are understood to be complex people. Here, young people feel that they belong. Here, they meet challenge and encouragement while we ask them to be the best versions of themselves. Compassionate classrooms are places where student voices and student ideas are prioritized.
I hope that by identifying and practicing these simple structural and pedagogical reminders, I will be able to steadily improve my ethic of compassion:
1. Remembering to Check In
I get so excited about content and projects that it's easy for me to forget how my students' minds are already busy with thoughts that don't relate to my class (imagine that!) when they arrive in the classroom. I find that small gestures can have a large effect on the energy and mood of a group. Sometimes this means checking in with individual students via short conversations at the door, or starting class by asking everyone how they are and having volunteers share bits of news. It gives us a short transition time together where we first reconnect as individuals and then switch to content.
2. Informal Conferencing
Interacting with students individually and in smaller groups during class shifts the dynamic between teacher and students. I want to remember to regularly spend portions of class time kneeling down next to students at their tables as we consult about their work. Too often I forget the importance and necessity of integrating these check-ins into our class time.
3. Increasing Personal Connections With Content
We all feel more engaged when topics relate to our lives. Some of my units allow students to make powerful connections. An example is a unit on Renaissance art that investigates issues of representation and then uses a similar framework to have students analyze modern day advertising. I am planning to find more ways to highlight these overt connections more frequently.
4. Asking Better Questions
Sometimes I will ask a student too general a question about the progress of a project, and their short, clipped affirmative response will end our conversation. At other times I remember to ask specific questions such as:
What is the main idea you are developing for your conclusion?
How are you analyzing that source?
What parts do you feel good about, and what are you struggling with?
When I ask the right questions, my connections with even the most reticent students get stronger.
5. Expressing Belief in Student Abilities
When my students and I are at our best, the work they create is powerful. I have learned that there is incredible value to setting high expectations while expressing confidence that students can succeed with tasks that may feel overwhelming. On a group project, I may remind a class, "This is challenging, but if you are working together and using your time wisely, you will be able to create something impressive."
6. Being Flexible and Accepting Failure When It Happens
When students run into problems that impede their progress, I want to remember to be flexible while maintaining a high standard. When students do not succeed, I want to remember to make it clear to them that while I had hoped for more, everyone messes up. I find that this balance of rigor and understanding is key to students feeling that they belong in a class.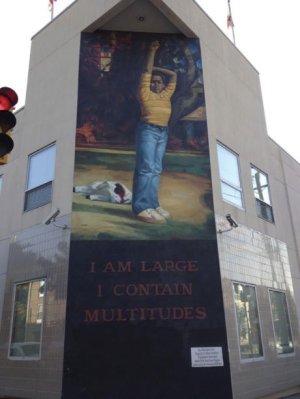 Songs of Selves
Caring about young people is a primary reason that adults choose to teach. Sadly, it can be very challenging to find ways of being a caring presence in the midst of jam-packed school days. If, as teachers, we plan strategically to increase compassion in our classrooms, more young people will grow up believing the important words of Walt Whitman in Song of Myself:
"I am large, I contain multitudes."
How have you made your classroom a more compassionate place?