Student Engagement
"Can't I Just Choose My Own Topic?"
By inviting her class to choose their own subjects for a historical reformers project, Sarah Cooper learned a lot about her students' interests and passions.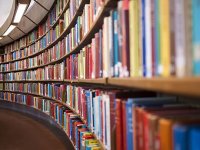 So many times as an English and history teacher, I've rushed students through the first step of the research process: choosing a topic. Then we can move on to the real work -- or so I've always thought.
Recently, however, students in my eighth grade history class started a project on American reformers in which the guiding question was: "What leads someone to step up and take action?" It seemed reasonable to ask students to think hard about who they wanted to study, given that they would be researching reformers with powerful opinions of their own.
So I tried an experiment. I asked students to spend two 43-minute periods in the library researching reformers before writing a pitch for their favorite ones.
This initial investment of time paid off in student engagement throughout the several weeks of the project. Along the way, it also addressed a number of Common Core standards, helping students to "answer a question . . . drawing on several sources" and "assess the credibility and accuracy" of databases and websites, without even realizing that they were learning these skills.
Step 1: Let's "Talk Through" a List of Reformers
At the beginning of the first library period, I talked through a list of about 50 reformers, some still alive today, with a brief description of each one. Here's an example:
As I mentioned each person, usually for under 10 seconds to keep interest high, students marked those they wanted to learn more about. A few times, I built someone up by saying, "This person is really crazy!" Later, several kids asked, "Who are the people you said were craziest again?" Carrie Nation headed the list, with several others close behind for their unorthodox tactics.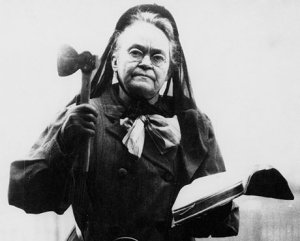 Photo credit: Wikipedia Commons
Eighth graders agreed that Carrie Nation was the craziest reformer.
Step 2: Research Reformers in the Library Before the Project Even Starts
During the remainder of the first period and all of the second in the library -- about 70 minutes total -- students researched at least six reformers by writing down two facts about each person from two good sources. I was torn about whether they should do a bibliography at this stage, but I decided to keep the early fun factor high by waiting until they were doing more formal research later.
For quality control, students started with either a book from our library's collection or a source from our subscription databases, such as:
Step 3: Make Your Best Case
Once students finished finding facts, they started their homework: "Give the reasons, as short or as long as you want, for your top three reformers." (Next time, I would ask for the top four, because some of the reformers were so popular that a few students didn't get any of their top three choices.) In each class, the best argument for a particular person won.
I was heartened to see that it wasn't always the strongest students who made the most impassioned arguments. The mild competition inspired some formerly reluctant writers to spend a half-page or more on paragraphs explaining their ideas.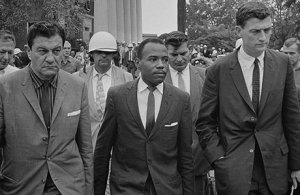 Photo credit: Wikipedia
James Meredith exercising his constitutional rights at the University of Mississippi.
The Results: More Passion, More Identity
In the past when I've taught English, we did a project in which students chose a poet and imitated his or her style. I've teased students that, if they're stuck, I bet I can find a writer who matches their personality: Jane Kenyon for a studious girl pondering the meaning of life, or Wilfred Owen for a boy who can't ingest enough documentaries about warfare.
This history project took my "matchmaking" one better, in that students were able to shape their learning by finding their own best match.
And they did own their people. A quiet, thoughtful girl chose Catholic journalist Dorothy Day, and a self-described libertarian boy picked ACLU founder Roger Baldwin. Along with a final paper on the reformer's tactics, students also played a clip from a song that reminded them of the reformer, making the entire process more personal.
As they presented, I found myself wondering which reformer I would choose, and who would have interested me in eighth grade. Jane Jacobs revitalizing neighborhood life in New York City? James Meredith desegregating the University of Mississippi? Elizabeth Cady Stanton agitating for women's suffrage?
Given the time to think and choose, which reformer would you pick?