Teaching Strategies
Exit Celebrating: 8 Epic Ideas for Ending the School Year
Give your students a year-end send-off that celebrates their learning. Ideas include Top 10 lists, party-themed exams, symbolic toasts, and heartfelt letters.
June 7, 2016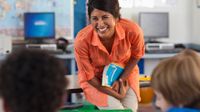 © Gabel Denims/500px
Our time is important. The kids that we teach are precious to us, and they need to know that our time together was worth it. So don't just let the year end. Celebrate learning, celebrate the moments you've had, and savor the time you have left together.
At the end of the race, we like to hear cheers, and when kids graduate, it's a climactic event. Really, the end of every school year should be climactic. It should be exciting. So, as teachers, we have to be very careful not to let the bell ring and have kids wondering what just happened. The end of the school year should be a time of review, reflection, and celebration. Here are eight ideas for making it epic.
1. Make a Top 10 List
Dave Burgess suggested having kids make their Top 10 list of what they had learned during the school year. Have kids reflect on their best learning experiences during their time with you. And then have an end-of-year fun party experience for sharing all of those Top 10 lists. (Think David Letterman.)
2. Host a "Celebration of Learning" Final Exam
Todd Finley told me about a college professor whose students took their final exam in a room filled with food, decorations, and the promise of a celebration. In classic professorial style, he conducted an experiment. The students in the celebratory class had higher test scores on their final exam. I know we often plan our party to be on a different day than the final exam, but if you think about it, students really are celebrating and learning when they're taking that final.
3. Don't Pack Up Too Soon
Angela Watson reminded me in a recent conversation that we don't need to take the decorations down too soon. It sends the wrong message. But when we do, we can let kids celebrate. Turn taking everything down into a fun event done as close to the last day as possible. (Think slam-dunk basketball.)
4. The Bottle of Dreams
This is the one that I'm working on this year, adapting from John Berray's original idea. John says:
I advertise my farewell address as a "do not miss" moment. I commandeer the last part of class. I bring in bottles of water, one for each student. I tell each student to grab a bottle and crack the lid but not to open it. Many guess that a toast is coming. . . and they're right!
I embellish the farewell address with thoughts and advice, and conclude it with challenges and requests. I recognize there's a good probability this might be the last time we ever speak, so it needs to be meaningful. The moment is bittersweet. Each year, I make small tweaks to how I do it, what I say, and what I request. Some years even make me tear up. Last year was one of them.
5. Compliments and Kindness
The most meaningful year-ending event happened in my daughter's fourth-grade class. Two weeks before school ended, each student's name was listed on the top of a separate sheet of paper. Each paper circled the class as the other students wrote genuine compliments. The teacher typed up the compliments on a piece of paper and put it in a clear plastic stand. The students then cut up the pictures of the year that had been placed on the wall throughout the year to embellish their personal memory. My daughter still has it (and she's in college).
6. Survey Your Students to Celebrate the Memories
Survey your students. (See 3 Ways of Getting Feedback to Improve Your Teaching.) Include a question about their greatest memories. Turn the answers into a word cloud and display it on the board during your final class celebration. You can also create your own Top 10 list from the answers (see above).
7. Write Your Students a Letter
Write each class a letter. Dr. Tony Kline told me that his students often save his class letters. One summer, a young lady came back at the end of the summer and asked for another copy after her little brother had spilled a soda on it. Now, Tony laminates these letters so they are "brother proof."
8. Plan an Oscars Event
This is another Dave Burgess idea. Roll out the red carpet. Have students plan the culminating event. Imagine an Oscars-type ceremony where they can give awards for the year's best books, best student presentations, and most epic classroom moments, and where their classmates can respond with Oscar-like acceptance speeches. They can even dress up. What fun!
Yes, time is Important. Think of the last day of school as the finish line of another yearlong race. How are you going to emphasize the excitement and joy that you and your students got out of the school year? Share your ideas or reflections below in the comments.