Social and Emotional Learning
What Is the Right SEL Program for Your School?
A new guide from CASEL can help you choose the right one.
June 3, 2015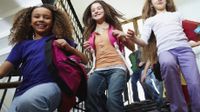 Why Should SEL Be a Part of My School?
Social and emotional learning includes skills that are necessary to help students manage their emotions, work with others, and set goals. An effective SEL program will support the development of five key skills:
Self-Awareness
Self-Management
Social Awareness
Relationship Skills
Responsible Decision-Making
Research shows that SEL provides major benefits in schools. A meta-analysis of 213 studies found that it not only increased test scores by 11 percentile points, but it also reduced aggression and emotional distress among students, increased helping behaviors in school, and improved positive attitudes toward self and others (Durlak et al., 2011).
How Do I Start an SEL Program at My School?
For more information on social and emotional learning, along with tips on starting an SEL program at your school, check out:
For tips and resources on funding SEL programs, read this helpful guide from CASEL. You may also find resources in Edutopia's Big List of Educational Grants and Resources.
Finding the right SEL program is just the first step in a long journey. For additional resources, check out our collection of articles, blogs, videos, and discussions on Social and Emotional Learning. If you have any comments or questions, please share below!