Education Trends
Do Androids Dream of Electric Students?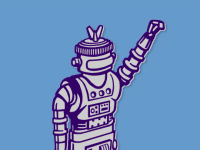 What would it take for the job of a teacher to be eliminated? If cyborgs walked the earth just like you and me, could a cyborg be a teacher? If we could implant memories into our brains, why couldn't we implant knowledge into our brains as well? There is one reason why these things could never happen: the utterly unique qualities of the human brain.
What Real Teachers Do
A few years ago, I read John Medina's book, Brain Rules, which is an enlightening look at the human brain. There are chapters on sleep, stress, how we learn, memory, the senses -- all of the things that teachers consider in their practice. Perhaps, if artificial intelligence technology were to advance significantly enough, a cyborg could do some parts of a teacher's job, but a human brain is nimble, and a teacher's ability to sense the emotional, physical, and developmental state of 20-30 young minds and bodies all at once is a truly human ability.
In addition, every brain is wired differently. This is why sticking a student in front of a computer to learn without a teacher is only effective some of the time. Some people's brains are naturally wired to learn that way, while others aren't. No matter how you differentiate the learning experience on a computer, there are going to be some kids who just need the interaction with a teacher or classmate to fully understand the concepts they are learning. In some ways, sticking a kid in front a computer is similar to replacing a teacher with a robot. Often, it is in those small side conversations or questions that teachable moments and "aha!" moments arise. I can't imagine a robot having its curiosity piqued by a student's question and then shifting gears on the lesson to address a nuance in the content or a connection that a student has made.
As for memory, the human brain can only handle so much information at one time. It takes years of repetition and application for a memory to "stay" in the brain. There is no way to simply "implant" a memory there, and from what we know about how people learn, just knowing something doesn't mean that knowledge will transfer to our everyday lives. A computer or a robot can teach repetition, but only a skilled teacher can design learning experiences that teach skills and concepts while providing real opportunities for students to apply these skills to new situations. This is not true of just academic or school-based learning. Apprentices have been learning from mentors for centuries. This is also the fundamental core of parenting, a child's first exposure to "teaching."
There Is No Substitute
Like many other careers, there may be some instances where segments of a teacher's job may be outsourced to robots or computers. Rather than having the teacher complete a reading or math test, some of these tests are already being handled by computers. Teachers can then use the data to inform how they teach. Maybe cyborgs will work as recess monitors or lunchroom staff. Perhaps a teacher will have a cyborg classroom assistant, or perhaps students will choose how they want to learn and all schools will become more like the blended environments you see now. Maybe students won't need to go to school every day since they will be able to learn from home, though even these online environments need some kind of human interaction around the content being learned. That is why many cyber schools offer their students face-to-face time.
No matter what the future brings, it's certain that no amount of sophisticated technology can match the nimble, inquisitive mind and sensibility of a teacher.