English Language Learners
An Agency Approach to Meeting the Needs of ELLs
With a regional agency coordinating ELL resources between districts, schools have a better chance of identifying and closing the conducive gap for these students.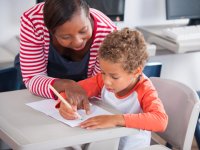 Everyone deserves the right to learn.
That's right. Say it with me: "Everyone deserves the right to learn."
I know. This mantra is one shared by all educators. And yet, even within our own organizations, we likely know of learners (whether they be student, teacher, leader, parent, or community member) who aren't being served in a way that is conducive to their needs.
While it isn't easy, all organizations need to do a better job of closing the "conducive gap" to make sure that all learners can get what they need when they need it.
Identifying the Conducive Gap
The Putnam Northern Westchester Board of Cooperative Educational Services (PNW BOCES) is one of 37 educational resource organizations throughout New York State whose purpose is to provide districts with access to special education, career and technical, management, and curriculum services that districts could not bring to fruition on their own. This system allows an unprecedented opportunity for collaboration between districts, as well as between our organization and the districts that we serve.
It also provides for a tremendous opportunity for collaboration between departments within our own organization. Let me explain.
Over the past year, many of our districts have seen a rapid increase in the number of undocumented youth and unaccompanied minors moving into their area. Most of these young men and women are speakers of other languages. In an effort to help districts do all that they can for current and potential students, our BOCES departments have banded together through our internal Professional Development Committee to begin discussing and taking action on steps to close the conducive gap.
Our work began this past summer when we met for half a day to discuss emerging ELL needs that were becoming apparent. We generated a number of learner outcomes, with this being the overarching one:
With learner outcomes established, we began to consider our current offerings. Where were we meeting needs? Where did we need to do a better job of bridging gaps? It was clear that while we were excelling in some areas, our agency, as a whole, had much work to do.
To make sure that we were on the right track, we held a symposium for teachers and leaders from our region to share their most pressing needs regarding supporting English-language learners. With changes to regulations coming from our state education department, there was a tremendous sense of urgency to begin putting additional supports in place. To that end, our curriculum department began working with Touro College to provide support around language acquisition and to work with our consultants to incorporate ELL strategies into their offerings. In addition, our department's Teacher Center and our agency's Center for Educational Leadership continue to seek out great college partnerships for bilingual and TESOL programs (our Teacher Center recently committed to working with Manhattanville College).
Draining Silos to Fill Needs
While we were doing this work, our agency's Special Education Department was continuing to bolster its support services for ELL teachers through role-alike meetings, proficiency assessment scoring, and a new bilingual job fair. Our technical assistance team, which had recently hired a bilingual special education specialist, was seeing much success utilizing this educator's expertise (as well as that of the rest of their team) to help support those learners who fit into a specific niche, and for whom little outside help might have otherwise been available. Our career and technical programs have worked to assist students new to the country in meeting the requirements of the TASC (New York's current high school equivalency test).
Along with preparing students to meet the requirements for a high school diploma, we've also engaged students in career experiences, helping them to get a jumpstart on building their education and joining the workforce. Finally, our central office and management services team is working with a variety of internal and external programs to explore the efficacy of creating an ELL incubator, of sorts, that would serve as a regional center for ELL support and expertise.
As all this work has taken place, our organization-wide professional development committee has continued to meet. We're now exploring ways to design an online portal that would serve as a clearinghouse for all of our professional development offerings, making it easier for educators to locate trainings and learning opportunities that would be most helpful for them. Eventually, this portal could even expand to house resources for current and future students, parents, and community members alike.
What have we learned through this experience? That for an organization to truly change, we all must leave our silos and meet together, in the barn, so to speak, to hash things out. Regardless of any specific initiative's success, we can take pride in the fact that the design of the programs we're exploring has been informed by the true needs of the districts we serve. And rather than existing in our own departments, we're working together to bridge gaps, in an effort to truly make learning conducive for all.