Parent Partnership
5-Minute Film Festival: Fun Summer DIY Projects
Engage budding scientists and artists with this video playlist of investigative experiments, from Rion Nakaya of The Kid Should See This.
June 5, 2015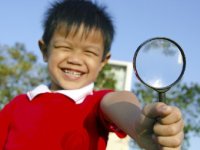 I love finding educational videos that make my kids want to stop watching videos. Thirty seconds in, they might ask if we have the right equipment to do the project. They might shout "whoa!" with surprise at the reveal. By the end of the video, they're swept up in the enthusiasm of trying something new. What questions do we have about the activity? What possibilities do we expect? Is it related to anything we've done before? What variations do we want to try?
DIY projects and science experiment videos are an excellent tool for getting kids (and adults) excited about getting up from the screen and diving into something hands-on. Pair that motivation with the longer summer days, and kids will hopefully have plenty of creative time to explore the project playlist below. Share the videos with students and their parents before they break for the summer, and/or save a few to incorporate into next year's curriculum!
Video Playlist: DIY Projects & Experiments for Students
Watch the first video below, or watch the whole playlist on YouTube.
video
More Resources for Summer DIY Projects & Experiments
More Resources for Summer DIY Projects & Experiments
In the last few years, a wide variety of YouTube channels and Maker organizations have dedicated themselves to educating kids (and adults) in STEAM -- science, technology, engineering, art, and math -- subjects. The links below include more of my favorite science, craft, and DIY how-to's that can inspire kids of all ages all summer long.