Online Learning
48 Ultra-Cool Summer Sites for Kids and Teachers
July 3, 2012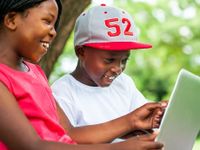 A good majority of northern hemisphere and international schools are winding down the 2011-12 school year, and doors will be closing as the students and teachers take off on their summer adventures. Here is a list of great sites for kids and teachers to keep you happily productive and learning this summer. These are in no way in any order of personal preference or coolness.
Happy summer!
If your students like The Magic Tree House series (and let's be honest, who doesn't?), they'll love The Magic Tree House website. Students climb up the tree and enter the tree house to find some great puzzles, fun games and quizzes on any of the 45+ MTH books.
Can't afford that summer vacation schlepping around Europe? No worries, just pull up Toporopa on your nearest browser and learn all about the geographical, political, historical and economical aspects of the wonderful continent.
ReadWriteThink creates a lot of great educational resources. With Printing Press, students can create a booklet, flyer, brochure or newspaper fairly easily. There is a nice guide that walks you through the process, and the focus is on writing. There is a place within each publication for a picture, but not one that you can add from your computer. This space is reserved for students to draw a picture after printing. I'm all for creativity, but it would be nice to have the option of adding a photo or graphic.
4) Spell With Flickr
Spell With Flickr was a simple site that allowed you to enter any word and it would then create a photo representation of that word using pictures from Flickr. The site has since been deleted.
Freeology is a fantastic resource for teachers to download pre-made or create a plethora of free graphic organizers, forms, calendars, certificates, worksheets and more!
Tagxedo is a Wordle-esque site that allows students to create beautiful word clouds. The great thing about Tagxedo that in my opinion is where Wordle falls short is the ability for users to save their creations (without logging in) as either a jpeg or png.
Learn Your Tables is a nice interactive site that allows students to practice their multiplication times tables. Learn Your Tables is ideal for introducing topics on an interactive whiteboard (not that you'll have one over summer, but it's good for thinking about next school year), and for extension material on individual computers or in a lab.
Virtual Sistine Chapel is an amazing 360-degree interactive view of the Sistine Chapel brought to you by your friends at the Vatican. You can fly around the astounding artwork and zoom into the frescoes at a pretty decent level. This site would be great for art history and religious studies.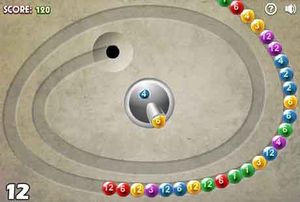 Credit: http://www.edtechideas.com
Cool Math
Probably one of my favorite math sites, Cool Math is "designed for the pure enjoyment of mathematics." This interactive site features a plethora of fun games, puzzles, calculators and lesson plans.
Science Bob is a fun, interactive site that has several different areas for kids to choose from. There are videos, experiments, science fair ideas and a research help link with many fantastic links to other sites. Don't forget to click on the "Whatever you do, DON'T CLICK HERE" button (or not).
Grammaropolis is a fun, interactive site that helps students learn about the parts of speech.
Math Live, a fantastic site for upper elementary students, is full of cartoon math tutorials on subjects like fractions, multiplication, area and perimeter, tessellations, probability, and a variety of other topics. The glossary section is an amazing collection of math concepts animated for more solid understanding.
From the University of Michigan Museum of Zoology, the Animal Diversity Web is an online database of animal natural history, distribution, classification and conservation biology. Students can browse the information on individual creatures from the Kingdom Animalia and find thousands of pictures on specific animals. What's great about the Animal Diversity Web is that students can sign up to become contributors to the website. To do this, teachers must submit a request form.
PDF to Word is a fantastically simple site that allows you to do just what the url suggests: convert PDF documents to fully editable Word documents. You simply go to the site, upload your pdf, select either .doc or .rtf, enter your email and click convert. PDF to Word then emails you the word file upon completion. There is no signup necessary and the turnaround time is approximately ten minutes.
e-Learning For Kids is a great site with some wonderful interactive learning games that are engaging and fun. Students click on their grade and can then choose from a list of games divided into subjects.
Rhymes.net is a simple search site that returns rhyming words to whatever you enter in the search field. The rhyming words are divided into syllables for ease of use, and there is a list of photos of whichever word you search for. Even better, Rhymes.net automatically generates citations for bibliographies.
NeoK12 is a fantastic collection of videos, arranged by subject, that have been individually reviewed by K-12 teachers. The videos are all (at least the ones I've seen) via YouTube, all the ads have been stripped, and all related videos removed which, for an educator, is a great thing! There are also quizzes, games and puzzles as well as a cool presentation creator that helps teachers or students create presentations within the site. Also cool is the How it Works section.
SweetSearch is a safe searching site for students. Most search engines search billions of websites and return tens of millions of results; some are from reliable Web sites, some are not. SweetSearch searches only 35,000 websites that have been evaluated and approved by a staff of Internet research experts at Dulcinea Media, and its librarian and teacher consultants.
CELLS Alive! represents 30 years of capturing film and computer-enhanced images of living cells and organisms for education and medical research. The site has been available continuously and updated annually since May of 1994 by Jim Sullivan, and now hosts over four million visitors a year.
The educational goals of Catch the Science Bug are to increase science literacy and raise environmental consciousness by adhering to national standards and guidelines for content, to use different teaching methods for engaging all types of learners, and to encourage life-long learning by featuring scientists who model this behavior.
Safeshare is a great site for showing YouTube videos without distractions. You simply enter the url of a YouTube video, and Safeshare removes all the distracting related links and comments from the initial viewing page.
ABCya! is a fun site for lots of great games and activities. There is a nice word cloud generator very similar to Wordle that creates nice-looking word clouds. The one-up ABCya! has over Wordle is that you may directly save your word cloud as a .jpg without any registration.
Ribbon Hero is an add-on for Microsoft Office that allows you to play a game within the Office application (e.g., Word), teaching some of the unique features of the program. Users playing Ribbon Hero earn points for doing different tasks within Word, Excel, PowerPoint, etc.
Invention at Play is a fantastic interactive website from the Smithsonian National Museum of American History. When asked what inspired them to become inventors, many adults tell stories about playing as children. The Invention Playhouse takes this fact and offers up great activities to increase problem solving ability, visual thinking, collaboration and exploration.
As a computer teacher, I can see this site as having huge potential. Virtual Piano is a beautifully sounding piano that you play by typing on your keyboard. You can play "Für Elise" by following the key-pattern available. As this is in beta version, I'm guessing that over time, there will be more song choices and hopefully more learning connectivity with the computer keyboard.
Story Jumper is a wonderful site that allows children to create their very own books. You can create cover pages, add text, upload drawings or photos to illustrate your story, and you can use the Story Jumper clipart gallery, too. One of the best things about Story Jumper is that it is easy for teachers to create and assign student accounts.
Web search can be a remarkable research tool for students -- and Google has listened to educators saying that they could use some help to teach better search skills in their classroom. The Search Education lessons were developed by Google Certified Teachers to help you do just that. The lessons are short, modular and not specific to any discipline, so you can mix and match to what best fits the needs of your classroom. Additionally, all lessons come with a companion set of slides (and some with additional resources) to help you guide your in-class discussions.
Kubbu is an e-learning tool designed to facilitate teachers' work and enhance the learning process. Teachers can create games, quizzes or crosswords; make them available online for students; and then view and analyze the results.
Merriam-Webster Word Games is a nice collection of games that gets students thinking and improving their lexicon. There are crosswords, cryptograms, word searches, jumbles and a plethora of other brainy games.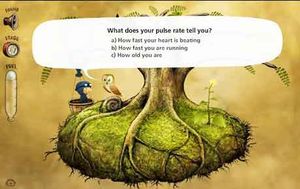 Credit: http://www.edtechideas.com
Questionaut
Questionaut is a Math, English and Science game from the BBC. The premise of the game is your standard question/answer delivery, but what I really like about this game is twofold. One, the artwork, created by Amanita Design, is amazing. You could get lost in just looking at all the beautiful details. The second thing that really brings this educational game to a higher level, in my book, is that students will have to work and explore to be given the questions. Within each level, the player will need to complete a series of clicks to release the questions, adding a very subtle think-out-of-the-box element to the game.
I'm a big fan of quality educational games, and this site takes it to the next level. Games for Change is a non-profit organization which seeks to harness the extraordinary power of video games to address the most pressing issues of our day, including poverty, education, human rights, global conflict and climate change. As of this writing, there are quite a few dead links to the games (Balance of the Planet, ElectroCity, Globaloria), but I have high hopes that updates will come soon, as I really like the idea of this site.
You know that, with a name like Who Pooped, this will be popular with the younger students. Who Pooped is a science site created by the Minnesota Zoo to help students begin thinking like scientists. One way scientists learn about animals is by studying their poop -- also called "scat" or "dung." Who Pooped allows students to investigate various types of scat and try to match the scat with its creator. A very interactive site which would pair well with IWBs.
Number Gossip is a simple search box where you enter any number and receive back "everything you wanted to know about the number but were afraid to ask." For example, I entered the number 38 and got these facts: 38 is the magic constant in the only possible magic hexagon (which utilizes all the natural integers up to and including 19); XXXVIII (38) is lexicographically the last string which represents a valid Roman numeral; 38 is the largest even number which cannot be written as the sum of two odd composite numbers.
Need a pentagonal pyramid that's six inches tall? Or a number line that goes from -18 to 32 by fives? Or a set of pattern blocks where all shapes have one-inch sides? You can create all those things and more with the Dynamic Paper tool. Place the images you want, then export it as a PDF activity sheet for your students or as a jpeg image for use in other applications or on the web.
Even though Shelfari has been taken over by Amazon, it's still my favorite book review site and would make for a great summer project for parents and students. Shelfari is dubbed the "premiere site for people who love books," and the concept is to create a virtual bookshelf of all the books you've read or are reading. You can then add a rating (one to five stars) as well as a written review of the book and when you are done. And Shelfari gives suggestions on what you might want to read next.
36) Vocab Ahead
Vocab Ahead is a collection of short videos that give definitions, usage and pictures associated with interesting vocabulary words. You can subscribe to receive a vocab video of the day, and there is also a section of videos by students that are fantastic. [Editor's note: This game has been removed from the internet.]
Kids love hands-on projects, and Science With Me is chock-full of fun science projects. You'll also find science movies, songs, coloring sheets, worksheets and stories to help kids learn scientific principles and science in a fun way.
A fun site for practicing basic math facts, Mathrun is a simple idea (math problems float up the screen, and you have to tell whether they are correct or incorrect), and I love simplicity. There is no registration required and no advertisements -- I love this, too. Mathrun rates your brain speed (I got mine up to 140 mph before having to get back to work) and keeps a running total of how many problems you solved correctly. This is a great site to use for independent practice.
Academic Skill Builders is a research-based and standards-aligned free website featuring educational math and language arts games that will engage, motivate and help students improve their academic skills. There are many interactive games to choose from and they're all pretty fun, have decent graphics/sound effects, and offer great practice to specific skills.
It's a stellar resource for science teachers that has, as the title suggests, links to 100 cool science experiments. If your district has YouTube blocked, you can download any of the videos using 3outube. There are some really cool videos here, and it's well worth a gander.
Math TV is an amazing collection of how-to videos in a variety of math subjects. Checking it out, I watched a video on how to multiply fractions and I (a teacher) learned a new method. Imagine what your students can learn. This site is free, but it does require you to register to be able to view the videos.
Books Should be Free (formally Audio Owl) makes the world's public domain audio books available for browsing in a visual and easily searchable way. You can search for a specific title, or use the genre list to visually scan through hundreds of titles. Books may be previewed directly on the site, or you may download them directly into iTunes, or as zipped mp3 files. The downloads are broken into chapters, which is useful for teachers using this as a listening station.
Arts Alive is a performing arts educational website developed by the National Arts Centre of Canada. There are sections for students, teachers and parents to learn more about the performing arts and ways to discover a greater appreciation of music, theater and dance.
One of my fourth grade students was using this site while researching for a biography assignment. Search-Cube is a visual search engine that presents web search results in a unique, three-dimensional cube interface. It shows previews of up to 96 websites, videos and images.
CoSketch is a collaborative drawing site which requires no joining, logging in or registration. Perfect for elementary classes. It's a no frills tool, so there are not a lot of extras, but for simple drawing and text, it works great. Users just go to the site, click on create a sketch, and begin drawing. To add more people, you just send them the url. There's also a nice chat feature. I could see using this to collaboratively solve math problems, play hangman using vocab words, exploring maps (there is a built-in Google Maps support), and a variety of other applications. Finished drawings can be embedded into blogs or websites.
From the University of Colorado at Boulder come some fantastic Java-based interactive simulations. From glaciers to natural selection to circuit construction, these simulations really show students how things work.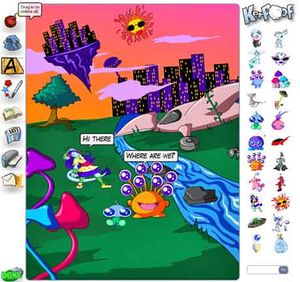 Credit: http://www.edtechideas.com
Kerpoof
Active Science has 15 different scientific modules, each with interactive games and activities. Great for use with IWB.
Kerpoof is an online story and comic-creator which allows students to create comic scenes and stories, as well as animated movies, cards, drawings, doodles and pictures. Educators are able to sign up for a class account, which allows an entire class to login simultaneously using the assigned nickname and password created by the teacher. There are no ads or inappropriate content, and the artwork is fun and lively. Finished products may be saved, printed, or emailed. Great site for story creating.