Technology Integration
4 Tools to Help You Go Paperless This Year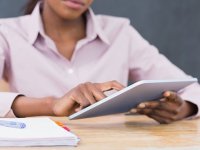 As the school years starts, one thing that always seems to happen is the pile of papers stacking up. There are all those handouts shared at back-to-school meetings and the paperwork that needs to go out to students. Too often, teachers find themselves at the mercy of the copy machine those first few days back. I'm going to share some awesome tools that can help remove the excess clutter from your desk and save you hours of copying time down the road. These four tools have helped me create a paperless environment in my classroom.
1. Evernote
Evernote is a cloud-based note-taking application. It's free to use and works on all mobile device platforms as well as your desktop browser. Each note can store PDFs, photos, and other documents that you want to keep handy. These notes can be easily shared with others whether or not they have an Evernote account. Notes can be organized into notebooks and tagged for better organization.
Case Use: Staff meetings can be long and might require plenty of notes. Instead of carrying around a notebook filled with different notes from different meetings, pull out your phone and take notes in Evernote. These notes can be entered quickly and shared with other staff members that might not have been able to make the meeting. You can then organize and tag them so that they'll be easily searchable when you need to reference them.
2. Noteshelf
Noteshelf is a handwritten note-taking app. For some people, writing notes by hand is still easier than typing them on a mobile device. Noteshelf is the perfect app for these users. It is $5.99 on the App Store and has some really nice features that make it an excellent paperless option. Noteshelf allows users to import and export directly to your Google Drive account and annotate PDFs directly on the tablet. It also allows users to import and annotate Microsoft Word, PowerPoint, and Excel documents.
Case Use: Math and science classes use formulas and diagrams that are not easily created in other note-taking programs because they are text-based. Noteshelf would be a great addition to the tool belt of science and math teachers and students for quickly drawing out formulas or working on equations. All of these notes can be saved to any Google account and reviewed at a later date. If students saved to a shared folder, their teacher could provide feedback on the work. The student could then pull it back to Noteshelf and make corrections -- all of this without using a single piece of paper.
3. Doxie
Doxie is a portable and inexpensive scanner that can help cut the paper clutter on your desk to the absolute minimum. Ranging from $149 - $199, these scanners are the right price for the teacher who serves on committees that generate massive amounts of paper. Currently, there is a student and teacher discount available to help schools and their shrinking budgets. Doxie allows users to scan documents, turn them into searchable PDFs, and upload them to the cloud storage tool of their choice. This includes Google Docs, Evernote, Dropbox, and others. It's the perfect addition for the teacher looking to reduce paper clutter.
Case Use: There will be instances where students will need to write on paper in class. As an English teacher, I often assign my students impromptus to write on paper. An excellent way for them to keep the content after we're finished is to scan it and drop the PDF directly into Evernote or Google. This is possible with the dongle attachment that allows users to take the SD card from Doxie after the scan and transfer it to their mobile device. It's a great way to help students keep track of their papers in a digital format.
4. Google Drive
This one seems like a no brainer, but there are many people that still aren't utilizing the different aspects of Google in their classroom. Google offers students and teachers the opportunity to create and share in a completely paperless format. Files can be created and folders organized so that sharing and access are seamless. Google Docs, Presentations, and many other Google products allow users to create and, most importantly, collaborate. Instead of printing off multiple copies of certain assignment sheets, a teacher can just share the document as "view only" so that students can complete the work without wasting paper on a handout that will be tossed away after reading. Check with your school district to see if it has Google Apps for Education. If not, create your own account and start saving your work in Google Drive.
Case Use: One of the absolute best features of Google Drive is the collaboration. Students in the classroom have traditionally used so much paper as they wrote out their ideas on separate sheets and then came together to see what they had done. With Google Docs, students can work from their own devices to create and collaborate on the same document at the same time. Individual and group rough drafts that would take many pages in a notebook can now be completed on Google Docs without a single piece of paper. The finished product can then be shared to the teacher without having to print out a multiple-page document.
These are just a few of the great digital tools available to educators and students to help reduce their dependence on paper. As I moved more toward a completely paperless classroom, I discovered that my countless hours in the copier room came back to me during my prep time, allowing me to spend more time on lesson planning. Every minute a teacher can find for reflecting and honing his or her craft is a valuable minute. There will be some work on the front end to move toward a paperless classroom, but the long-term benefits will pay off for the teachers and the students.
Please do not print this post. Share it digitally and help save a tree!