Social & Emotional Learning (SEL)
3C's to Supporting Student Success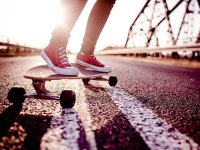 When students are having remarkable success, people want to know how. "What is it that you do?" they ask. "What makes your students so successful?" I have reflected on this a lot. Although I am not sure I can pinpoint the "one thing," my thoughts always seem to return to three overarching practices I try to bring my students every day: care, captivate, and catapult. These strategies have become the backbone of my classroom.
Care
We have heard the saying, "They don't care about how much you know until they know how much you care." We can show them that we care through our words and actions of teaching and learning. We need to make it a part of our daily interactions with our students so they will feel this, and it takes a teacher to create an environment that ensures each student will feel safe and therefore feel free to take risks and try new things.
You can do this through constant praise, words of encouragement, compliments, and genuine sincerity in everything you say to them. Every student needs these reinforcements daily. After all, your classroom may be the one place and time they get this care. Tell them that you believe in them, that you're proud of them, that you're so happy and so glad they're in class today! Tell them how they wouldn't feel and learn in the same way if each one of them weren't in the class. Give hugs and pats on the back, high fives and raise the roof. Call their parents right in front of them and the rest of the class. When you show the entire class how important each student is, they will treat each other that way as well. Caring will multiply the more you show it. Students will want to move mountains for you because they know that you care so much.
Captivate
It takes us being motivated and enthusiastic on a daily basis to feed our students and build a genuinely positive and eager learning environment.
Get students jumping out of their seats because they just can't wait to share their thinking. Encourage and praise them for presenting thoughts, giving feedback, and asking questions. Teach in response to their questions even if they aren't perfectly on topic, because all children want to understand things that are happening in their lives right now. Find what makes the most shy kid tick, because once you "get" that kid, the rest will open up if they haven't already. If they question you, they will learn to question anyone and each other, which will enhance their learning. If you don't have the answer, model to them what it sounds like, feels like, and looks like to search for the answer.
Show that you are just as excited about learning with them, solving problems, and understanding things as you want them to be as individual learners. Animate the learning -- yes, it is a performance! Bring your personality to every lesson, every day, with the enthusiasm you would want your child, grandchild, niece, or nephew to receive. When they see you as excited as they are about learning something, it shows that you're taking a genuine interest in them and their future. Don't just deliver -- captivate, and they will catapult.
Catapult
Alan November once said, "We underestimate students." We need to continue setting the bar high for all kids, holding them accountable, guiding them, and showing them how to hold themselves accountable. This will teach students that they are capable of taking responsibility for their successes and failures. It will give them a huge sense of accomplishment and drive. With expectations must come goals -- but they don't need to be big. Some people think that focusing so much on academic goals can put unwanted pressure on students. So include a variety of goals.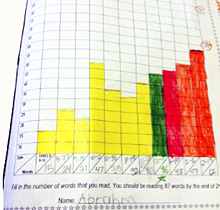 Photo credit: Catrina Jacobs
Second grade students monitor their own progress.
My students love setting goals. They love tracking their progress and the feeling of getting close to their goals, meeting them, and crushing them! We set a variety of goals, including academic, behavioral, participation, and accuracy. Integrating goal setting within the classroom environment will help teach kids that there is a target and a purpose, leading to other opportunities for learning more and celebrating further success.
Between focused work and going through the motions, teach your students to recognize what working hard looks like. When they recognize this feeling of accomplishment from their effort, they will want it more.
Measures of Success
As I ended the school year, I wanted to see if my students remembered their number one goal that I'd asked them to name at the beginning of the year. And although I got a few thoughtful looks, I also got a classroom of "To be the best second grader we can be!" One of the successes we celebrated was that there had been zero office referrals -- those "Be Kind" stickers worked! Another success was that in reading comprehension, we had the second highest growth in the district and the highest overall average. In math we had the second highest growth and average as well! The kids were beaming with pride and excitement and knew that all their hard work had paid off. They didn't want to leave -- and that's a feeling every teacher wants.

Photo credit: Catrina Jacobs
A student reflection on the year's accomplishments.
Success doesn't happen by accident. It takes genuine, passionate care for each student in every interaction to shape their view and experience of learning and school. As teachers, it is up to us to make it interesting with our personality and style. It is also up to us as professionals to give students the skills and confidence to go forward -- to catapult. Because once they know you care, they will care more about what you have to say and what you teach them.
What do you do to motivate kids to be the best learners and the best selves they can be?