Teaching Strategies
A Wildlife Investigation for City Kids
Inquiry-based lessons on animal adaptations guide Chicago third graders to think about the wildlife all around them.
My students live on the West Side of Chicago, where many perceive nature as a distant idea beyond their immediate world. Green space seems limited, and at times it can be scary and unsafe to be in one's own backyard.
While it's not always feasible to take students out into nature to explore, learning about wildlife in the classroom can be exciting and beneficial. These lessons are particularly important because most students won't care about something if they know nothing of it or have no personal connection to it. It's only through educating students about who and what is around them, including the wildlife, that we can encourage them to be thoughtful and concerned citizens moving forward.
Through an inquiry-based lesson about animal adaptations, I helped my third-grade students begin to broaden their horizons, understand their proximity to nature and wild animals, and see how interesting these topics can be to explore.
The Lesson
We began by doing a read-aloud of the book Two Blue Jays, written by Anne Rockwell and illustrated by Megan Halsey. If you haven't read this story yet, trust me, it's an amazing introduction to animals in urban settings, and the detailed illustrations alone make the book worth checking out.
As my students listened to the story of a family of blue jays living just outside a classroom window, they learned about nesting behaviors, behavioral and structural adaptations, and the life cycle of a blue jay.
After we read the story, I had students work in pairs to list all the things that happened in the book that allowed the blue jays to survive. They came up with ideas ranging from food procurement methods to vocalizations to scare off predators. I was amazed at what they picked up from just one read. We talked as a whole class about whether these were behaviors or structures, and made a huge anchor chart of adaptations.
The following day, I had students individually write out all the animals they could think of that live in our own city, those they had seen firsthand and others they had only heard of, and then select one and use iPads to research these animals' adaptations. They wrote their selected animal on the board to ensure we had no doubles, and then they printed out a picture to show the class. This began a discussion on the difference between "wild" animals and "zoo" animals, and how both had a place in our list.
The students loved using technology to find pictures, articles, and videos to share, and were eager to present their finds to their classmates.
The Project
The day after researching, students used the Build Your Wild Self activity on the New York Zoos and Aquarium website to combine different animal parts and body structures into a brand-new species. They came up with combinations such as butterfly wings to fly away from predators, monkey tails for balance and movement, and elephant trunks for getting food and water. The wackier the combination, the more excited my students got.
When they were done exploring the website, students spent the next day creating their own species that could survive in the city. They could use any of the body parts they had seen on the website, think of what other animals had, or come up with something completely made up, as long as they wrote a short presentation explaining what they used and why. We had feathers, pom-poms, leaves, pipe cleaners, cardboard, and tons of other supplies to choose from, and it was an hour of beautiful and creative chaos.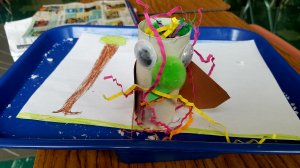 Courtesy of Sarah Blazer
An animal invented by one of the author's third graders
Cleaning up that chaos took slightly longer than I anticipated, so it was not until the final day of our school week that students got a chance to present their new species. They explained what adaptations it had and why those were selected, and answered a few questions from their classmates.
Their pride and creativity really showed through as they became experts about all aspects of their new animals, and encouraging classmates' questions allowed students to think more deeply about their work.
Final Thoughts
The students took ownership of their learning and were more enthusiastic than I could have hoped for, brimming with questions and creativity. I was surprised by their willingness to participate and enthusiasm in conversing about the animals in their own backyards.
Even if all of the new animal species did not look quite like animals, what mattered was that students were engaged and invested in talking about animals in a way they never had before. Lessons like this give me hope that students are willing to be in charge of their learning, and may someday become the thoughtful and caring stewards of our planet that we need.
Thinking back on all the time and effort that went into this lesson, I have to say that I would do it again in a heartbeat. While it was challenging to manage a large group of students with technology, craft supplies, and seemingly limitless energy, I also think my students learned more from this hands-on activity than they would by reading a book about adaptations.