Curriculum Planning
Teaching Climate Change in Every Subject
New Jersey teachers are integrating the state's new climate change standards across K–12. We dropped in to see how they're doing it.
On a morning in late May in a cheerful classroom decorated with paper tree collages, Cari Gallagher's students are seated in groups of four. At the center of each cluster is a stuffed toy chicken. The students—third graders at Lawrenceville Elementary School in New Jersey—are brainstorming how to build a humane coop for the birds out of materials like blocks and plastic building straws.
Because this is math class, there will be an area and perimeter activity at the end. Another goal for the lesson: They'll talk about climate change and how it might impact the hens.
As students tinker with blocks and straws, Gallagher pops into groups to emphasize the importance of protecting chickens from the elements—especially given the severe storms that are increasingly common in places like New Jersey. "Good start, but you need a roof," Gallagher calls out to a group whose coop is looking rather two-dimensional.
In June 2020, New Jersey became the first state to pass educational standards requiring climate change to be taught across the K–12 curriculum at every grade level and in nearly every subject—including less obvious ones like social studies, world language classes, physical education, and art. Connecticut also recently passed climate standards; they take effect in July 2023, and similar bills have been introduced in California and New York. For teachers like Gallagher, the new standards "gave me that jump start to say, 'OK, we need to be doing this now,' and the guidance to understand what exactly I should be hitting upon."
We visited several classrooms in New Jersey to see how teachers are integrating climate education into the curriculum.
Weather-Resistant Coops in Math Class
Before the chicken coop task, Gallagher's third graders add to a class Jamboard about climate change. "The Earth is not going to end," asserts one student during her table's small-group discussion, "because if we help out with climate change, we can help the land be here forever." Another girl agrees: "She might be right. But it depends on if we help it in time."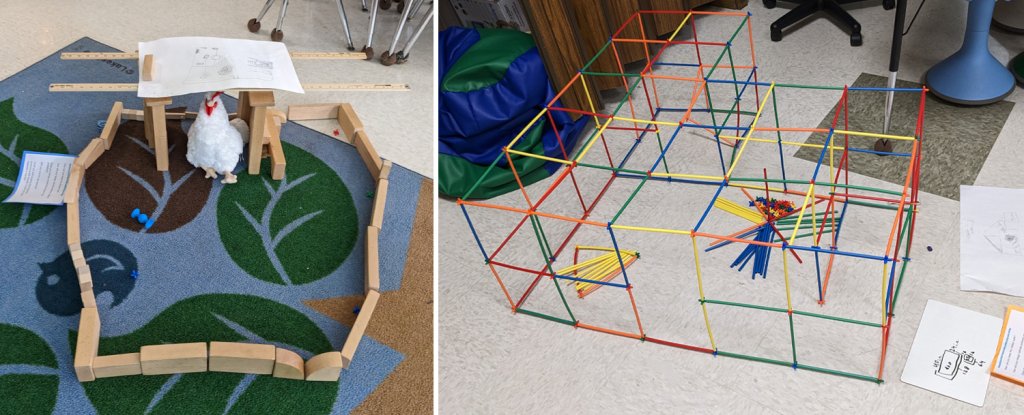 Daniel Leonard
Early-stage design phase for the chicken coop project at Lawrenceville Elementary School.
Following a brief read-aloud of the picture book Chickens on the Move, kids work out their coop designs on paper before moving to 3D building materials. A few minor disputes occur among the groups around how much space the chickens need and what sorts of amenities to provide, but ultimately the teams create four original coops made of wood blocks, paper, Legos, or building straws. They include feeding troughs, severe weather protection like roofs and sturdy fences, and enough room for the chickens to live comfortably. The last step requires students to measure and calculate the area and perimeter of their coops.
Phys Ed Carbon Cycle Education
At Toll Gate Grammar School in Pennington, New Jersey, wellness teacher Suzanne Horsley is illustrating the carbon cycle for a second-grade gym class via a very active game called Catch Your Breath on the school's large rear lawn.
To play, students stand in a circle, paired up with a partner. In the middle of the circle lie several dozen colorful yarn balls that represent molecules of carbon dioxide. One student runs to the center and grabs a piece of carbon dioxide and throws it back to their partner on the edge of the circle. The outer partner is a "tree," rooted in place and unable to move. If the outer partner catches the yarn ball, that CO2 is successfully "absorbed" and taken out of the "atmosphere."
Students switch roles and the process repeats.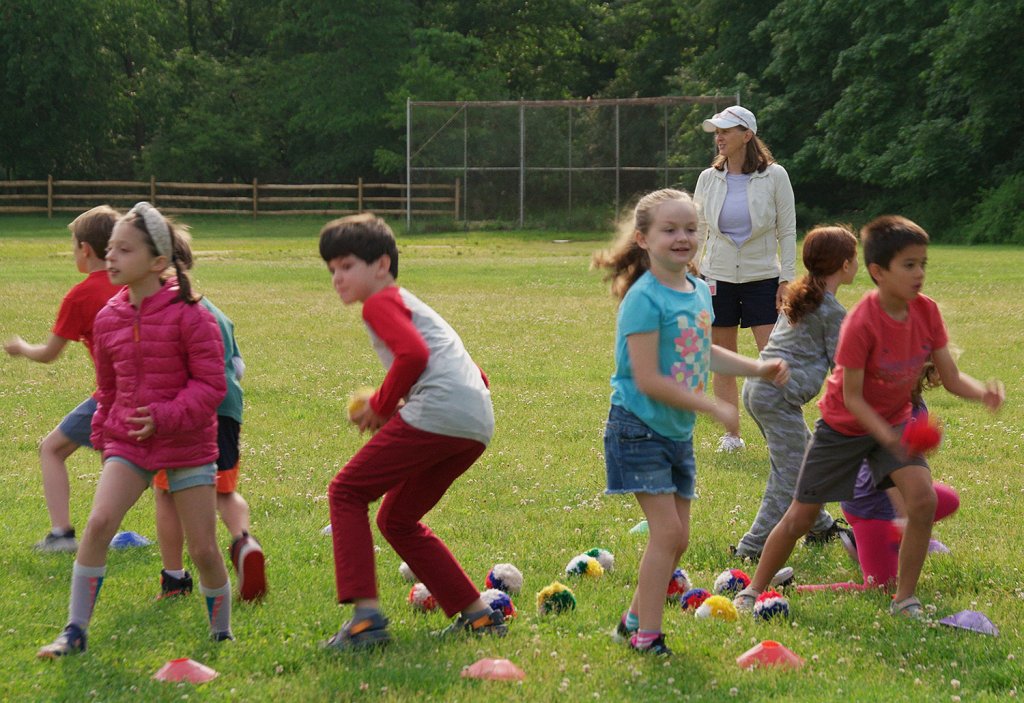 Shirley Chan / © George Lucas Educational Foundation
At Toll Gate Grammar School in Pennington, New Jersey, a high-energy lesson about the carbon cycle.
This scenario takes place in the year 1500, so a lot of children are trees and there aren't many CO2 molecules to capture. After a dizzying burst of elementary school energy, Horsley's students clear the field of carbon dioxide in an impressive minute, 31 seconds. In the second round, however, the game shifts to the present day; fewer students are trees and many more CO2 balls are in the center. Horsley gives students only 1 minute, 31 seconds, to clear the field—and they fail to complete the challenge. The game is a lot harder in 2023.
Horsley concludes the lesson with a Socratic seminar tying the climate change game to health and wellness. "It's impossible to talk about climate change and not talk about the health of the planet, but also about the health of us humans," Horsley notes.
Connecting to Older Students' Interests
On a Monday during the last week of school, Shannon Falkner's ninth-grade English students sit in an arc of desks, analyzing the climate-related infographics that Falkner pulls up on the class whiteboard. One infographic from the University of California examines sources of greenhouse gas emissions; another from NASA compares potential ecological impacts of 1.5 degrees Celsius of warming versus 2 degrees. The Chatham High School freshmen, on the verge of being unleashed for summer break, are surprisingly attentive to the lesson.
Falkner, who has taught a unit on infographic literacy for several years, feels strongly that students should learn how to analyze and understand charts and graphics the same way they learn how to parse text. In small groups, students identify the main takeaway of each climate graphic, examine how the data supports that takeaway, and discuss how to determine whether the infographics are trustworthy.
To wrap up the unit, Falkner has students write what she calls climate fiction. Using what they've learned from the infographics as inspiration, they write fictional stories or poems about climate change. For example, one student wrote about tension in a family of coal miners when the youngest son decides to take a job installing solar panels instead.
Meanwhile, students in Christina Gauss's AP Spanish class at Rumson-Fair Haven Regional High School are also taking on climate change. After watching Fast Fashion, a 2021 French documentary about the impact of low-cost fashion on the environment, they discuss the environmental impact of fast fashion and brainstorm steps they could take to address the problem. The screening is also attended by the school's environmental and fashion clubs, along with other AP language classes.
Based on the discussion, the students decide to run a schoolwide pop-up thrift shop to help reduce clothing waste by keeping clothes in circulation. The money raised is donated to Clean Ocean Action, a nonprofit dedicated to protecting New Jersey and New York coasts from plastics and industrial pollutants.
Keeping a Hopeful Outlook
Because of the potentially negative—and sometimes downright scary—nature of teaching about extreme weather, environmental disasters, and climate change, the teachers we saw in action made time to highlight uplifting trends or actionable strategies to give students a sense of hope and agency.
"If you only have an hour for a lesson, you are going to have to cut some things out—but you cannot cut the hope stuff," Falkner says. "That hope budget is critical." Toward the end of her infographics lesson, for example, Falkner showed students an optimistic graphic about the ongoing transition to green energy.
Similarly, at the end of wellness teacher Horsley's Socratic seminar, she asks students for ideas about how they can help protect the environment. Second grader David says he now has a number of good strategies: "Like riding my bike to school, or supporting companies or groups that protect special areas like the Amazon that have a lot of trees."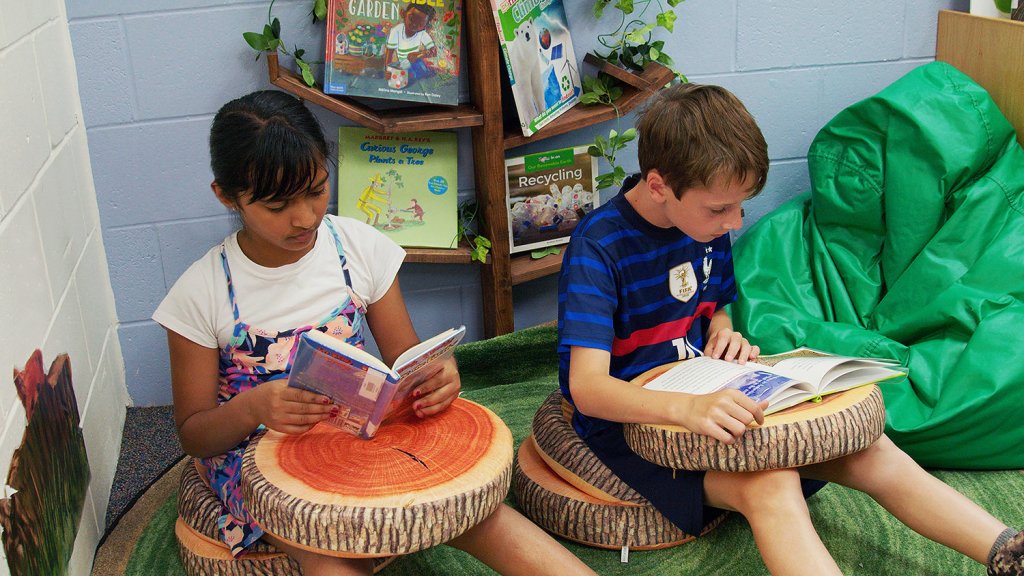 Shirley Chan / © George Lucas Educational Foundation
A quiet break in the climate change reading corner at the Lawrenceville Elementary School library.
The teachers we observed aren't climate change experts, or even science teachers, so integrating the new standards is something they told us they're still adjusting to and figuring out. For teachers elsewhere who are considering integrating the topic, Horsley suggests starting small. "Just think: 'What's one thing that I can feel comfortable delivering to the students?'"
Teaching climate change across the curriculum sends a message, says Gallagher, that "you don't have to love science or be fantastic at it" to care about climate change. "This is our world. This is the place we love." When climate change is taught in English, math, art, and social studies, every student can find some way to connect to it, she says.
Note about the top photograph: Cari Gallagher applied for a grant to supply her third-grade classroom (and each elementary school in her district) with Eco-Charger bikes. Kids use the bike for brain breaks and generate clean energy as they pedal.