Administration & Leadership
Using an Academy Model to Reimagine CTE
A high school STEAM academy focused on aviation offers replicable approaches for rethinking meaningful career and technical education.
A critical tenet of hands-on learning pedagogies (think project- or inquiry-based, student-centered, and career-oriented learning) is connecting the curriculum to students' interests and to the world beyond the classroom. For many students, this approach opens doors to engagement and academic success, offering relevance and illuminating potential professional pathways that allow the "why" of learning to ring loud.
In September 2022, Oklahoma's Norman Public School District launched the Oklahoma Aviation Academy, a program dedicated to this type of teaching. Designed to prepare high school students for careers in aviation and aerospace science, the program supplements students' time in traditional high schools with cross-disciplinary classes and projects connected to these professional fields.
I spoke with program director Terry Adams, named 2022 Oklahoma State Principal of the Year for his work at Bixby High School, to glean insight into what it takes to launch and lead such a program; to connect with funders, community partners, and professional mentors for students; and to engage high school students in preparing for technical careers.
BRITTANY COLLINS: Tell us about your academy. How did it begin, and what is its mission?
TERRY ADAMS: It's a STEM academy centered around aviation and aerospace. We started our first year with a cohort of 97 students, mostly freshmen. They spend half their day with us doing the aviation courses, and we try to infuse aviation into their English and math courses. There are over 80 schools in Oklahoma doing similar programs, mostly as an elective; we are approaching it in a different way, trying to immerse the kids in it.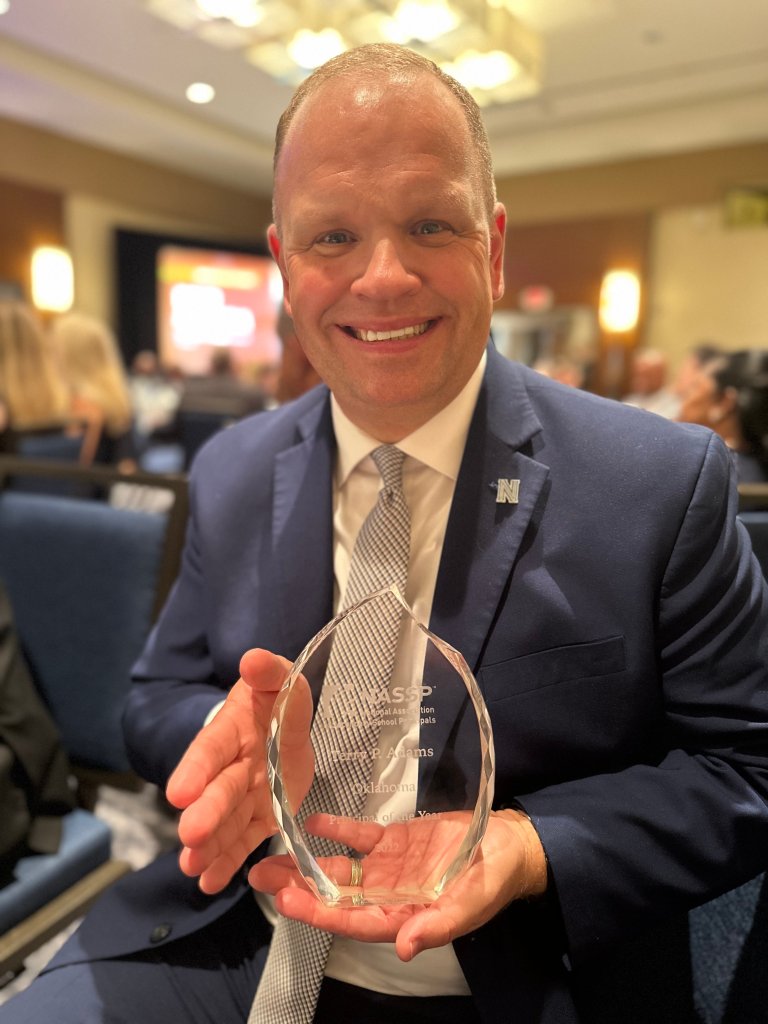 Courtesy of Terry Adams
Terry Adams
We're in the inception years—it's a learning curve for all of us. Our district has about 16,000 students, two high schools, and an alternative school. That's what feeds into our academy. We'll never be a stand-alone school; it'll always be an academy model, where students will go back to their home sites for extracurriculars—sports, drama, choir, band. We are developing extracurriculars that relate specifically to our mission, including a technical honor society and a skills course that teaches soft skills for employment and career.
COLLINS: What led Norman Public Schools to create the academy?
ADAMS: Historically, Oklahoma has been really poor in STEM education—I think the 49th in the country. We're looking to produce good STEAM outcomes not only for Norman—our city—but also our state. Aviation is the second-largest industry, and the fastest-growing industry, in our state, just behind oil and gas. Oklahoma is making a push to try to diversify our economy.
Part of the push is to make aerospace and defense more stable than oil and gas. Oklahoma has the largest maintenance, repair, and overhaul facilities. There's Tinker Air Force Base here in Midwest City, and also American Airlines in Tulsa—the largest civilian airline facility in the country. Our dream and vision is to create a pool of kids that get excited about pursuing careers, not just in the typical things you think of in connection with flying but also engineering, meteorology, and airport management.
Our partner, Moore Norman Technology Center, is starting an aircraft mechanic program this fall for adults, and by the time my freshmen are juniors, they'll have it open for high school students. Those are high-paying, lucrative, very interesting jobs that don't require a college education.
COLLINS: What does it take to make this model possible?
ADAMS: The largest part of our funding has been through a grant we received from Boeing for $100,000. The academy model is certainly more expensive. There are high schools in our state doing it as an elective, and that's one way to do it.
In the coming years, we want to create the financial resources through scholarships or funding through a local foundation to help students get private pilot licenses, which cost between $8,000 and $10,000. To allow kids to pursue that, especially students of limited means who have the aptitude and ability to work hard, you have to create financial opportunities.
We're really fortunate here at Norman to have a lot of community partners and a university-owned airport. Last summer, the University of Oklahoma was named by Flying magazine the top public university flight program in the entire country. They have one of the top meteorology programs in the country. So there's a lot that came together to make our program a success.
From the University of Oklahoma's dean of the College of Atmospheric and Geographic Sciences, Dr. Berrien Moore, to other local leaders in the industry, everybody lends their support, and our kids get to rub elbows with those people all the time, which is a really neat experience for them. When they graduate high school, they'll have those relationships built as they move into the workforce.
COLLINS: What is your curriculum like? What do students learn?
ADAMS: We're following the AOPA, Aircraft Owners and Pilots Association, high school STEM curriculum. It's a four-year curriculum. The first two years are a lot of history and engineering. A lot of hands-on activities—they create hot air balloons and learn about some general science principles related to flight and aerospace. In the second year, it switches to more physics and mechanics. In year three, they start learning about flying and can work toward Part 107 certification in the FAA [Federal Aviation Administration] commercial drone pilot certifications.
We're looking at some other programming for engineering, the maintenance side. There's a two-year STEM curriculum where the laboratory piece has kids build an airplane over a two-year span. We're looking into a civil air patrol cadet program here, which would be a pathway for our kids. Next year, all of our kids will take the Aviation 2 class. We have flight simulators that they get on as part of the curriculum.
One of our goals is to try to identify what our sophomore students have interest in as a career path, and then get them an industry mentor so they can have shadowing or internship experiences. It may solidify what they want to do, or they may say, "That's not for me." In the teaching profession, a lot of people go through their four-year degree, then get to the student teaching experience and go, "Oh, this isn't for me." We don't want that to happen.
COLLINS: That makes sense, that students' experiences will help them understand the jobs available and which ones they'd be interested in.
ADAMS: We want to give our kids diversified experiences. We take a lot of field trips and bring a lot of speakers in. We've managed to do lots of activities related, even in math class, to aviation and engineering. They use geometry to talk about how planes develop their flight path as they're coming in to land, and we build bridges. We're going to build rockets for their finals and do the math around creating rockets. That makes for a fun experience for the kids and a different experience than they traditionally get at the home sites. We have very successful high schools in Norman—our approach is just different, and I think the kids that are here, who want to be here, enjoy that different approach.
COLLINS: How do students demonstrate their learning?
ADAMS: We had some kids who hated math and weren't doing very well initially. And then we switched the assessment part of our math classes: Half the test might be a regular old math test, and then they have some sort of project or application of those math skills. Kids that never were successful on tests are now blossoming because it connects. Once you get that click and connection, it becomes easy to get kids motivated to work hard even in the traditional content areas like English and math.
We did a project where we used a vacuum, a small vacuum chamber, and they were trying to create a condo on Mars, and they had Peeps, the little marshmallows. They had to try to make their condo and seal it to where the vacuum pressure wouldn't blow their Peep up. They learned a lot through the engineering process and trial and error, and making two or three versions of it; they put it in the chamber, and you'd turn it on and see their Peep blow up to the size of a softball, and then when it's turned off, it goes back down.
It was hands-on. It was engineering. It was work. They worked in teams of four or five. Employers want somebody with knowledge of the job they're going to do, but just as important—Boeing would tell you they have 10 or 12 different divisions out there, and all of them have to work together on projects, because they're working on this big E-7A plane, and different groups have to come together to make that go. You don't get to work in a silo. We're teaching students that you have to work together, design things together, create your presentation together, and present it together.
They also do a portfolio here at the academy that they'll add to each year. They add their final project and printed versions of the presentations they do. It becomes a living document that shows the things they're learning and doing over the time they're here at the academy.
COLLINS: What's your most important role in the program?
ADAMS: My job is to support teachers. I always saw myself as a facilitator of teacher and student success, and whether you're at a school of 2,000 or 100, that remains the same. Students and teachers are what makes up a school.
When teachers are successful and the kids are having fun and they're engaged, then the school is going to be a success. I ran a high school of 2,000 kids and 125 employees, and that part doesn't change when you go down to 100 kids and three employees.