Environmental Education
Nature Learning in All Seasons
Integrating nature into art and math can foster a relationship between students and their environment as they learn about seasonal changes.
Being outdoors with your students is easy to imagine on those warm, sunny days when fresh air breathes new energy into a long school day. But what about when those days grow colder, as they are now where I teach in the Northeast, and thinking of outdoor activities is harder to imagine? Does outdoor learning have to take a pause?
Not necessarily. There are meaningful ways to keep getting your students outside throughout the seasons and ways to bring the outdoors inside on days when the weather isn't conducive to learning outside. Both can inspire children to appreciate the natural world around them, connect them to the place where they live, and foster observations of the seasonal changes in your geographical area. Here are four math and art activities I have used to get kids outside in any season to help them make connections between their learning and the world around them. 
Math
Nature is full of materials that can be used as counters during math lessons. When planning a math lesson, I consider these questions when thinking about what materials I will use. For example, what trees or plants grow on or near the school playground? What kind of seeds or cones do they produce? Can any of them be used as counters when doing counting, addition, or creating sets for multiplication and division? Using counters is especially helpful for K–3 students, who learn best using hands-on manipulatives for new mathematical concepts.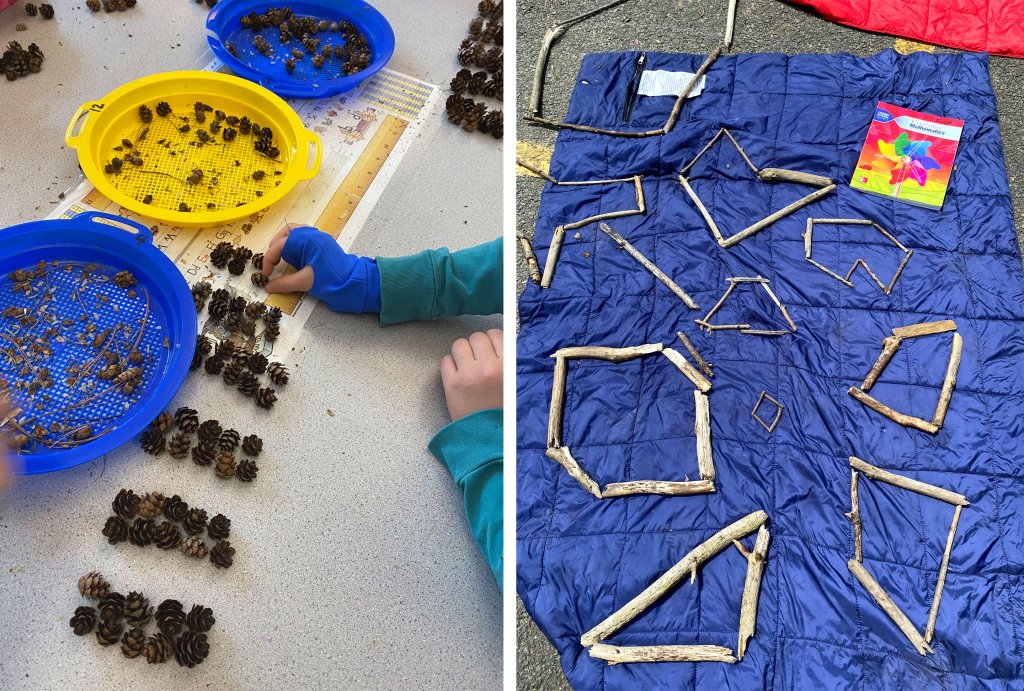 Courtesy of Alissa Alteri Shea
For one activity, we collected a large tub of hemlock cones that fell from trees in the woods near our school. We brought them back inside and put them into groups of 10, so we could count how many we found. We were shocked to learn we had collected more than 400! It took teamwork and perseverance for the students to sort, group, and count so many objects, but they were committed to the task because it was a meaningful class effort and helped demonstrate the concept of place value we were learning. In urban areas, consider taking a walking field trip to a neighborhood park or a tree-lined street near your school to collect objects such as acorns or small stones to use as counters.
In another activity, we collected fallen sticks to create multisided polygons. This activity could have been done indoors using plastic straws, but the team effort of collecting multiple sticks outside and working together to make large shapes turned it into a fun and memorable activity for the kids.
Measurement
Measurement is another easy activity to bring outdoors by studying the weather and other seasonal changes. To help us learn how to count tallies and read a thermometer, my first graders go outside with student-sized thermometers or use an outdoor thermometer hanging on our classroom window to see what the temperature is. Then, we record tallies and totals to find the most common temperature during the month. Finally, we talk about predictions and inferences based on the data we collect.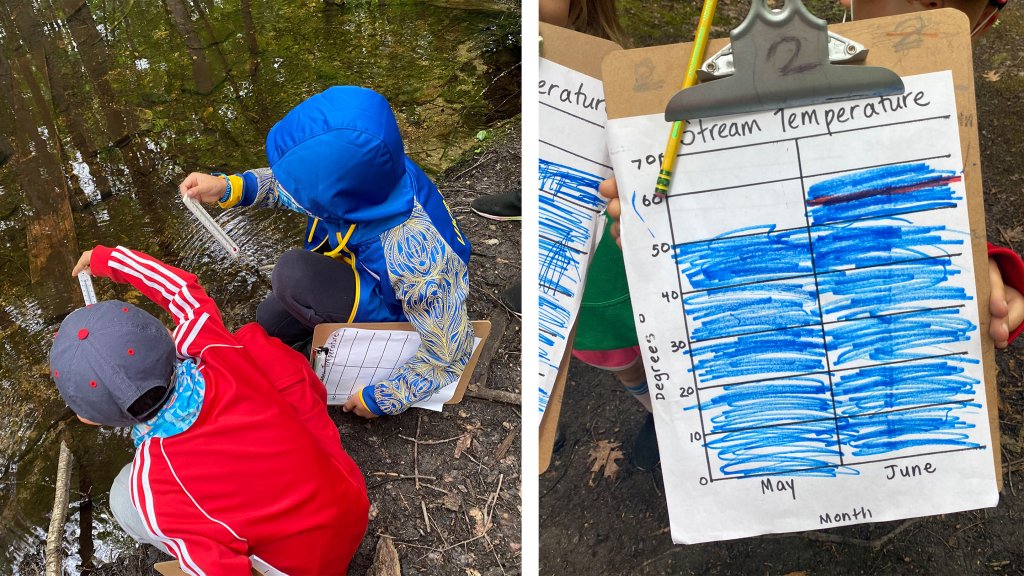 Courtesy of Alissa Alteri Shea
We also study the water temperature of a stream by our school. We visit the stream once a month, take the temperature of the water, and graph the results. The kids analyze the data they collect and write about what they see, notice, and wonder as the water temperatures fluctuate throughout the seasons. If you do not have access to a stream or other local water source, you could also graph the difference between room-temperature water and water that sits outside overnight in a large tub, noticing the differences between the two.
In the winter, kids measure the depth of the snow after a snowstorm and watch as the amount of snow decreases as the days get warmer. They keep track of the totals in a weather journal, where we regularly record changes in the weather that we observe. Activities like this can be adapted to meet the needs of older students in grades three through five, who can graph results and track other seasonal changes that occur each day, such as hours of daylight and times of sunrise or sunset.
Art
Art projects are another way to use found nature materials to create seasonal or holiday art. This activity inspires children of any age to be creative with the materials found in your region. Going outside with your students to find materials and then using them to create collage representations of holiday celebrations is a way for children to be creative in new ways. We have also used our found items to make mandalas with intricate patterns.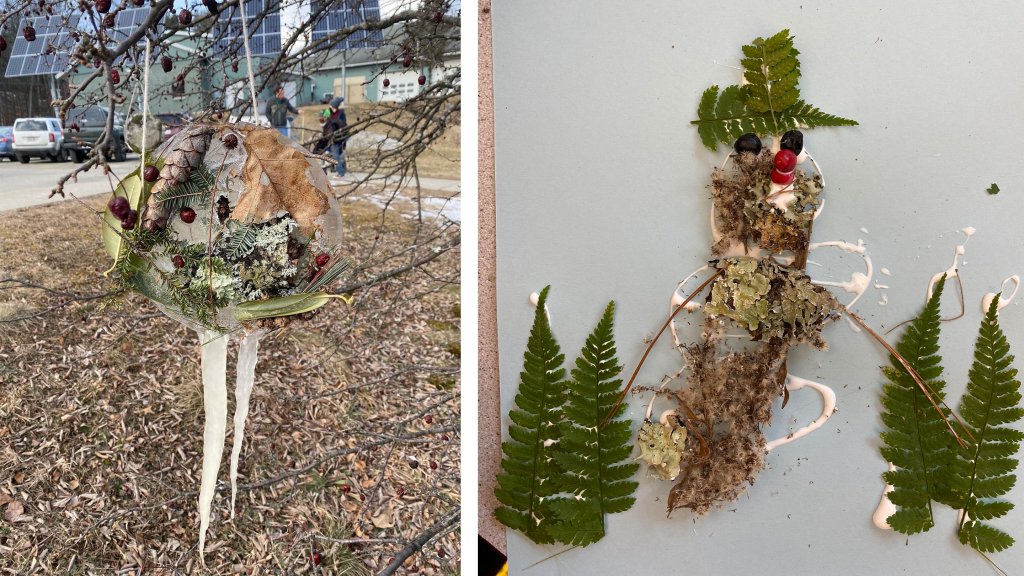 Courtesy of Alissa Alteri Shea
One of my favorite projects is creating winter collage art. Children collect nature items and place them in a pie tin with a piece of string. Then they pour water into the pan and leave it out overnight to freeze. They take it out of the pan in the morning and hang it up in the sun. As the ice begins to melt, interesting ice formations are created. It is a beautiful way to study the changes between liquids and solid ice formations as the temperatures drop below freezing overnight.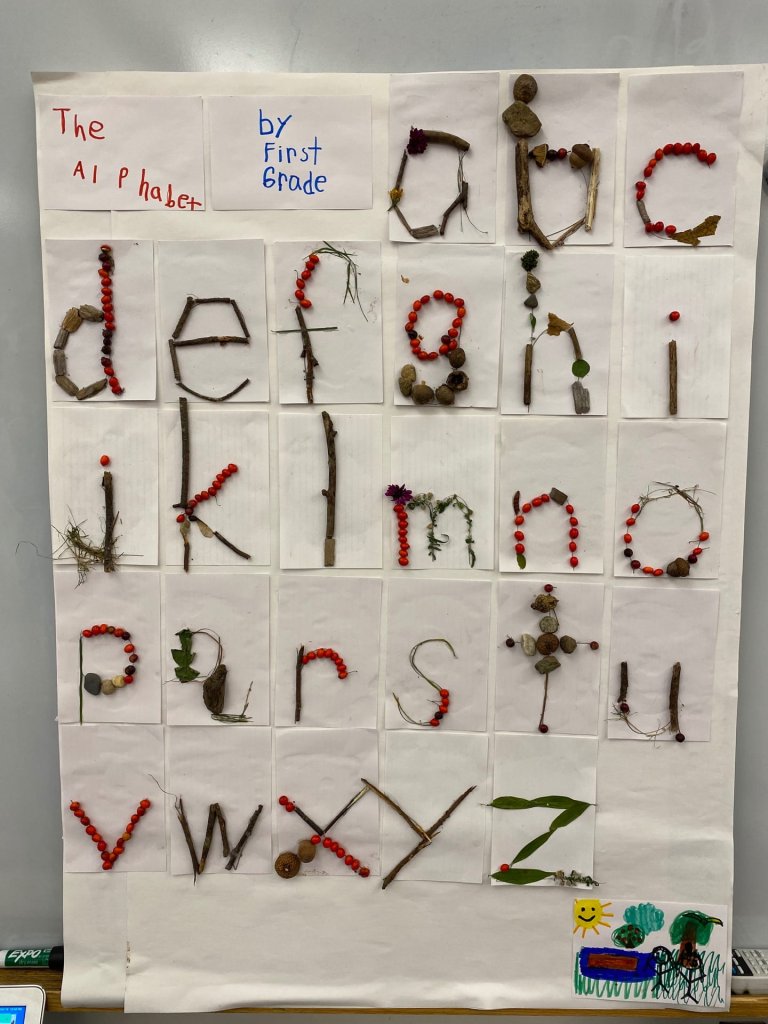 Courtesy of Alissa Alteri Shea
Our class also embarked on a team challenge to make an alphabet poster for our classroom, which was engaging for my first-grade students, who were learning letter sounds. Similarly to the other projects, we used found nature items to make alphabet letters. The children were each assigned one letter to create. First, I wrote the letter lightly in pencil for them to trace with glue on an index card, and then the children glued on different objects they had found to create pretty letters. When they were finished, the kids worked together to get the letters on the poster in the correct order. Then they gathered around to talk about what they noticed about each letter and shared compliments with each other on their work.
To modify this activity for older students, you could create a sign for the classroom that has a special class name or motto written on it, such as the name of the school mascot. Working together to find the items and collectively making the sign together can be an excellent team-building activity that inspires students of every age to work collaboratively and think creatively.
Bringing learning outdoors is a way to inspire and motivate your students in any season by connecting their learning in the classroom to the world around them, even as the cold air wanders in.