Environmental Education
Exploring Environmental Issues Outside of Science Classes
Whether students are studying art, math, social studies, or English, there's a way to incorporate environmental concerns.
Fires. Floods. Heat waves. Drought. Hurricanes. From an environmental science (ES) perspective, this past summer was like none other, with headline after headline detailing the climate reality that, like it or not, we are living with.
In the midst of news stories detailing unprecedented flooding in New York and firestorms across the American West, the International Panel on Climate Change released its first climate report since 2013, endorsed by all 195 member nations, which takes into account more than 14,000 scientific studies. It was a firm, somewhat grim reminder that we are no longer preparing for the climate crisis but actively living it, and without timely change and mitigation measures, we may be unable to reverse some of its most serious effects.
This change will most likely come from students, a group described by former Seattle Mayor Mike McGinn as "the first generation to feel the effects of the climate crisis and the last who can do something about it." This year, students will no doubt have many questions resulting from the steady procession of headlines documenting our climate reality, and they will be depending on educators like you to support them as they seek out the answers that may one day help them become the problem-solving world savers we need them to be.
To support this, we need all teachers to realize that they don't need to be an environmental science expert in order to develop climate-conscious critical thinkers. In fact, you don't even need to be a science teacher, as there are many, many ways that ES can be integrated into all subjects.
If you want to create space for students to think critically about ES challenges and topics, here are some simple ways that you can take the momentous events occurring now and turn them into learning opportunities in any subject.
ES Across Disciplines
Visual arts: Well-designed and eye-catching visuals have long been associated with social causes and activism of all kinds, but especially the environmental movements. Striking visuals like the one below raise awareness regarding the issues that are imperiling our planet better than speeches, articles, or books.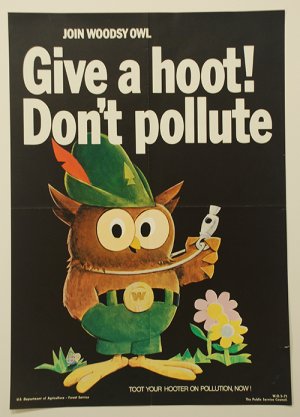 United States Department of Agriculture
Photo courtesy of the Smithsonian.
Woodsy Owl was created in the 1970s as a way to bring the environmental protection message to a younger audience. His famous motto has since been updated to "Lend a hand, care for the land." 
Students in art classes can learn how to make visuals that can inspire action or articulate people's thoughts and feelings regarding different aspects of the climate crisis. These classes can also help students develop their understanding of the principles of art and design. Lessons that emphasize the Visual and Performing Arts standards for students in California around visual literacy and meaning-making can help students learn how the art they are passionate about creating can help promote awareness and social change.
English language arts: Anytime a student reads, writes, or speaks out loud addresses ELA standards, so incorporating themes revolving around the environment that also meet content goals is relatively simple. Students can write persuasive or informative pieces about environmental issues in their own community or write narrative essays that explore their own reflections about growing up as part of "generation global warming." They might read literature or poems that describe the natural world and create their own poetic works about the importance of natural areas they value or wish to preserve.
Social studies: Since humans first arrived on this planet, we, like many other forms of life, have been altering the environment to meet our needs. Many social studies and geography frameworks require the investigation of how all people, from early Indigenous societies to modern civilizations, were shaped by and helped shape the environment around them. Learning about how native peoples in North America lit controlled fires to encourage undergrowth helps students understand the role that fires play in the renewal of ecosystems. At the same time, they can also investigate historic fire disasters like those occurring in the western United States and how they have shaped patterns of settlement and development.  
Math: Math is deeply intertwined with the methods used by scientists to help investigate, understand, and predict how our world and its people will be affected by climate change. Many of the tools and processes they use to share and publish these critical predictions are encompassed in frameworks used by math teachers. Graphing inequalities helps predict global temperature rise and provides accurate models of what kinds of effects we can expect. Polynomial equations are essential in understanding and describing the factors that cause global warming.
The tools that foresters use to combat wildfires also rely on math concepts like calculating the circumference of a tree's base or using statistical analysis to measure tree density. These calculations help inform wildfire response teams as they fight fires exacerbated by climate change. This white paper by the U.S. Forest Service for the Pacific Northwest provides additional ideas for using math to study forestry.
Educators looking for additional resources on teaching ES concepts across disciplines may want to check out my soon-to-be-released book with educational expert Jorge Valenzuela, which provides clear examples and tips.