Inquiry-Based Learning
Discover, Discuss, Demonstrate: Using Inquiry-Based Learning to Keep Students Engaged
The 3 Ds learning model is designed to facilitate deeper learning and increase student motivation.
As we get further into the second half of the school year, a focus on engagement will be key to refining our practices and increasing impact. Teachers can simplify and help students discover, discuss, and demonstrate to thrive.
The 3 Ds is not a new model for learning design, and it aligns with other inquiry-based learning models designed for deeper learning. However, each D is intentional in being simple, portable, and customizable. Each D could happen synchronously or asynchronously, in person or online. Given the current constraints we're all facing, we encourage you to add your lens to envision how the 3 Ds would look with your learners:
What is your critical content?
What are your design constraints (e.g., time, developmental appropriateness)?
What technology could assist in making all learners successful?
Discover
Giving learners opportunities to explore content before launching into direct instruction is a highly effective way to promote engagement from the start and encourage student agency. In this phase, we can curate content, create content, and/or give learners an opportunity to research to find and validate their own sources of information.
Empathy interviews that help students connect to someone who can provide insight on experiences related to the content.
EduProtocols, which are instructional lesson frames available online that are designed to encourage critical thinking. They suggest starting with students each finding bits of information on a topic, putting a picture or icon on a slide, and then being ready to share out very quick takeaways. This piques interest and helps students find their questions.
Learners can discover asynchronously outside of class or live lessons, which gives them more control over pace. This also frees up synchronous time for more peer-to-peer collaboration and guided practice. (Think flipped learning.)
Stay focused on critical content. Less is more.
Design with empathy using principles of Universal Design for Learning (UDL).
Discuss
This D could be called Direct Instruction but is intentionally called Discuss because this is an opportunity for shared learning experiences with peers through communication and collaboration. While direct instruction is a critical part of teaching and learning, it should not be the only means. There are tremendous opportunities for peer-to-peer learning as well as opportunities for on-demand learning with sustained reflection and discourse in both live and asynchronous lessons through online discussion boards and collaborative tools.
This phase is about interaction with material and others. So what can this look like?
Breakout spaces for partners or small groups where they have a shared slide, Jamboard, or document to track their communication.
Student flipped tutorials, explanation videos, or applications. This is an opportunity to start to bank this material for future years.
Found resources such as mini TED Talks, YouTube videos, Khan Academy, and shared Wakelets, which are online tools used to save content and organize it into folders or wakes.
Student leaders as part of a station rotation.
A scrum board used to track group progress on tasks. Scrum boards allow students to list the tasks needed for an assignment or project on sticky notes and move them as they make progress from To Do to In Progress, to Evaluation/Feedback, and finally to Complete.
Protocols are key for any discussion, whether synchronous or asynchronous.
If synchronous, they help students develop thoughtful questions. Open-ended questions are key for discussions. Have students submit them prior to class, and then shoulder-tap students to start the discussion. For younger learners, it's very important to have sentence stems to help them understand how to have paired or group conversations.
If asynchronous, pull specific questions from students and use them in a written discussion. Help students understand how to have a written discussion. Have them post the first response by a particular date. Only after that date will you post responses to others. Assigning students certain comments to respond to will also help focus the discussion and round it out.
For nonwritten discussions, Flipgrid or another video discussion option can provide an alternative to allow us to hear all voices in an asynchronous environment.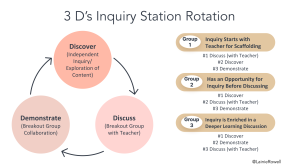 Courtesy of Lainie Rowell
Demonstrate
Cycles of inquiry are not meant to be linear. Even though we often think of Demonstrate happening at the end of a learning experience, it's important to remember that, ideally, we're demonstrating understanding throughout learning. Also, we may need to move back through Discover and Discuss to get to Demonstrate.
Design this phase so that it's creating content to help those who need additional support and giving us, as educators, a library of content for next term.
Present to an authentic audience. Invite guests in person or virtually to listen, provide feedback, and contribute expertise.
Student creation is the best demonstration of authentic learning. Provide choices that are meaningful. Provide the propose-it option, and have students write a formal proposal of their own idea. Perhaps this is a storyboard for a video or a written proposal. This year, Stephanie's students proposed the creation of a book club on topics connected to what we were studying as well as a literature cooking club where they led a cooking class for other students with recipes connected to what they were reading.
We have many hopes for our students. We want them to be engaged and motivated, learning and thriving. These are also hopes we have for ourselves as educators, but it is difficult when we have had the daunting tasks of full-time curriculum designers and full-time teachers. It's time to simplify, focus on engagement, and start the second half of the year strong.