Critical Thinking
A Deceptively Simple Strategy for Promoting Critical Thinking
Using giant whiteboards is an easy way to encourage teamwork, differentiate, and foster deep engagement with content.
On days that I bring out the giant whiteboards in my middle school classroom, I am in awe of the learning that takes place. Every student in my classroom participates in academic discourse, every student has an activity differentiated to meet their needs, and every student is engaged and participating fully. On these days, the level of critical thinking my students show is incredible.
While the learning is very deep, the activity is simple: Students work together to show their thinking on giant whiteboards.
Here is how to implement this strategy in your classroom:
1. Acquire a set of 10–15 giant whiteboards. These boards (about 3 feet by 5 feet) can be created at a hardware store like Home Depot by buying shower board and having the store cut it into pieces for you. It's also not expensive at all: At my local store, each board costs about $5.
2. Have students read an academic article as a class. In small groups, have students draw and write on the whiteboards to show their thinking about the article. Allow students freedom in how they show their work. They might list evidence, draw labeled pictures or a comic strip, make a T-chart or a Venn diagram—or do something else. Allow students to be creative and think outside the box. Students often surprise me with new and insightful ways of showing what they learned.
3. Use the boards to facilitate deep thinking and collaboration. Give students 20 to 40 minutes to work, take photos of the boards—to hold students accountable for their work—and have a discussion as a class about what students learned.
Drawing Out Deep Thinking
While this strategy is simple, it helps students use high-level critical thinking skills. My students have shown an incredible depth of knowledge when we do this. For example, after reading an article about climate change in Alaska, my sixth-grade students split into groups to work on the giant whiteboards. One group drew a giant Venn diagram and compared climate change in Alaska with climate change they have observed in our own state. Another group drew a comic strip about a walrus named Wally who traveled around different parts of Alaska and couldn't find a new home. Another group used the article to find evidence about problems climate change is causing and brainstormed possible solutions. Yet another group used information from the article to draw a series of detailed before-and-after pictures.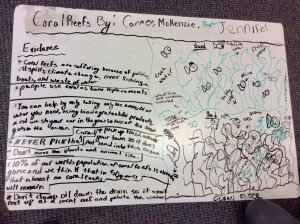 Christine Boatman
A whiteboard shows evidence of student collaboration in the author's classroom.
When I first brought the giant whiteboards into my classroom, I thought using them would be a fun activity. I didn't expect the thoughtful peer-to-peer discourse I have witnessed—a phenomenon that has been shown to produce "substantial improvements in text comprehension" for students. As students work with their whiteboards, they are talking about the article they've read and giving their opinions, using academic vocabulary from the article, and discussing strategies they can use to show their understanding.
Differentiation Made Easy
Another valuable benefit of giant whiteboard activities is the ability to differentiate. Studies show that while secondary teachers understand the concept of differentiation, instruction is rarely adapted to meet the needs of all students. I know I struggle with this myself, and I've found that whiteboards help me differentiate for the needs of all of my students.
In the example about the group who created the comic strip about Wally the Walrus, for instance, all of the art was drawn by Emma (not her real name). Emma is a talented artist in sixth grade who, due to a processing disorder, reads at a first grade level. Two group members worked with Emma to determine what the pictures should look like, and another wrote the text in the walrus's speech bubbles. The group was cohesive and happy and did some amazing learning. Even though Emma has a low reading level, this activity enabled her to absorb very detailed information from the article.
When students walk into my classroom and see giant whiteboards on the daily agenda, I see many faces light up with excitement. This teaching strategy gets students excited, teaches them to be better communicators, and fosters critical thinking.