Learning Environments
Classroom Transformations Are a Fun Way to Boost Engagement
Middle school teachers can use simple decorations to create immersive learning experiences for students in the classroom.
Imagine, as a student, walking into your classroom only to discover it transformed into a restaurant for tasting books. The desks are adorned with checkered tablecloths, and the class chef (with a fabulous French accent!) assigns you to your table, where you sample a variety of book genres. (Cardboard) pizzas hang from the ceiling, and you are met with plates and menus to share your thoughts.
This is a scene from a book tasting, one of the most common classroom transformations that teachers all over the country are facilitating to increase student engagement. This year, I immersed my sixth-grade class in a series of highly engaging room transformations to reignite their excitement for learning.
Classroom Transformations
Classroom transformations create immersive experiences for our students without their ever having to leave the classroom. Hope and Wade King have created a variety of ideas for exciting classroom transformations to engage and inspire students.
I used Fear Factor as a theme to stage in a middle-school-friendly, spine-tingling room transformation this year. Students participated in a rigorous close read about phobias and then tried their hand at guessing a spooky riddle to win a prize from each "fear box." For example, in one phase students were on a quest to find a small red ball in the gunk made of shaving cream and dried beans. For this fear box, the riddle read: "Hope you stick A-ROUND til the end." These types of small yet alluring touches are what help make classroom transformations memorable and engaging.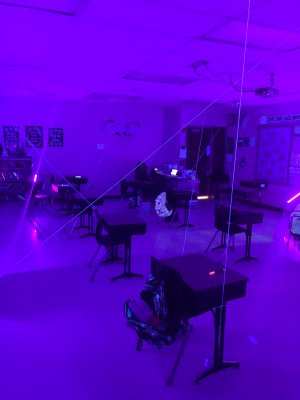 Courtesy Allyson Buczyna
One of our most fun experiences was a blacklight investigation transformation. In this lesson, students transformed into detectives focused on finding text evidence in a series of activities. Activities included a text message analysis and answering a series of questions in a haunting, challenging text. Before entering the classroom, students scanned their fingerprints and then were met with white string acting as laser beams. They had to dodge the faux beams in order to make their way to their seat and gain access to their "confidential file."
Another classroom transformation I have found success with is a test prep boot camp. This was done in preparation for our state standardized test. Students took a break from the traditional question-and-answer test prep and formed a squad where they wrote a chant, participated in station practice, completed exercises, and wore camouflage bandanas and face paint. At each station, students practiced a question or two of prep with their squad. Each station came equipped with an exercise such as doing 10 jumping jacks or running in place for 1 minute.
A Timeline for Planning Immersive Experiences
You may be wondering: How much planning time is needed for one of these classroom transformations? From my experience, you will want to start planning between two and three weeks before the activity. This timeline may help:
15–20 days out: Identify which skills you want your lesson to cover and any themes you will be integrating. If you are going to utilize any community members to assist in your transformation, reach out to them at this time. Finalize the date of your culminating activity, and order any supplies you may need.
10–15 days out: Think about who may be available or interested in assisting you with your transformation. This could include running stations, working with a group, or just popping in to join the fun! Send out invitations to administrators, instructional coaches, colleagues, or parents. Additionally, begin creating resources for your activity, including pre/post assessments, activities, stations, and parent communication.
5–10 days out: Create any final resources you may need. Confirm attendance with guests. Look through your ordered supplies and itemize all materials.
1–5 days out: Print and assemble any nondigital resources you have created. Set up the classroom the night before or early the morning of the transformation. An average transformation can take anywhere from one to three hours to set up.
The day of: Host your students in the incredible immersive activity you have planned. Be sure to communicate with parents all about the transformation, including pictures and a blurb about the purpose and rigor behind your culminating activity.
After the event: Share the excitement and spark passion in others. Showcase your successes on a district institute day, in a shared folder, video, or website.
Students remember these high-engagement lessons long after they leave your classroom. If you can provide students with as many of these opportunities as possible, you can make learning fun and reignite a passion for teaching and learning.