Literacy
Building Choice Into Your Students' Reading
Create a literacy-rich environment by putting a lot of books in front of your students.
As more and more teachers are building choice reading time into their daily classroom schedules, making a variety of books available to a diverse group of students can be challenging. Inspired and challenged by several teachers (including Brian Sztabnik—see "Igniting a Passion for Reading") to incorporate daily independent reading into class, I have set aside 15 minutes in each 90 minutes block for independent choice reading.
After making the jump, I quickly realized that I needed a way to keep a variety of books for selection in front of my students. The goal is to get the right book in the hands of students while protecting reading time as much as possible. Here are a few suggestions for introducing students to books and creating a literacy-rich environment.
Speed Dating
Book "speed dating" is a great activity to do at the beginning of the year or semester because students can be exposed to several books and begin to build a reading list. When we arrive in the library, several books are arranged on tables by our media center specialists based on information I have given them about the class. Students find a table, and the dating begins as students fill out a guided note page. A timer buzzes after three or four minutes, and students move to another table and start the process with another book. After students have completed several cycles, they rank the books, deciding which book to begin reading immediately and which ones to add to their reading list. Speed dating can be varied by genre or theme, or kept wide open. This past Valentine's Day, students speed dated books complete with candles and chocolate.
Mini Book Talks
Every couple of weeks I have a staff member or media center specialist share a book that has been important to them or one they're currently reading. Students love to hear about the reading habits of teachers, administrators, and custodians, plus they get to know different people on campus on a more personal level.
Display Teacher Reading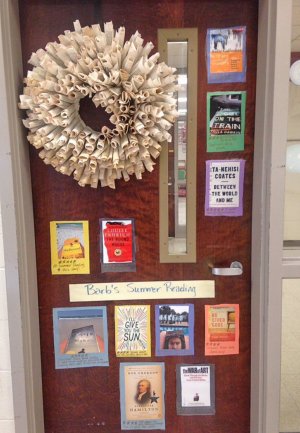 Courtesy of Susan Barber
The writer's door, showing her recent reading
My summer-reading door display greets students at the beginning of the year. You could also feature the faculty's summer reading in a great school-wide display.
Social Media
Have students create a hashtag that features reading and their classroom, school, or county. They can post pictures of books they're currently reading. I love the excitement that Amy Rasmussen generates in her district with #FarmersRead on Twitter.
Student Book Recommendations
Inspired by staff recommendations at bookstores, I dedicate a portion of the class bulletin board to student book recommendations. I ask students to include a brief summary, why they recommend the book, and a significant quote. I also encourage them to include a picture of their book and themselves. The display is always changing, and I find students referring to it when they're needing a new book.
Classroom Library
I love our school library, and we have committed media center specialists who are determined to get the right books to the students. However, a classroom library is a bonus for a couple of reasons. First, students lose less reading time choosing a book from the classroom library than if they go to the school library. Second, I have multiple copies of some books, so friends can read the same book. Finally, a classroom library allows the community to feel connected and a part of what is happening with my students. I make appeals for books on social media, and friends and neighbors make donatations. I have students write thank you notes to people who donate books and love the relationship I am fostering between Room 128 and the community. My students love writing notes on the inside cover of books from the classroom library to encourage other students to read them.
Literally Place Books in Front of Students
Simply displaying books on the whiteboard's marker tray with a very brief description is highly effective. I have at least one student take a book from the board each day, so the display is continually changing.
Student Book Talks
This does take some time away from reading, but I love to give students an opportunity at least once during the semester to share a favorite book with the class. The book talk format works well because it only takes three minutes per student and provides a structure for the presentation.
Lists, Lists, Lists
Keep a running list of books read through the year visible in the classroom. I also have an ongoing list where students record books they want me to read, and I mark them off as I read them—if a student goes out of the way to recommend a book to me, I will definitely make time to read it. I frequently share books lists with students, such as Edutopia's "Summer Reading Recommendations" or "President Obama's Reading List" from The New York Times.
The goal of a literacy-rich classroom is expose students to as many different types of books as possible in order for them to continue to grow in their love of reading or to find an entry point for reading.