STEM
Resources and Downloads for STEM
Explore ways to use STEM lessons and approaches to help students practice cross-disciplinary thinking and build skills in science, technology, engineering, and math.
January 13, 2016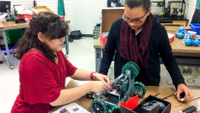 Photo credit: Kevin Jarrett via flickr (CC BY 2.0)
Getting Started With STEM
Strategies for Engaging Students in STEM Learning
STEM Projects, Lessons, and Models
Pulling Underrepresented Youth Into STEM
STEM Beyond School Walls
Downloads and Examples From Schools That Work
Edutopia's flagship series highlights practices and case studies from K-12 schools and districts that are improving the way students learn. Below, find downloads used by practitioners at a featured school, and dive into real-world examples of STEM learning.
At Mc2STEM High School, integrated project-based learning and real-world internship experiences build the crucial link between academic achievement and future economic success. See how this school designs rigorous projects that blend STEM with other core subjects, find information about research-based practices for STEM learning, check out an infographic on why STEM education matters, and explore a few of the school downloads below.
video