Project-Based Learning (PBL)
Up Front: A School's Success Can Be Measured in Smiles
Houston's YES Prep North Central brings out the best in its students — and it shows on their faces.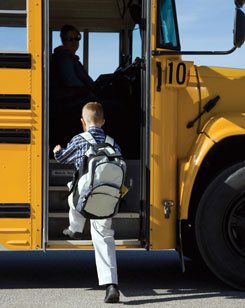 Credit: Getty Images
When I was getting started in school, my family moved back and forth, from the East Coast to the West, almost every other year. By the time I was in fourth grade, I had switched schools three times and was pretty good at sizing up new learning environments.
My conclusion? Schools were tough places for new kids. While teachers and principals were generally friendly and considerate, they were too busy to help with the hard part: breaking the ice with the other kids.
Bus drivers were another story. They saw and heard every day what we newbies were up against, the veteran-on-rookie teasing and chilly stares that were kept under wraps when teachers and principals were around.
One driver, Mr. Jackson, having noted my teary state through the first week of first grade, took pity on me, pulled me aside, and quietly imparted some strategic social advice I have held on to ever since: Take a deep breath. Do your best to smile at everybody you see on this bus and in your class no matter what they do or say. When someone smiles back, walk over, introduce yourself, and stick with that kid.
For me, the smile came early in the second week. The boy's name was Dick, and he let me tag around with him. He later introduced me to his friends, and first grade turned out fine.
Today, I still look for that first smile every time I walk into a school. Which brings me to YES Prep North Central, in Houston. Serving grades 6-12, this public charter school is the focus of the first installment of our new Edutopia series, Schools That Work.
When I entered the halls of YES Prep, a predominantly Latino school in an economically struggling section of north-central Houston, not only did almost every kid flash a genuine smile, many of them came over, shook my hand, and introduced themselves to me. Somewhere, Mr. Jackson was smiling, too.
Most of the students at YES Prep trace their family roots back to Mexico. All of them have committed themselves to achieving something few, if any, of their family members have even dreamed of: They have pledged to graduate from this school, enroll in a four-year college, and earn a degree.
That is the mission guiding all five YES Prep campuses in Houston; it is the goal uniting a remarkable community of administrators, teachers, parents, business leaders, and Houston Independent School District board members that support those schools. With a young teacher corps that spares no effort to engage students in critical thinking and analysis, and a discipline system that is tough, rigorous, and rooted in love and respect for every student, YES Prep is a model for what school communities can achieve if all the stakeholders commit to a common cause and credo.
"Whatever It Takes" is the story of how YES Prep is changing the lives of families in Houston while slowly transforming the future of public education in the nation's fourth-largest city. It begins on page 20 of this magazine and unfolds further online, with extensive video and interactive coverage. In the months to come, we will profile other blueprint schools whose successes offer new and multiple opportunities for breakthrough change in diverse school districts throughout the nation.
When you visit our YES Prep North Central coverage on the Web, don't miss the new Edutopia.org groups and discussions hosted there. The launch of these opportunities marks the most ambitious expansion of the Edutopia.org online experience since we created the site 15 years ago. Fill out a quick and simple profile, and participate in discussions with other educators and with Edutopia.org bloggers, as well as the administrators, teachers, and families of YES Prep. It's free, and it takes less than five minutes to get started.
As we continue to develop our next generation of community tools, you will be able to connect with other members by grade level, by geographic region, or around core topics like project learning, technology integration, and social and emotional learning.
For it all to succeed, we need your feedback. Tell us the groups and discussions you'd like to see on the site. Tell us the functions you want added to your profile page. Meanwhile, stay tuned to our Foundation blog for updates as we build the tools to enable you to start your own groups and discussions, share more content, and connect with more people.
Finally, I want to call your attention to our cover package, in which we focus on ambitious projects around the country to make schools greener, healthier, smarter, and more sustainable. We found a wealth of energetic folks, creative strategies, and cutting-edge products dedicated to the environmental safety of future generations. This work never ends, and neither does our respect and admiration for the people who do it. You know who you are. We thank you.

David Markus
Editorial Director