Professional Learning
Virtual Training, Real Teaching: The Promise of Distance Learning for Educators-to-Be
Online education is a growing force in teacher preparation.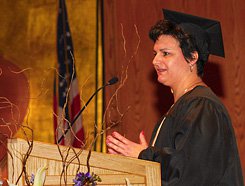 Credit: Courtesy of Western Governors University
Online, Then In Line: Cynthia Boland, a graduate of Western Governors University's Teachers College, speaks at her class's commencement in February 2007.
In forward-thinking schools of education, figuring out how to use technology to both train new teachers as well as recruit more diverse candidates into teaching is a big challenge. A piece of the solution to both these issues could lie in one growing practice -- online education.
By immersing themselves as learners in online courses, teachers can gain comfort and familiarity with tools they might someday use in their own classrooms. The timeless, placeless nature of Internet-based learning can also provide a flexible and efficient route to teacher preparation, opening the door to candidates with limited time, income, or access to schools.
"We can develop a wider range of candidates," says Sharon Robinson, president of the American Association of Colleges for Teacher Education (AACTE), "because we will be able to provide service to candidates who don't find it convenient to be in a classroom when the classes are taught, and get to candidates who might be in rural settings." These online classes will appeal to at least some candidates, but Robinson notes that not all learners will thrive in the online environment.
Despite her optimism, Robinson cautions that these new programs must prove that they and their graduates meet professional standards; the way such programs measure students' competency will be watched very closely. She also points out that all teacher-education providers, no matter what their medium is, must be held equally accountable.
Old Schools, New Tricks
Many brick-and-mortar schools are already offering virtual settings for individual courses or exercises to both preservice and practicing teachers. The University of Virginia's Curry School of Education uses CaseNEX, a homegrown online instruction system, to teach problem solving to undergraduate candidates through case studies. For example, a study of Benjamin Cardozo High School, in Queens, employs videos, interviews, and statistics to show how leaders there provide individual support to students who get lost among the school's 4,000-plus pupils.
Michigan State University offers one-credit online classes for novice teachers -- designed to fit into beginners' busy schedules -- to help with such critical challenges as classroom management and differentiating instruction. Even more revolutionary is the emergence of a handful of universities that offer all-online programs for initial certification, such as Walden University and the University of Phoenix. The most obvious challenge for these programs is providing candidates with supervised teaching practice in real-world classrooms. Typically, they include a student-teaching experience in a regular, offline classroom near the student's home, supervised by university-contracted faculty, in addition to the Internet-based courses.
Arthur Wise, president of the National Council for Accreditation of Teacher Education (NCATE), sees online learning as a growing force in teacher preparation and says most of the 632 schools his agency accredits already provide some virtual instruction. In the AACTE's latest survey of its 800 member schools (about 600 responded), 62 percent said they offered credit-granting courses via distance education.
From Utah to Your Home Computer
The only all-online preparation program accredited by NCATE so far is at Western Governors University (WGU), which earned that distinction in fall 2006. The Utah-based virtual university uses a competency-based model to measure candidates' mastery of the content rather than simply using the amount of time they've spent in class. That means highly motivated educators-in-training can progress through their courses as quickly as they want, as long as they can demonstrate the expected skills.
This program has proven to be highly accessible: About 70 percent of WGU students are from traditionally underserved populations, including racial minorities, first-generation college-goers, and individuals from rural or low-income communities. Most of them attend the university while employed, some full time. (At the WGU Teachers College, which has produced nearly 1,500 graduates, the average age of students is thirty-six.)
WGU contracts hundreds of school districts nationwide to be training sites, so candidates can pursue their twelve-week student-teaching session near their homes. The school's coordinators correspond regularly with a network of clinical supervisors who assess candidates and offer interventions to those who are struggling.
Linda Clark, a middle school teacher in South Jordan, Utah, who completed a WGU master's degree in measurement and evaluation in 2006, uses her new expertise to enhance her teaching of children with learning disabilities and to assess the effectiveness of a phonics program she has developed.
Clark, who also does private tutoring and sells real estate, praises the program for its flexibility and rigor. Despite the distance, she could reach her WGU mentor by phone or email anytime. "I felt like I had a whole lot of support there whenever I needed it," she says. And she finished the two-year degree in a year and a half.
Grace Rubenstein is a senior producer at Edutopia.