Social & Emotional Learning (SEL)
Resources and Downloads for SEL Classroom Management
Educators from Mount Desert Elementary School in Northeast Harbor, Maine, have shared a few social and emotional learning tools and we've gathered some of our favorite resources to help educators implement positive discipline strategies, build community, and keep kids engaged.
April 4, 2013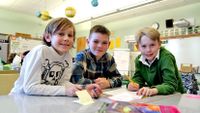 Photo credit: Alyssa Fedele
Educators at one Maine elementary school are embracing social and emotional learning and watching their students achieve sustainable academic success.
If you'd like to deepen your understanding of SEL and how to apply it as an educator or parent, here are resources to get you started. The following are the combined recommendations of Mount Desert Elementary and the Chicago-based nonprofit Collaborative for Academic, Social, and Emotional Learning (CASEL).
Click on any link below to view or download that file.
Tips for downloading: PDF files can be viewed on a wide variety of platforms -- both as a browser plug-in or a stand-alone application -- with Adobe's free Acrobat Reader program. Click here to download the latest version of Adobe Reader.
Resources from Mount Desert Elementary School
Rebecca Heniser, a third-grade teacher at Mount Desert Elementary School, shared some resources that can help you get started.
Learn More About Mount Desert Elementary
Social and Emotional Learning Websites for Classroom Management
Reading List: Introduction to SEL
General Introductions to SEL
Books for Educators
Books for Parents
Practical Tools for the Classroom
More Edutopia Resources on Social and Emotional Learning:
Social and emotional learning (SEL) programs recognize that there's more to a child's personal, academic, and adult-life success than pure academics. Self-awareness, self-respect, self-control, and interpersonal skills can go a long way to helping a child become a happy, effective student and citizen (watch the Edutopia introductory video on SEL).
For more, check out our social and emotional learning strategy page.
(For more innovative ideas for teaching classroom management, check out our social and emotional learning blog series.)

What do you think about this Schools That Work story? We'd love to hear from you!
Tweet your answer to @edutopia, comment below, or email us.
 
School Snapshot
Grades K-8 | Northeast Harbor, ME
Enrollment
170 | Public, Rural
Per Pupil Expenditures
$15,756 School
•

$15,756 District
•

$9,121 State
Free / Reduced Lunch
20%
DEMOGRAPHICS:
95% White
1% Black
1% Asian
1% Hispanic
1% English language learners
 15% Special services
Data is from the 2011-12 academic year.