Curriculum Planning
Resources and Downloads for Global Competence
Educators from John Stanford International School in Seattle, Washington, have provided these resources and tools for teaching global competence.
January 29, 2013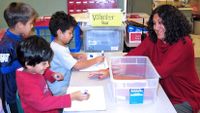 Photo credit: Suzie Boss
At John Stanford International School, principal Jesely Alvarez says that they're not "just teaching our students about the world, we're asking them, 'What are you going to do about it?' It's about taking action.
Click on any link below to view or download that file.
Tips for downloading: PDF files can be viewed on a wide variety of platforms -- both as a browser plug-in or a stand-alone application -- with Adobe's free Acrobat Reader program. Click here to download the latest version of Adobe Reader.
Global Competence Unit Plans
Sample global competence unit plans for various grade levels provided by Seattle Public Schools. Each unit contains state standards, global perspective, essential questions, timetable for the unit, and student and teacher goals.
International School Symposium
Additional Documents from John Stanford International School
Useful Websites on Global Competence
John Stanford International School - Homepage for JSIS
Seattle Public Schools International Schools - Overview of the district's international education program
Asia Society - Nonprofit organization dedicated to promoting mutual understanding and strengthening partnerships between Asia and the US through arts, education, and business
Global Competence - Link to chart provided by Asia Society defining global competence
Washington State Arts Commission - Nonprofit organization that collaborates with artists and arts organizations to conserve and develop critical artistic resources
Committee for Children - Nonprofit dedicated to promoting social-emotional learning, the prevention of bullying, child abuse, and youth violence through education
Second Step - Program created by the Committee for Children to teach social skills to students in early childhood through grade 8
Steps to Respect - Program created by the Committee for Children on bullying prevention for elementary schools
More Edutopia Resources on Global Competence:

What do you think about this Schools That Work story? We'd love to hear from you!
Tweet your answer to @edutopia, comment below, or email us.
 
School Snapshot
Enrollment
460 | Public, Urban
Per Pupil Expenditures
$6,062 School
•

$11,351 District
•

$9,733 State
Free / Reduced Lunch
7%
DEMOGRAPHICS:
61% White
14% Hispanic
13% Asian/Pacific Islander
10% Multiracial
2% Black
1% Native American
4% English-language learners
 4% Individualized education programs
Data is from the 2011-12 academic year.