Financial Literacy
Getting an Early Start on Financial Literacy
A financial-literacy curriculum provides real-world context for learning and helps students directly connect school with their future goals.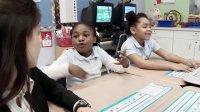 Overview
Financial Literacy Pays Off
Because 87% of Ariel students qualify for free or reduced-price lunch, they are exposed to financial-literacy concepts that are woven into the curriculum beginning in kindergarten to attempt to break the cycle of poverty. The main elements of the program are a relevant financial-literacy curriculum, community partnerships and parent involvement, and a culturally responsive pedagogy.
The K-8 financial-literacy curriculum consists of four main components: basic economics, personal finance, the business model, and investing. In grades K-4, the curriculum is more scripted, but in the upper grades, teachers receive significant autonomy to develop how the financial-literacy curriculum is woven into the regular content.
To increase the relevance of what they are learning, each first-grade class receives $20,000 in a mutual fund that they can begin to manage when they get to the fourth grade. By the time students are in eighth grade, each class has a full stock portfolio and students are able to create a small-business plan. 
How It's Done
Analysis and Critical Thinking are Essential  
When the Ariel Community Academy first started a financial-literacy program in 2001, teachers had minimal knowledge of investment principles. They had familiarity with savings, credit cards, and banks, but they lacked sufficient expertise to guide a multifaceted learning process through which students could observe financial principles in daily life. Since 2002, Ariel has had at least one member on staff at all times who has previously worked in the financial-services industry. This on-site expertise has played a crucial role in developing the school's curriculum.
The success of the financial-literacy program at the Ariel Community Academy depends on three major elements: a financial-literacy curriculum that begins early on and is developmentally appropriate, community partnerships that provide connections to reality and parent involvement in financial-literacy learning, and a cultural sensitivity in the methods of instruction that encourage student choice and the development of decision-making skills.
A Financial-Literacy Curriculum
The curriculum at Ariel is effective because it trains students to compare the long-term and short-term rewards that can result from their financial decisions. By teaching students to consider the less visible, longer-term rewards when making decisions, the program helps kids develop a stronger and more positive future orientation.
The Ariel Community Academy teaches financial decision making to students in grades K-8 in the context of activities that are relevant to their everyday lives, such as weighing the costs and benefits of purchasing a meal from different vendors. Delivering financial education in earlier grades helps to ensure that students who are at risk for dropping out and who may need financial education the most can receive it. Below is the financial-literacy curriculum plan for grades K-4:
Kindergarten lessons help put words to the economic concepts with which students may already be familiar.
First grade focuses on personal finance, which includes consumer spending and the importance of saving money.
Second grade is a combination of economics and personal finance.
Third grade is about currency, monetary policy, and the way money works.
Fourth grade focuses on business models and the idea of investing.
In the higher grades (5-8), one of the most impactful ways that Ariel teaches real-world financial literacy is by having students invest real money in the stock market; the Ariel Education Initiative provides each incoming first-grade class with a $20,000 endowment. Beginning in fifth or sixth grade, students begin to actively manage this portfolio by making financial decisions about which stocks to buy and which to sell. They have to research different companies and do the comparative math regarding the data they discover to make their decisions. During their final year, eighth-grade students donate half the profits they have made to charity and divide the other half equally among themselves. Students typically receive $100 or more as their personal portion.
Additionally, eighth-grade students must prepare a business plan that includes sound financial analysis, projected business earnings, marketing plans, and growth strategies.
Community Partnerships and Engaged Parents
For schools seeking to replicate Ariel's curriculum, Ariel's curriculum director recommends cultivating relationships with local community partners. Such community partnerships can range from inviting experts in the financial-services industry to mentor teachers or collaborate on designing investment curriculum to partnering with a local grocery store to help students understand how businesses operate and how consumers and producers are connected.
Ariel's outreach efforts have proven very effective in engaging parents in the financial-literacy program. Parents have consistently reported learning new financial concepts through students' presentations. Ariel's personal-finance workshops for parents have become increasingly popular over the years.
A Culturally Responsive Pedagogy
At Ariel, one focus of the financial-literacy curriculum is on aiding students to develop a point of view. Educators encourage each student to recognize and cultivate his or her unique perspective. In the creation and management of each class's investment portfolio, students apply the analytical skills they have developed and their personal perspectives as individual investors to decide collectively what type of portfolio they want to produce. Ultimately, the portfolio is an opportunity for students to use their point of view to make real-world financial decisions.
School Snapshot
Enrollment
521 | Public, Urban
Per Pupil Expenditures
$8837 School
•

$13078 District
•

$11537 State
Free / Reduced Lunch
87%
DEMOGRAPHICS:
98% Black
2% Hispanic
1% English-language learners
11% Special Needs
Data is from the 2010-11 academic year.