9-12 High School
Mastery-Based Assessment Builds Accountability
How you can help students take responsibility and meet high expectations by providing the right tools and support along the way.
October 31, 2012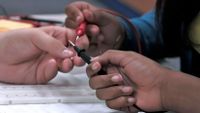 Photo credit: Zachary Fink
Project-based learning help students at MC<sup>2</sup> STEM High School meet the school's rigorous requirements for reaching mastery in order to receive credit.
Five tips for mastery-based assessment:
Provide clear expectations for students of what is required to achieve mastery, including rubrics with specific tasks.
Provide frequent feedback so students know what areas they need to work on.
Hold students accountable for knowing what skills they must master and for seeking out additional help.
Make additional support such as tutoring, small group sessions, or online exercises easily accessible to students.
Allow multiple ways for students to demonstrate mastery.