Project-Based Learning (PBL)
Student Luis Arechiga Searches for the Next Generation of HIV Drugs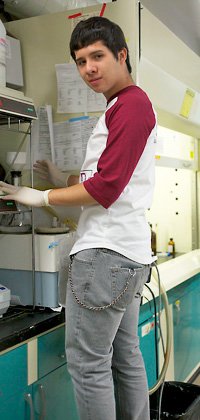 Credit: Ethan Pines
A partnership between Bravo Medical Magnet High School and USC Medical School gave senior Luis Arechiga a chance to work in a real HIV research lab.
Name: Luis Arechiga
School: 2010 Graduate of Francisco Bravo Medical Magnet High School
Location: Los Angeles Unified School District
CTE: STAR
Status: Class of 2010, attending Emory University, Atlanta, GA
In a second-floor lab at the USC Keck School of Medicine (School of Pharmacy), Luis Arechiga is testing compounds in search of the next generation of HIV drugs. Using a dropper, he methodically squeezes samples of each compound into a gel that is squished between two thick plates of clear plastic. "This plate," he says, pointing to a larger pane of plastic separating him from the apparatus, "is for protection because the experiment is radioactive." Though it isn't hyper-dangerous like gamma rays, the radiation in the experiment means Luis has to wear a lab coat and gloves. He is, believe it or not, a high school senior, and he thinks his lab work is pretty cool, especially because his name will appear on any research paper published as a result of these experiments.
His immediate supervisor and mentor is PhD student Tino Sanchez, who is a Bravo alum. "Being a mentor is kind of like completing a circle," notes Sanchez, who is only the fourth person in four generations of a very large family to have graduated from college. Luis, on the other hand, is an only child, and both his parents attended college in Mexico. His father is a veterinarian, and Luis plans to become a doctor. Elevating his cool factor even further, he recently enrolled at Emory University, where he is a premed student majoring in chemistry.