Project-Based Learning
Resources for Getting Started With Project-Based Learning
Explore Edutopia's curated compilation of online resources for understanding and beginning to implement project-based learning.
January 3, 2014         Updated July 11, 2016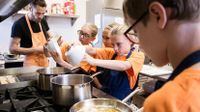 © Gable Denims/500px
Just getting started with project-based learning (PBL)? Our curated list of resources for educators new to PBL should help you. Before you get started, be sure to check out Edutopia's PBL page, including information about the research behind effective PBL practices. You can also connect with Edutopia's community to learn and share PBL tips.
PBL Defined and Clarified
Stories and Examples
Other Tips From Teachers and Experts
Bookmark this page to reference it for updates. Do you know of other useful resources, or are there other types of resources you'd like to see included on this page? Please share your feedback in the comments.