Technology Integration
Integrating Technology Into Content Learning
Setting up a context for learning apps and other tools through all subject areas makes tech literacy relevant.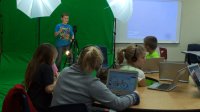 Overview
Embed Technology Throughout Content
The first year that Meyer Elementary School had a technology teacher, they focused on learning basic computer skills and tools, such as email, apps, and programs. Student learning of technology skills was disconnected from what they were learning in other classes.
This year, Meyer's technology instructor teaches tech through various content areas, presenting technology use as something purposeful, connected to their learning, and relevant to real-world situations.
"When they have a contextual tie to what they're doing in class, it lends validity," says Jeff Dahl, Meyer's technology teacher. "I can take those opportunities, teach them a tool, and hit content information at the same time."
How It's Done
Make Technology Applicable to Other Class Assignments
Instead of teaching only computer and web skills, as in their first year, Meyer Elementary has been embedding the classroom curriculum from other content areas into technology instruction.
"What I've been trying to do in my new position," explains Jeff Dahl, Meyer's technology teacher, "is go to teachers and remind them, 'Hey, I want to take some of your burden. If you're going to cover bats this month, let the kids create a presentation on bats in my class. If you're going to do a research project, let me help the kids with how to construct a Google search.' Not only does it help the classroom teachers and us meet the curricular needs of the students, but also it lends credibility when the kids see that we're not making presentations just to make presentations."
Collaborate With Other Teachers
"The way we use our technology is very purposeful," says Donna Barrier, Meyer's principal. "We try to make that integrated as much as possible so that everything students do is pushing them towards a goal."
A big part of Meyer's tech integration program boils down to collaboration and communication. The teachers need to communicate and collaborate effectively so that Dahl can supplement their lessons in his class.
Here are two collaboration tips from Meyer educators:
Create a Google Doc
Dahl and Barrier created a Google Doc where students and teachers can share their ideas and begin collaborating with one another.
Is easily shared across grade levels and buildings
Isn't dependent on people meeting in person
Enables collaboration that fits into everyone's schedule
Mary Krenke, a Meyer third-grade teacher, shares what's coming up in her curriculum on the Google Doc. She asks Dahl for his ideas on what he can teach to tie her curriculum into his class.
Although Dahl is the technology teacher, he isn't the only person who gives feedback. Many teachers will share the assignments that they're preparing, and other teachers, Dahl, or Barrier will add suggestions on how to integrate technology into those lessons.
Utilize Casual Spaces
"There are projects that grow out of just talking in the staff lounge, casual conversations at the copier in the hallway," observes Dahl.
The staff lounge isn't solely for sparking new ideas, but it can be great for quick, in-person, follow-up conversations to supplement the Google Doc.
Embrace Discomfort
Before Meyer integrated learning technology with content, the school's technology focus was on the how-tos of learning a program or an app. Now, with the current approach to tech integration, students must call upon their critical thinking skills.
When Dahl's first-year technology students were introduced to choice in their projects, it was uncomfortable for a lot of them. Their focus was no longer on the elements of using a program like Powerpoint, but instead on researching and reflecting about content, along with the option of using various presentation tools. And while students weren't accustomed to open-ended projects that allowed them to choose how they would learn, they adapted.
"This year, right from the get-go," recalls Dahl, "I came at my second year students with a project involving some digital storytelling, and I gave them four different application options that they could work through. We talked about the pros and cons of each one, their ideas, and which application best suited their specific ideas -- and they really embraced it this year."
Barrier notes that not only are the kids more confident in using technology, but they're also learning that there are many ways to solve a problem or complete a task, and that if three people do it differently, each way can be correct, and no better or worse than the other.
"We want all of our students to learn the content, of course," she explains, "but we want all our students to learn how to be learners for the rest of their lives. Students get to see each other choosing different ways to learn."
Apply the SAMR Model
When Meyer Elementary first introduced technology, they focused on using it to teach technology separated from content, and on remediation for differentiation in the classrooms.
Substitution: Technology acts as a direct tool substitute, with no functional change.
Augmentation: Technology acts as a direct tool substitute, with functional improvement.
Modification: Technology allows for significant task redesign.
Redefinition: Technology allows for the creation of new tasks, previously inconceivable.
"It's not about substituting and using programing just for remediation or just to express a learning product that we could have done in writing," says Barrier, "but it's to be able to give students additional ways to express their learning, to go out and find information, to learn how to pull that together, to be able to use their own voice in making a product that will show what they've learned. Going forward, students need to know how to learn."
Tech Integration In Action
"One of the things that I really embrace is reading and writing in the English language arts curriculum," acknowledges Meyer's technology teacher. "I've been looking for the last year or two at how that translates into a technology classroom, and a lot of people see technology as the downfall of reading and writing. 'Do we need handwriting?' 'Do we need to be able to write and read?' 'Can't we just watch these things on YouTube?' And I don't think that's true. I think that these two things can coexist."
Dahl brought ELA curriculum and technology together with a personal narratives project called "Scar Stories."
"Today, we're going to start a new project," announced Dahl to his class. "We're going to start working on scar stories. It's nonfiction; it really happened. And it's a story that belongs to you. Narrative is a story -- personal narrative, your story. We want sensory words: feelings, touches, tastes, smells, sounds. Action is key. And then the 'So what? Who cares?' You crashed your bike, so what? What did you learn from it?"
By creating their video presentations, Dahl's students learned about key coloring technology and online video apps, like WeVideo, and then applied that knowledge to telling their personal narratives. They filmed themselves recounting their story on a green screen, or used a voice over and told their story through images.
"When I was little, like three or two, I hit my eye on something sharp in the kitchen," recounts Cassie, a Meyer Elementary student. "I had to go to the emergency room in the hospital."
Cassie described using a green screen to tell her personal narrative: "The green screen is going to change my background. It makes it look a little bit more real and interesting."
"In technology class, one of the things that I'm trying to do with our students is expose them to opportunities to communicate better, to collaborate more," concludes Dahl. "I really want our students to become creators of the web rather than consumers of the web."
School Snapshot
Grades 1-4 | Lexington, MI
Enrollment
317 | Public, Rural
Per Pupil Expenditures
$14417 District
•

$11037 State
Free / Reduced Lunch
54%
DEMOGRAPHICS:
93% White
4% Hispanic
2% Multiracial
1% Black
Demographic data is from the 2013-14 academic year. Fiscal data is from the 2011-12 academic year.