Student Voice
Promoting Student Agency in Learning
See what can happen when students lead meetings about their own academic progress.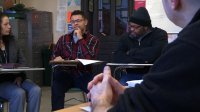 Overview
University Park Campus School (UPCS) empowers students to take ownership of their own learning and lives. A critical part of this practice is student-led meetings, which give students a chance to consider their strengths and weaknesses, identify what they need to do, and ask for support in order to succeed.
There are two types of student-led meetings:
The middle school meetings focus on academic and behavioral goals.
The 11th-grade Planning for Education Progress (PEP) meetings prepare students for college and life after high school.
Students lead these 30-minute meetings with their teaching team, administration, and parents, during which they create a plan to propel their goals forward and ensure that everyone is on the same page in supporting their needs and self-defined path.
"Because our kids participate in these student-led meetings, it lets them know that they have a sense of agency in their own life," says Dan St. Louis, University Park's principal.
How It's Done
Start Small
After observing how effectively student-led meetings worked for kids with academic and behavioral issues, UPCS is now expanding student-led meetings to reach more students, whether they're thriving or need extra support.
Rather than adopting student-led meetings for every student right away, advises St. Louis, start with kids who want to try them. "If you're going to experiment with a new structure, you don't want your most challenging case to be the first thing that you try," he adds. "You've got to get kids in the beginning who are going to be on board."
Create a Culture of Respect
When your students lead a meeting, they need to feel safe, valued, and in charge. Respect plays an integral part in that. "At the center of any meeting like this is a baseline of respect," says Principal St. Louis. To create a culture of respect, teachers must respect students, faculty should model respect in how they communicate with each other, and the classroom pedagogy has to value everyone's ideas, adds Louis.
Valuing your students' input and showing respect helps them see that they are being taken seriously and are in the driver's seat of their own education. "School is not here to happen to students -- they are an active participant," asserts St. Louis. "They spend six and a half hours a day here. It's their life. We're here to help."
Make Time Within the Schedule
Carving out 30 minutes for all of a student's teachers to meet can be challenging. It's helpful to find a time where most of the core teachers are available, such as during physical education or electives. St. Louis admits that sometimes you'll need extra coverage if you have to pull these teachers out of class.
Help Your Students Prepare for Their Meeting
UPCS middle school students reflect on what they want to discuss and create an agenda beforehand using the My Team Meeting: Preparing to Lead document (PDF). In that document, they're prompted to choose something about which they're proud plus two goals (areas of growth) that they want to work on.
"They're not making up what's going to happen in this meeting on the spot," explains Kaitlin Kelley, a UPCS instructional coach. "That's intimidating. Instead, they've got this structured document that they fill out before the meeting."
Help your students choose a source of pride.
University Park students select something that they're proud to share at their meeting. They can either come up with their own source of pride or refer to a list for a specific assignment, success story, or high-school-ready trait that they possess.
Specific assignment: A literacy essay, science notebook, social studies portfolio item, painting from art class, copy of a book that they're currently enjoying, or any homework or classroom assignment
Specific success story: A story of doing something for school even though they were unhappy or nervous about doing it at first, helping a classmate or teacher, or improving at something
High-school-ready trait that they already possess: Taking initiative, time management, active listening, asking thoughtful questions, being a role model for other students, or avoiding or resolving conflict
Once students decide on their source of pride, they write it down, describe it, and explain why they are proud about it.
Help your students choose a primary and secondary goal.
Students consider two areas of growth where they want to improve. They can come up with their own goals, or choose two from a list of options, such as:
Homework completion
Limiting disruptions in classroom
Asking for help when I don't understand something
Putting less pressure on myself
Finding ways to stay motivated
Once students choose their primary and secondary goals, they respond to the following prompts:
My primary/secondary area of growth is _______.
Describe how things are currently going in this area.
I think I struggle in this area because _______.
I think it's important to grow in this area because _______.
In order to grow in this area, I could (list some things you might try) _______.
In order to help me grow in this area, my parents/teachers could _______.
Students use the filled-out document as their agenda during their student-led meeting.
Use UPCS' Student-Led Meeting Agenda Outline
As their middle school students go through the agenda, parents and teachers get their own Parent/Teacher Agenda (PDF) to follow along, take notes, and add comments. Students follow the below agenda outline during their meeting:
Phase 1: Welcome and Introductions -- Welcome everyone to the meeting and thank them for coming. Do introductions. Make sure everyone learns everyone else's name. Encourage handshakes.
Phase 2: Intentions -- Remind everyone why we are here today by reading the following script:
Phase 3: Agenda Review -- Quickly review the agenda so that everyone knows what to expect.
Phase 4: Discuss Agenda Item 1 (Source of Pride) -- Explain the item, and then ask parents and teachers if they'd like to comment.
Phase 5: Discuss Agenda Item 2 (Primary Area for Growth) -- Explain the item, and then ask parents and teachers if they'd like to suggest more solutions.
Phase 6: Discuss Agenda Item 3 (Secondary Area for Growth) -- Explain the item, and then ask parents and teachers if they'd like to suggest more solutions.
Phase 7: Additional Agenda Items -- Ask the rest of the team if there is anything else they'd like to discuss today. If so, take time to discuss and take notes in the provided space.
Phase 8: Recap -- A teacher will present a review of the meeting and remind the group what the action steps are. The student will write down the plan in a provided space.
Phase 9: Last Words -- Each team member will make one final statement.
Phase 10: Farewell -- Thank the team for coming together to meet today. Please let your parent or guardian know that they have the option to stay and talk more with the teachers, even though it is now time for you, as the student leader, to go back to class. Shake hands and head out.
The Outcome of Alec's Student-Led Meeting
Alec is an eighth-grade student at UPCS. At the end of his most recent student-led meeting, he thanked his faculty support team by saying, "I just want to thank Mr. St. Louis real quick, and all of you for being such good teachers and helping me improve. I think I improved more because I have a personal relationship with all of you."
During the meeting, Alec had shared completing homework as his primary area of growth. To achieve his goal, he'd agreed to go to a specific teacher's class each day after school and work on homework until 3:30 p.m. His teacher agreed to write a note that he could take home to his parents specifying what assignment he worked on and noting that he stayed until 3:30. His parents agreed that they would check in with him, and support him to follow through if they didn't receive a note from his teacher saying that he'd stayed.
"The fact that he has eight, nine, or ten adults at these meetings to get on the same page and say, 'We recognize you're here, we see where you've come from, and we want you to tell us where you want to go" -- is wonderful," says Alec's father Chad.
Have Your Students Reflect After the Meeting
After the meeting, students fill out their reflection of the meeting at the bottom of the Parent/Teacher Agenda document. They respond to these prompts:
Write three words that best describe how you think your team meeting went.
Describe why you chose those three words to describe your meeting.
How are you feeling about your accountability plan? How do you think it's going to help you reach your growth goals? What do you think will be the hardest part about it? What will you do to overcome that part?
If your plan doesn't work out as it was supposed to, what will you do about it?
Help Your Students Prepare for and Lead Their Follow-Up Meeting
A few weeks after the initial student-led meeting, students lead a follow-up meeting to update their support team on their progress, if their plan of action is effective, and if anything can be changed to help them better reach their goals.
When students can address their parents, the administration, and all of their teachers and vocalize their strengths, their challenges, and how they need help, it puts the power into their hands, says St. Louis. "It gives the student ownership over their own life. It shows them that it's okay to ask for help, and it's okay to acknowledge if they're having a hard time," he adds.
Help Your Students to See Themselves as College Ready
Many University Park students are the first in their families to go to college and don't have experience with the college application process. "Sometimes -- because they don't have that experience -- they think it's out of their reach," says Lynnel Reed, a UPCS guidance counselor. "You can talk to a student who has a 4.0, but they still may not imagine themselves on a college campus. PEP meetings are an opportunity for them to get the support they need from us."
PEP meetings allow students to explore their interests, thoughts on college, and life goals as they create a plan for their junior year that will help them be ready for the college application process by their senior year -- and for college life after high school.
"We're not saying plan out your whole life, but where are your strengths, where are your challenges, what are your interests, where do you see yourself?" explains St. Louis. "You don't have to identify a career path right now, but what kinds of things are you interested in, and over the next year, what can we do to help you explore that further?"
Share Your Personal Experiences to Create a Space for Open Communication
When guiding students to explore their college options, University Park faculty share their own experiences as a segue into potential concerns for their students to consider.
When Jocelyn, an eleventh-grade student, remarked that she was interested in the medical field, Principal St. Louis shared that he initially went to college to be a physical therapist. "I got to college and saw that it's all science classes all the time, which I hadn't realized. Do you find yourself in the sciences like that, taking that amount on?"
Reed notes that by sharing personal experiences with your students, you're giving them an opportunity to connect with you on a deeper, human level. "I know the teachers," says Jocelyn, confirming this point. "They care for you as if they're your own family. I feel like that has carried me on since seventh grade. They push me to do better."
Use PEP Meetings to Understand How You Can Best Support Your Students Each Year
Depending on the student, the range of support they need to reach their goals will vary. If they're academically sound, they may need guidance in exploring their interests or researching colleges that would be a good fit for them. If they need more support academically, this may require more help in the classroom or with their college essays. PEP meetings not only help students individually, but this information can be used to support grade levels as a whole.
Reed uses PEP meetings to assess the needs of each incoming eleventh-grade class. "Every class is different," she says. "Every class has their own personality and needs. It helps shape how I will take the rest of their junior year and then build into senior year."
Tip: You can create presentations, bring in speakers, and plan college and career field trips based on the needs and interests of your students.
Help Students See That They Have a Voice and Agency Over Their own Lives
"So often in anything you do in education, in life, students always feel like, 'Adults are talking down to me. Adults are always saying their opinion. I don't have a voice,'" says Reed. Student-led meetings allow them to share their concerns and how they see things, adds Reed.
These meetings help students to realize that they have control over the outcomes in their life, observes St. Louis. "We've got some advice on how to do that, but it has got to be up to you to take action and take control."
Resources
School Snapshot
Grades 7-12 | Worcester, MA
Enrollment
252 | Public, Urban
Per Pupil Expenditures
$13794 District
•

$14518 State
Free / Reduced Lunch
82%
DEMOGRAPHICS:
52% Hispanic
20% Asian
14% White
10% Black
3% Multiracial
1% Native American
Demographic data is from the the 2015-2016 academic year. Fiscal data is from the 2014-2015 academic year.