Place-Based Learning
Place-Based Learning: A Multifaceted Approach
Connecting learning to students' surroundings—the buildings, the landscape—covers content goals and builds community pride.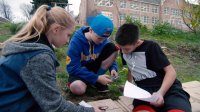 Overview
"I think we don't know ourselves until we know the world around us and how we connect to that world," says Laura Haspela, a Hood River Middle School (HRMS) seventh-grade science teacher.
Place-based learning engages students in their community, including their physical environment, local culture, history, or people. With place-based learning, students get to see the results of their work in their community. They build communication and inquiry skills, learn how to interact with any environment, and gain a better understanding of themselves, as well as their place in the world.
"Finding that inspiration in your community is key in engaging your students and exciting them about learning," says Michael Becker, a Hood River Middle School teacher and the director of the Food and Conservation Science (FACS) program.
How It's Done
Pay attention to local events and places that impact your students.
The Columbia River Gorge is a unique landscape in Hood River, Oregon. "That was an obvious place to start when we were talking about geology," says Haspela.
Aware of the frequent fires that plague their area, Becker taught applied math through fire ecology. And after learning that this year marked Hood River County School District's 150-year anniversary, Sarah Segal, a HRMS sixth-grade literacy, social studies, science, and language arts teacher, created a museum studies enrichment class to celebrate their local history.
Celebrate unsung heroes in your community.
Every community has individuals who leave an impact, says Segal. "Sometimes it's just one moment in time, and their decision changes the course of a school, community, society, or the world."
Segal wanted her students to learn about a local, unsung hero who stood up for Japanese-Americans interned during World War II. Her students discovered Minoru Yasui, a Japanese-American who advocated for his own rights.
"Minoru Yasui went to high school here, which is now Hood River Middle School. Every single day, the kids walk in his steps," explains Segal. "Even though most of my students are not Japanese-American, they all really connect with him standing up against what was wrong, and they learned that even in sixth grade, you can be an activist."
Segal's students researched Yasui's history and listened to local speakers who knew him. They also connected with the Minoru Yasui Tribute Project, which encouraged them to write a letter to President Obama, asking him to recognize Yasui with the Presidential Medal of Freedom.
Segal's class wrote to President Obama and made a video. "We sat down, and we identified our key points. We wrote a five-paragraph essay -- just like we would in every single chapter of our learning -- and we organized the key details. Then we wrote an introduction and a conclusion, and it was a beautiful letter using all of the Common Core organization standards. Today, about four hours ago, President Obama -- the White House -- released an official document naming Minoru Yasui as a recipient of the Presidential Medal of Freedom this year."
Reach out to your community.
For Segal's Unsung Hero Project, she sent out multiple newsletters to the community. "Every community has people who have a great deal of pride in what has happened there," she recalls. "We listened to their stories, and that's when Minoru Yasui started rising; that's when a variety of artifacts from museums started to come forward. It was actually connecting with community members that allowed for this project and this process to take place."
Search the internet for ideas.
Adam Smith, a Hood River sixth-grade math, science, and language arts teacher, was watching a video when a link for "Hello Kitty Goes to Space" popped up. "I clicked it, and it was a story about a seventh-grade student who decided to launch a high-altitude weather balloon into the top of the lower reaches of our atmosphere as an after-school project." Smith decided to adapt that idea for his classroom curriculum.
"I started collaborating with an engineering teacher at our school," he says. "We were able to write a grant to secure funding for all the necessary equipment: a flight computer, the balloon, helium, and a few GoPros so that we could capture footage. Then we started thinking about how can we turn this project of launching a high-altitude weather balloon into a compelling way to learn about watersheds, atmospheric science, engineering design, and scientific inquiry."
The weather balloon project became a collaborative, multiple-subject effort among sixth-grade teachers. "The beauty of the weather balloon project is that it's something captivating that provides many points of entry," explains Smith. For example, a related English language arts project was writing a fictional story about the balloon's journey.
Placed-based learning works in any setting.
"Place can be understanding your transportation system," explains Haspela. "When I used to work at a school in an inner city, place was figuring out how to use the Metro."
Even if you think your location isn't suitable for place-based learning, it can be whatever is outside your window, says Haspela. "Some schools I've worked with had a barren landscape, and when we talked to them about place-based education, they were like, 'What's interesting about going out in our schoolyard? It's just sand. It's bare, and there's tumbleweed everywhere.' Once you start going out, and the kids are looking closely, they find insects, and then insects become their whole curriculum for the fall. It doesn't have to be Tetons or bison."
Here are examples of how other schools came up with innovative ways to use place:
Connect place-based learning curriculum to standards.
In Segal's museum studies class -- where her students are turning an old ticket office at the front of their auditorium into a museum -- these are some of the Common Core standards that she addresses:
Research standards: Her students research five to ten elements -- such as economic, political, societal, and environmental -- that they want to study, and how those elements directly impact Hood River Middle School.
Primary source standards: Her kids learn about the differences between secondary and primary resources, and how to analyze them.
Speech standards: They present to the community, and learn about showing up prepared, dressing appropriately, and how to interact with community members.
Step Up to Writing
Segal supplements the Common Core literacy standards with Step Up to Writing strategies, helping her students learn how to brainstorm, analyze, organize, and synthesize information, as well as how to respond to text, prompts, and questions.
College, Career, and Civic Life (C3) Framework for Social Studies State Standards
The C3 framework for social studies state standards is also something Segal uses in addition to Common Core. "I'm a huge fan of C3," explains Segal. "I understand it is necessary to establish clear skill development for all kids to have a solid foundation, which Common Core does. However, where do they go from there? C3 prepares kids for college, career, and living a civically engaged life."
"Essentially, standards can provide the skills necessary for students to express inspiration," adds Segal. "Whether researching, designing, and creating a historical museum, discovering and promoting national celebration of a local civil rights hero, or discussing the significance of protecting local rivers, ignite thought. Know your standards well, know your place well, and figure out ways to inspire your students."
School Snapshot
Grades 6-8 | Hood River, OR
Enrollment
540 | Public, Rural
Per Pupil Expenditures
$11280 District
•

$10515 State
Free / Reduced Lunch
44%
DEMOGRAPHICS:
66% White
29% Hispanic
2% Asian
1% Black
Data is from the 2014-2015 academic year.