Social & Emotional Learning (SEL)
Creating a Culture of Trust and Safety in Every Class
Visit a school that uses morning meetings to develop kids' social and emotional skills to prep them for learning.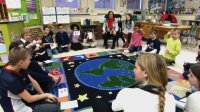 Morning meetings at Symonds Elementary are a school-wide practice that originated from the Responsive Classroom model, which is based on the idea that students' social-emotional growth is just as important as their academic growth. Symonds teachers adapt the Responsive Classroom model of a morning meeting to fit their classroom needs, using it to create a classroom culture where students feel safe, supported, and ready to learn.
Four Key Components of Morning Meetings
Every day at Symonds Elementary starts with morning meetings. Teachers use their first 20–25 minutes of class time to check in with their students, develop their social-emotional skills, and prepare them for the learning ahead.
Greeting: Students and teachers greet and welcome each other.
Sharing: Students share something about themselves or their lives, and the rest of their peers listen, then ask follow-up questions or offer comments.
Activity: The group completes an activity that encourages teamwork while re-emphasizing social or academic skills.
Morning message: Students read a short message from their teacher, usually describing what is to come in the day ahead.
According to Responsive Classroom, the goal of these four components, and the meeting as a whole, is to "set the tone for respectful learning, establish a climate of trust, motivate students to feel significant, create empathy and encourage collaboration, and support social, emotional, and academic learning."
"The reason these... techniques are exceedingly effective for us is because they are followed in every classroom every day," Principal Richard Cate says. "All school staff are involved in morning meetings, so that everyone has a similar baseline for the management of their instruction. Kids become used to being listened to and teachers to 'whole body listening' themselves. This forms the foundation of our respectful community and creates a positive school culture."
Laying the Groundwork for Success
1. Adapt It to Your Classroom: While the RC model lays out a clear structure and order to the components of the morning meeting, Symonds teachers adapt the practice to fit what's best for their classrooms. Third-grade teacher Alli Carr found that she needed to change the morning message to fit the needs of her students and her schedule. She now goes over the calendar during the meeting instead, and puts the message on what she calls the Learning Board so that her students and other staff members know what the objectives are for the day.
Fifth-grade teacher Gretchen Hoefer decided to move the sharing section of her meeting to another time in the day, because she had limited time in the first part of the morning before students left for extracurricular activities like music or art. To make it work, she simply moved that component to a time later in the day when she knew that she would have everyone back in the classroom.
Teachers can also adapt on the fly if they see a need, such as choosing an activity that might calm students down if they come in energized, or choosing an energetic activity if there will be a lot of sitting that day in class.
2. Ensure Structure: But while teachers adapt the meeting to fit their needs, maintaining a structure is important. "The order of the meeting is set by me, but I never change it during the year," Carr says. "I think the structure is super important... it also allows the kids to know what is coming."
3. Set Expectations: Teachers hoping to start using morning meetings in their classroom will need to spend some time setting expectations. "You do a lot of modeling at the beginning of the year," Carr says. "Everything from how to greet each other, how to ask questions and how to respond to questions. Sometimes you feel like you are being a stickler on the little things, but in the long run, it really works." And taking the time to teach students those social-emotional skills, she said, ultimately means that teachers "will have more time to teach as the school year moves forward."
Scaling to Encourage Growth
Once the groundwork is laid, students are comfortably and successfully participating in morning meetings, and the classroom community is established, teachers at Symonds often scale the activities or greetings to be more challenging.
"As the kids get older, you can challenge them a bit more with your expectations," Carr says. Instead of a typical greeting such as, "Good morning Alli, I hope you have a great day," she might ask them to use an adjective other than great or good, or ask them to ask a question as a part of their greeting. Then, to add another challenge, Carr might have the questioner ask a follow-up question once he or she gets a response to the initial greeting question. "Adding these little tweaks can help promote good listening skills," she says.
The morning meeting also scales across grade levels, so that the higher grades are building upon the foundation laid in the lower grades. Fifth-grade teachers like Hoefer work to raise the bar and introduce new greetings and activities that their students haven't yet experienced. Teachers in the higher grades also start incorporating new skills, such as leadership and public speaking, by giving students the opportunity to lead morning meetings either by themselves or with a partner.
The sample greetings and activities below are from fifth-grade teacher Gretchen Hoefner.
Sample Greetings and Activities for Fifth-Grade Students
Simple Good Morning Greeting: One student starts and greets the student next to them by saying, "Good morning, _____." They make eye contact and face each other when doing this. The next student returns the greeting and then greets the person on their other side. You can add a handshake or high five to the simple greeting.
Different Languages Greeting: Same as above, but using a greeting from a different language.
Introduce Your Neighbor: Each student interviews a partner by finding something out about them (favorite book, favorite food, favorite activity) and then sharing that with the rest of the class. "This is my friend _____, and his or her favorite activity is _____."
Ball-Bounce Greeting: Everyone stands in the circle. Using a 10-inch inflated ball, the first student says, "Good morning, _____," to another student and then bounces the ball to them. After they have greeted someone and passed the ball, the student sits down.
The Warm Wind Blows: Each person needs a clearly marked spot in the circle (rug square or chair). One person starts in the middle of the circle and completes the statement, "The warm wind blows for everyone who likes to _____" (play soccer, eat pizza, go skiing, etc.). Everyone who agrees with this statement has to find a new spot in the circle (including the person in the middle). They cannot move to the space right next to where they were standing. Whoever is left without a spot in the outer circle stays in the middle of the circle and is the next one to say, "The warm wind blows for _____."
Group Juggle: The goal of this activity is to pass an item around the circle with as few drops as possible. Start with one ball. I have used four-inch Nerf balls or stuffed Beanie Babies. Set up a passing pattern for the ball/item so that everyone in the group receives it once and then passes it on to someone else. Pass to someone across the circle, not right next to you. One person starts the sequence and will get the ball/item back after everyone has had it. Once you have your order, start at the beginning again and see if you can pass the ball/item around to everyone without dropping it. You can add in more balls/items to increase the challenge of the activity.
Colored Dot Game: Put a colored sticker dot on the forehead of each student. The child does not get to see what color it is. Have four or five different colors of one-inch dots available. Without talking, each student needs to find other students that have the same colored dot.
Coseeki: One student volunteers to be "it" and leaves the circle to stand in the hallway for a minute. Another student is chosen to be the leader. The leader leads other students in different movements (hand clap, foot wiggle, head nod, etc.). The students watch the leader closely and imitate his or her actions. The "it" person comes back into the room and has three chances to guess who the leader is.
Resources
School Snapshot
Enrollment
355 | Public, Suburban
Per Pupil Expenditures
$17132 District
Free / Reduced Lunch
29%
DEMOGRAPHICS:
88% White
5% Asian
3% Hispanic
2% Multiracial
1% Black
0% Pacific Islander
Demographic data is from the 2014-15 academic year. Financial data is from the 2013-14 academic year.