Community Partnerships
Using Community Experts to Extend Teaching
Teachers can't be experts in everything, but they can tap into the knowledge and experience of people in the community.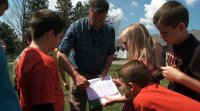 Overview
Collaborate With Locals to Deepen Learning in the Classroom
The saying that "it takes a village to raise a child" rings true for Crellin Elementary. By utilizing local experts, parents, professionals, and community members to help further learning in the classroom, the school is able to provide deeper learning and mastery of subjects while also showing students the relevance of their education.
How It's Done
Opening School Doors to the Community
Learning partners are anyone from the community who come into Crellin Elementary to share something they know with the students. A partner could be anyone from a local professional to a retired community member to a parent. They might visit once or twice, or even weekly, depending on their interest and need.
Crellin first developed the idea of learning partners several years ago when teachers realized that they might need some help with the school's stream cleanup and reclamation project. After students had wondered why the water in the stream behind the school was orange, teachers and administrators learned that the discoloration was due to the area's history as a mining town. So Crellin set about cleaning up the land as a schoolwide project to turn it into an outdoor learning lab. But they came up against some questions along the way.
"I don't have a degree in science," Dana McCauley, Crellin principal, explains. "My teachers aren't experts in science."
This was the point when the school brought in some local professionals and parents as advisors. It was extremely helpful for the teachers, but what they didn't expect was how much their students embraced the learning. McCauley vividly remembers when she and her staff started working with outside experts.
"They began team-teaching with us," she says. "This just took the walls of the school down and opened it up to the community. Then the community became sort of the schoolyard, and everybody could come in."
As Crellin began inviting more and more people into the school, the idea of learning partners was born.
Involving the Community
McCauley suggests these steps for anyone who wants to bring learning partners into the school or classroom:
1. Start Asking for Help
When Crellin first began using learning partners, they did a lot of asking. McCauley talked to community members, parents, people at conferences, and local businesses. She looked for people who could help with certain lessons in which teachers wanted extra support, or subject areas where the kids had a lot of interest.
"If the kids are expressing an interest in the birds that they're seeing in the schoolyard, and the teacher doesn't know anything about them, that's when you go to the bird club," says McCauley. "We're always looking for people who can teach us all something, kids and teachers alike."
McCauley and her teachers still seek to meet specific needs, but they found that once they began opening their doors to the community, more and more people came to those doors offering to help.
2. Realize Everyone Has Something to Offer
Some of the learning partners that come to Crellin are chemists, engineers, or even an occasional rocket scientist, but you don't have to be a professional scientist to help students learn. Crellin teachers and staff believe that everyone has something to teach others, a philosophy that helps make people comfortable approaching the school.
"Some of our dads are construction workers," says McCauley. "When we need a composter built, or we need some kind of work like that done, we can call those dads, and they become the experts."
Past learning partners have included locals who found a beehive on their property and brought it in to show kindergarten students (sans bees, of course); and a stay-at-home mom who is passionate about cooking and healthy eating, and teaches students about culinary arts and creating healthy meals from what grows in the school's garden.
"There's something here for everyone," observes McCauley. "Actually, there's something in every school for everyone. You just have to build those relationships, and you'll learn what somebody has to offer."
3. Make It Fun
Learning partners are not paid for coming to the school and have to make time for it in their schedule. Crellin recognizes this and works hard to make sure that their learning partners feel appreciated and valued by both students and teachers.
"Crellin goes out of the way to make you feel appreciated," says Dave Miller, a Crellin learning partner. "They go out of their way not to waste my time. I don't feel there's one minute of time I spend here or prepping that isn't valuable."
Learning partner Sarah Deacon agrees. "This is the highlight of my week when I get to come here," she says. "I get to share things that I love and I'm really passionate about with an audience that's very appreciative."
Often she can visit only once or twice a week, yet the school works to accommodate her schedule. Making partners feel valued and their team-teaching experience enjoyable keeps them coming back.
Making Teaching a Partnership
Learning partners can lighten a teacher's considerable workload.
"I think a lot of teachers feel like, because they're the teacher, they have to know everything about everything," says second-grade teacher Carrie Hordubay. "That's really a hard burden to bear. I certainly don't know everything."
Fifth-grade teacher Brittany German agrees, saying the pressure can stifle teachers from asking for help.
"I think at first it was like, 'Oh, my goodness, I can't say I don't know this. This is fifth grade material,'" she says. "But after a while, we all realized we just can't be experts at everything, and in order to give the kids what's best, partnering is the way we can do it."
However, while learning partners are helpful in easing a teacher's burden, they aren't meant to take the teacher's place for an hour or two. Instead, the relationship is a partnership. While the partner's job is to bring in the content expertise, the teacher's job is making the curricular ties to what the partner wants to share. This involves planning ahead of time via phone, email, or in person so that the teacher can learn what content will be delivered and work with the partner to make those curricular connections.
Teachers also use their expertise in working with students to shape the delivery in a way that's best suited for the grade level or class. German cites a recent example of a learning partner who wanted to teach her fifth grade class about how different birds' beaks can tell us what they eat and where their habitats are. She was able to fold that into her lesson to connect the experience to learning objectives.
"Say the learning partner is talking and uses a new vocabulary word," says German. "The teacher sees the look on the kids' faces and can say, 'Wait a minute. Let's talk about those vocabulary words.'" In this way, the teacher is paying attention to the big picture, and helping to guide the lesson by filling in the gaps to make sure that the students are learning.
Being Flexible
Working with learning partners means working around their schedule, McCauley says. Whether that means shifting class schedules or moving a morning activity to afternoon, it's absolutely essential to making these partnerships possible.
"We're blessed to have people who want to come in and spend time with us, so we have to be extremely flexible," says McCauley, who sees flexibility as the school's responsibility, "because they are giving us a gift of time, and time is a precious, precious gift, and we value it."
Crellin teachers acknowledge that this kind of flexibility means surrendering a little bit of control -- control of their class schedule, of what the partners are going to say next, of their room, and of their time, since they may often have to return a learning partner's email or a phone call. But while German admits it can be hard to let go of some of that, she doesn't feel like she's giving up anything at all.
"Oh, no, you're not giving up any curriculum time, no, no, no," insists the fifth-grade teacher. "You're not giving up anything -- you're gaining so much. Those kids are learning. They're learning math. They're learning science. They're learning reading. They're going to write and reflect on all those wonderful things that they've learned. They're not missing any instruction. They're actually gaining instruction because all of these things are coming at them at one time, and they're learning it all together."
Other Benefits Beyond Curriculum
While all the teachers at Crellin agree that the learning partners help their students with mastery of and engagement in the content, they also see other benefits:
1. Students See the Relevance of Their Learning
Through the learning partners, students begin to see that what they're learning can influence their future -- the partners model how learning doesn't stop. So a project with a sundial, for example, helps them understand a math class emphasis on protractors and angles. They're grasping the connectedness of the subject areas.
2. Students Develop Self-Confidence
Interacting with adults other than their teachers gives students additional confidence and poise. "I've seen them grow academically, but also as people, with the way they present themselves when they ask questions from adults," German says. She credits the learning partners with helping students practice developing their verbal communication skills.
3. Students Come Into Contact With Role Models
When students see professionals using the skills that they're learning in school and having successful careers with them, it's a powerful motivator and influence. "They see Sarah Deacon as really fantastic," says Hordubay. "They see her as incredibly smart. They like that she is a girl, and a scientist, and she's doing all these things that they like to do at school. They see her doing all these fun things as a profession."
Resources
School Snapshot
Grades PK-5 | Oakland, MD
Enrollment
109 | Public, Rural
Per Pupil Expenditures
$14251 District
Free / Reduced Lunch
57%
DEMOGRAPHICS:
99% White
1% Asian
Demographic data is from the 2014-15 academic year. Fiscal data is from the 2013-14 academic year.