Community Partnerships
Learning on the Go
Frequent, focused field trips that connect to the curriculum show students how learning continues outside of the classroom.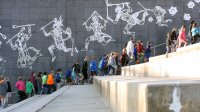 During a typical year at Normal Park Museum Magnet School, every student goes on an average of 16 school trips. From museums to small businesses to the local river, the entire Chattanooga community is a space of learning for Normal Park's students. It seems hard to believe that a school could manage to have students take so many trips in one year. Don't students need to be in the classroom learning?
At Normal Park, students embark on learning expeditions as opposed to field trips. These outings differ from field trips in that they focus very specifically on connecting the trip to the curriculum content that students are learning. Learning expeditions are short, focused trips lasting anywhere from 30 minutes to two hours. A learning expedition may involve looking at only one aspect of a museum's collection, for example, rather than the whole museum and every exhibit. Whether students go to a hairdresser on Main Street to learn about physical and chemical change or to the zoo to learn about the habitats of rain forest animals, these expeditions allow the learning that takes place in the classroom to come to life.
As a museum school, the school made it a priority to partner with local cultural institutions that help them enhance the learning students are doing in school. Normal Park's partners include the Creative Discovery Museum, the Hunter Museum of American Art, the Bessie Smith Cultural Center, the Chattanooga History Center, the Chattanooga Arboretum and Nature Center, the Tennessee Aquarium, and the Chattanooga Zoo.
Beyond partnering with these core institutions, Normal Park teachers and students think of their entire community as offering opportunities for learning. From small enterprises like barbershops and local farmers to big companies like pharmaceutical corporations, local businesses provide chances to plan learning expeditions that directly tie in to and enhance what students are learning.
Next time you're planning a trip, think about turning it into a learning opportunity for your students. It doesn't have to be a full-day excursion to the nearest theme park; short, focused expeditions can be a great way to break outside your classroom walls and get students to see learning everywhere.
Planning Relevant Expeditions
At Normal Park, the school year is divided into four nine-week modules. Each module is organized around a particular theme in social studies or science, and all the learning expeditions relate to that module. Here are some of the details regarding the way the expedition program works:
Advanced planning: Normal Park has two full-time museum liaisons (one for grades K-3 and one for grades 4-8) that work with teachers and museum partners. Prior to the start of each quarter, the liaisons, teachers, and museum partners figure out what learning expeditions make sense for the module.
Number of expeditions: Students go on anywhere from three to seven expeditions per quarter; the number depends on the curriculum connections teachers and liaisons can make with partner institutions and neighborhood businesses.
Logistics: The liaison arranges for buses, permission slips, and chaperones, allowing teachers to more efficiently utilize their time in the classroom.
Expenses: At the start of every school year, students pay a small fee that covers bus expenses.
Length of expeditions: Learning expeditions typically last from 30 minutes to two hours at any particular site. Students may look at one specific exhibit or even one specific painting that relates to the material they are studying.
Consistency: The school has designated days at each cultural institution when they can come in. For the lower grades, all expeditions are on Tuesdays. For the upper grades, it is Thursdays. This makes planning easier for all involved.
Museum Passport: Students also receive a Museum Passport that allows them to visit any of the museums on the weekends and evenings for free.
Resources
School Snapshot
Grades K-8 | Chattanooga, TN
Enrollment
819 | Public, Urban
Per Pupil Expenditures
$9444 School
•

$9444 District
•

$9293 State
Free / Reduced Lunch
27%
DEMOGRAPHICS:
79% White
15% Black
4% Hispanic
2% Asian/Pacific Islander
4% English Language Learners
Data is from the 2011-12 academic year.