Blended Learning
Transitioning to Blended Learning
See what integrating digital content with face-to-face instruction looks like in science and math.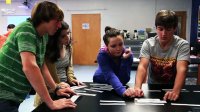 Overview
A Schoolwide Approach
Blended learning is a core part of P.K. Yonge Developmental Research School. Since 2010, the school has taken a schoolwide approach to integrating digital content as part of their instructional framework. Driven by changes already happening at the higher education levels and the need to prepare students for the 21st century workplace, blended learning provides the school with a variety of ways to address student needs, differentiate instruction, and provide teachers with data for instructional decision-making.
P.K. Yonge views blended learning as the combination of digital content and activity with face-to-face content and activity. It looks very different in each class at the school. When a teacher has an activity that works well face-to-face, there isn't any reason to look for a digital replacement. If they can find something digital that is more effective or efficient, then that is implemented. 
P.K. Yonge administrators knew it would be a challenge for their teachers, many of whom were averse to learning new technologies, or didn't have the time to think about how to implement it in their classroom. Blended learning requires both the time and a willingness to learn new things. But the benefits of doing the work seem to far outweigh the challenges. Four years later, P.K. Yonge has almost 20 classes that have transitioned into a blended learning model.
Getting started on using the technology or transitioning curriculum can be intimidating for some teachers. Many teachers at P.K. Yonge recommended finding another teacher to buddy up with through the process, and to help support one another.
How It's Done
Planning a Blended Curriculum
In partnership with the University of Florida, P.K. Yonge designed a summer institute that would give teachers the time and resources to think about blended learning. At the institute, teachers had an opportunity to dig into what blended learning was and how to rebuild their course. They also had the support of graduate students from the University of Florida, who helped them to find and build content. In time, teachers learned the tools and technologies on their own. While most schools won't be able to host a summer program to plan and train teachers, the same planning principles can be used in any school.      
The institute itself was designed in a blended learning format. Teachers did different kinds of activities, sometimes meeting face to face and sometimes online. This provided the chance to experience blended learning in similar ways as their students.
Target One Grade Level at a Time
P.K. Yonge decided it would make sense to start by systematically targeting one entire grade level, rather than a smattering of teachers and students across the many different grades. They chose the ninth grade as a place to start because it is the start of high school, and they could roll up or down into the other grade levels from there.   
Set Goals for Each Class
Interested teachers were asked to fill out a proposal with the ideas they had for transitioning their curriculum. Teachers were asked to think specifically about why they wanted a blended learning environment and what gaps it could address in the classroom.
Some of the needs teachers had were to provide students with differentiated instruction, to find quick and easy ways to do formative assessment, and to give students access to content 24/7.
Teachers were then asked how those gaps could be filled, what units in their curriculum they could possibly see as blended learning units, and to propose a timeline for the project. Finally, teachers were asked to define specific deliverables for their course. All of this helped build the ownership that was necessary for teachers to really want to do this work. 
Keep it Face-to-Face or Make it Digital?
One of the key components of blended learning is to identify what is already working well in your classroom, and what might be better suited as digital content. Teachers need to know that by adding digital content, it doesn't mean throwing out all the direct instruction in the classroom. Keep what is working well in a face-to-face mode, and add what could be more effective in a digital format. 
Deliverables differed from teacher to teacher depending on the content area. Some teachers overhauled an entire unit of their course, others focused on creating assessments for learning and putting those in place, while others took a more general approach and decided to transition all their handouts into a digital format so they were more accessible. 
It is important to start with some deliverables that are manageable, and then keep adding new components over the year, or even next few years.
Plan for Resources and Access
Two crucial things to think about before you start are what kinds of resources your school already has, and what kind of access students will have to the technology necessary for a blended learning course. P.K. Yonge has been committed to providing computers for its students, and has about 800 available on campus. However, while some teachers have 25 computers in their classroom, others only have a few Ipads. The school also extended its library hours, so that students could access it every day before school and until 5:30 pm afterschool.      
Resources
School Snapshot
Grades K-12 | Gainesville, FL
Enrollment
1144 | Public, Urban
Per Pupil Expenditures
Free / Reduced Lunch
24%
DEMOGRAPHICS:
48% White
23% Black
17% Hispanic
9% Multiracial
3% Asian
Data is from the 2013-14 academic year.