Communication Skills
The Benefits of Learning in Two Languages
Native English and Spanish speakers help each other learn in a bilingual program that covers core subjects and electives.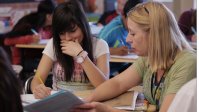 Overview
Bilingual Program: Promoting and Celebrating Diversity
Casey Middle School has a diverse student population, including about 45 percent who are native Spanish speakers, many in the process of learning English. Overall, the school has students from at least 12 language backgrounds, and from mixed economic backgrounds. Casey MS aims to promote and celebrate its diversity while meeting student needs through its core Bilingual Program.
Casey's Bilingual Program provides an opportunity for native English and native Spanish speakers to learn and become fluent in Spanish. It is an option for all students, and about 65 percent participate in the program. Students graduating from the Bilingual Program often enter high school at Spanish Level 4. The native Spanish speakers who participate in the program do better in their core middle school academic classes, and go on to do better in high school by building their Spanish fluency. For all students, learning two languages improves their cognitive processing and analytic abilities.
How It's Done
Program Structure
The Bilingual Program is a voluntary elective program open to any student at Casey Middle School. Students, including native Spanish speakers with limited English proficiency, are not required to take the program. Students who are native Spanish speakers get instruction alongside students who are native English speakers and want to learn Spanish.
The program is structured so that all sixth grade students take their core subjects (language arts, math, science, and social studies) in English and then choose three electives. If they are in the Bilingual Program, two of those electives are Spanish Language Arts and Reading in Spanish. In seventh grade, geography/social studies is taught in Spanish, and Spanish Language Arts is an elective. In eighth grade, Spanish Language Arts is the only elective.
Solidifying Native Language Skills
For native Spanish speakers coming into the Bilingual Program, many are familiar with speaking the language, but most are not fluent in reading or writing Spanish. Casey MS has found that students who learn their native language in depth do much better in their other core subjects, including English, than students who do not take the Bilingual Program. The fluency in Spanish not only helps build confidence for native Spanish speakers, but also allows them to understand how a language works -- the parts of speech, sentence construction -- which helps them learn English. Students not only do better in learning English, they also do better in all their core subjects.
A Mutual Benefit for All Students Skills
One of the benefits of the Bilingual Program is how it is designed to help students work together and tutor one another. The native Spanish speakers often help the native English speakers who want to learn Spanish. In many of the other core subjects, native English speakers help the native Spanish speakers with comprehension in math, English, science, etc. The atmosphere is one of mutual respect and peer support.
Small-Group Work
Small-group work is an essential part of every class at Casey. In the Bilingual Program as well, it serves to have students be more active in their learning and build peer support.
One way that teachers use small groups is by creating mixed-language groups. A group of four typically has two native Spanish and two native English speakers who work on the task at hand. Each student has an assigned role -- one student is timekeeper, another is a note taker, a third might be the facilitator, etc. Those students who may be shy about speaking to the whole class have a structured role in which to participate. These roles rotate from person to person and encourage everyone to participate and work together. Students work more actively and collaboratively, which helps build an atmosphere of peer support and acceptance.
Resources
School Snapshot
Enrollment
583 | Public, Urban
Per Pupil Expenditures
$11336 District
Free / Reduced Lunch
41%
DEMOGRAPHICS:
52% White
40% Hispanic
3% Asian
3% Multiracial
2% Black
Data is from the 2014-15 academic year.