Professional Learning
Pop Quiz: Karen Allen
The actress (and now college professor) whose career was launched as Indiana Jones's old flame shares details of her own school days.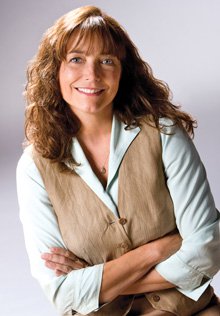 Credit: Karen Allen
She was, and for some always will be, feisty Marion Ravenwood, the fresh-faced sweetheart of Indiana Jones. Karen Allen's award-winning role in 1981's Raiders of the Lost Ark (a role she reprised in the 2008 film Indiana Jones and the Kingdom of the Crystal Skull) wasn't her first film role -- her major movie debut was in National Lampoon's Animal House. But as a standout in the 1981 blockbuster, Allen saw her career take off like a rocket.
In the years between her on-screen dalliances with Indiana Jones, Allen appeared on and off Broadway in productions that included the memorable, and very demanding, Extremities, while she simultaneously kept her varied film career alive and interesting. She had roles in Starman, Scrooged, The Perfect Storm, and Malcolm X. She also appeared in the television movie Challenger as astronaut Christa McAuliffe, and on the series Law & Order.
What film and theater buffs may not know about Allen is that she is an avid knitter whose devotion to the craft led her to start her own knitwear design studio, Karen Allen Fiber Arts, as well as a serious yoga practitioner and instructor. Allen also is passionate about education. She finds time to teach in the arts division at Bard College at Simon's Rock, in Great Barrington, Massachusetts, from which her son, Nicholas, recently graduated.
What is your idea of a perfect teacher?
A great teacher communicates to students her passion for a subject and her passion for life. A sense of humor is very important, as is the ability to encourage students to express their views, ask questions, and actively participate in the learning process.
What was your most memorable school experience?
Winning first prize in the science fair in ninth grade. I was the first female to ever win first prize, and I had never entered a competitive contest of any kind before.
What was the low point of your school career?
In my junior and senior years of high school, I became very restless and didn't feel at all engaged by the teachers. From my perspective at the time, the classrooms were overcrowded, the teachers were overwhelmed, and it felt to me like a negative environment. Somehow, I managed to do reasonably well despite my truancy, but it was a difficult period for me, my parents, and my teachers.
Where did you fit in your schools' social hierarchies?
I always felt like an outsider and never felt that I was a part of a social hierarchy. In high school, I befriended misfits, rebels, and artists.
Did you go to public school, or private school?
I went to seven public schools over the course of 12 years as my family moved around while I was growing up.
What was your favorite subject?
When I was in elementary school, I loved to paint. Later, in the upper grades, I became interested in writing -- poetry, short stories, and journal writing.
If you could change one thing about education in the United States, what would it be?
My son attended a Rudolf Steiner school from kindergarten through eighth grade, and I found the physical environment of the school, the curriculum, the educational philosophy, and the teachers' training to be quite brilliant.
What is impossible to learn in school?
I think some things have to be experienced. It is difficult to learn about the reality of another culture in a classroom. It can be difficult to become fluent in a language without immersion.
What should they be teaching?
I think environmental studies needs to become a much stronger subject in all our schools as we make the effort to heal the planet and to look honestly at the way we have let consumerism destroy vital resources.
What did you learn today?
I learned that if you spill coffee on the keyboard of your laptop and wipe it off quickly enough, it appears to not do any damage.
What did you teach today?
I taught myself to have a bit more patience. I teach myself the power of breath. A few deep breaths can shift my whole perspective.
What is in your dream lunch box?
An arugula, tomato, cucumber, and feta-cheese salad in a pita; hot homemade chicken noodle soup in a Thermos; and my favorite soft drink, a grapefruit Izze.
If you wrote a textbook, what would it be called?
It'd be called Flying by the Seat of Your Pants and Other Approaches to Life.
If the prom were tomorrow, whom would you take?
I love to dance, so I would take the best, most fabulous dancer I know, and one of my oldest and dearest friends, Michael Lally.