Professional Learning
Celebrity Q&A: Danica McKellar on Making Math Fun
The actress is mad about math — and mad that it isn't taught to be enjoyed.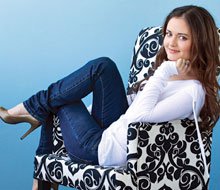 Credit: John Russo Photography
After playing Winnie Cooper on television's The Wonder Years from 1988 to 1993, Danica McKellar studied mathematics at the University of California at Los Angeles, graduating summa cum laude, and coauthored the Chayes-McKellar-Winn theorem, which concerns how temperature affects magnetism.
In 2007, she spread the message that math doesn't have to be painful to students, especially preteen girls, through her friendly introduction to middle school math, Math Doesn't Suck: How to Survive Middle School Math Without Losing Your Mind or Breaking a Nail. She reinforced this message in 2008 with Kiss My Math: Showing Pre-Algebra Who's Boss; both books were New York Times best sellers. McKellar also talks with fans about math topics in a forum on her Web site and is involved in children's charities, including Math-A-Thon, for which students help St. Jude Children's Research Hospital by collecting sponsors and solving math problems.
What is your idea of a perfect teacher?
Someone who finds that careful balance: kind enough to feel like an ally, but tough enough to be respected by teenagers.
What was your most memorable school experience?
In the seventh grade, I was a really stressed-out kid. One day, I totally panicked on a math quiz, and even though I had studied really hard, the quiz was blank when the bell rang. Blank!
I wanted to cry. My teacher, Ms. Jacobson, let me have a few extra minutes during recess to relax and keep working on it. I'll never forget that gift. It was a turning point for me; my grades and confidence began to really improve.
What was the low point of your school career?
In college, I scored an 8 out of 30 on a physics test. Ouch.
Did you go to public school, or private school?
I went back and forth between a private all-girls school and tutoring on the set of my television show.
Where did you fit in your school's social hierarchies?
I was never in the popular group. My friends were the nice girls who tried to be good students. We had fun, too, but hardly ever broke the rules. I think we were afraid of getting in trouble.
What was your favorite subject?
Math, and dance class.
If you could change one thing about education in America, what would it be?
That schools would stop trying to push hard math concepts earlier and earlier -- it just makes math seem that much scarier, and it doesn't have to be.
What is impossible to learn in school?
With good teachers, nothing.
What should they teach that they don't teach now?
More creativity in the classroom -- we need more music and art, and also more silliness and fun in math and science. Why shouldn't all classes feel a little bit like kindergarten?
What did you learn today?
That I don't like Wienerschnitzel at all.
What did you teach today?
I helped my brother with his eleventh-grade chemistry homework.
What is in your dream lunch box?
A peanut-butter-and-banana sandwich on whole-wheat bread. Yum!
If you wrote a textbook, what would it be called?
Um, probably something like Math Doesn't Suck, or maybe Kiss My Math.
If the prom were tomorrow, whom would you take?
My sweetheart, Michael!