6-8 Middle School
PASA: Connecting Middle School Youth to a Community-Built System of After-School Programs
Learn how to build a safe, stimulating, citywide network of after-school enrichment programs.
The Providence After School Alliance is a leader of and role model for cities across the nation in developing citywide campus centers that keep students in stimulating, safe environments with caring adults during the after-school hours.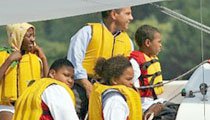 Sailing Along: The PASA sailing team competes in an annual regatta.
Here, we provide material from PASA on how to build a network of after-school programs in your city or community. The material includes:
You can also learn about partnering with PASA at the organization's Web site.
Who This Material Is Best For
These resources are helpful for
school district administrators, civic leaders, teachers.
an intermediary body hired to build an after-school network.
middle schools, but much of it is adaptable to other grade levels.
How to Use This Material
The materials (lessons, videos and tips, articles, and contacts) can be viewed in any order. There is no need to do the lessons sequentially.
The eight lessons and supplementary materials can be downloaded and customized. They describe how your school district or community can emulate PASA's model in your area. They also give administrators and civic leaders a strategy plus tangible resources for building a network of after-school enrichment programs.
What PASA Is About, and Why We Picked It
PASA, located in Providence, Rhode Island, has revolutionized the idea of after-school programs. PASA looked beyond the more common school-based model and replaced it with a community-campus approach made up of different zones -- dubbed AfterZones -- where students coming from nearby schools can attend enriched arts, skills, and sports programs of their choosing.
By building high-quality enrichment programs and linking the public and private sectors through a youth-centered agenda, PASA has successfully attracted and retained one-third of middle school youth in Providence. Read more about the third-party assessment that substantiates PASA's success.
What These Materials Are Designed to Teach
These resources will help the audience develop
relationships between civic leaders, the community, and the school system.
ideas for branding and advertising a program to increase student involvement.
methods for assessing student growth and persistence.
Background Information