Project-Based Learning (PBL)
NatureMapping: Molding Young Scientists During the School Day
Students contribute to the scientific community by observing the life around them.
Editor's Note: Since we first reported this story, NatureMapping moved from the University of Washington to become an independent foundation, which gave the program more freedom to integrate student field research projects and the latest technology for data collection and analyses.  The Adopt-a-Farmer Project has been going strong for more than a decade, and now every grade in the Waterville Elementary School participates. Click here for an interactive map of all NatureMapping projects.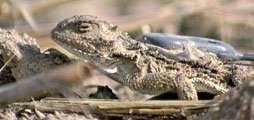 Credit: Edutopia
Keeping Track: A lizard carries a radio transmitter on its back.
NatureMapping is a program that provides workshops and resources to help students collect and analyze scientific field data, inspiring young scientists through class projects and field trips.
Here, we provide material from NatureMapping that includes lesson plans for students, as well as information for administrators creating similar after-school programs. The material includes:
Use the information on our site, or you can learn about partnering with NatureMapping groups in their Teacher's Corner. Groups have formed in Arkansas, California, Idaho, Iowa, Massachusetts, New York, Oregon, Pennsylvania, Virginia, Washington, and Wisconsin.
Who This Material Is Best For
These resources are helpful for
K-8 teachers, especially science educators.
school administrators who want to initiate a similar model.
K-8 students, but much of it is adaptable to other grade levels.
How to Use This Material
The materials (lessons, videos and tips, articles, and contacts) can be viewed in any order. There is no need to do the lessons sequentially. Everything is customizable to your teaching style and academic requirements.
There are seven lessons for teaching students which we suggest you first skim to fully understand the resources needed, expectations, and time commitment. Each lesson takes about three-to-five one-hour class sessions, and each follows the same pattern: The lesson starts with steps for teaching the material and concludes with a practical activity and assessment. Links to other lesson plans and downloadable materials are available throughout the lessons.
What NatureMapping Is About, and Why We Picked It
Started in 1992, NatureMapping grew from the big idea of developing an international biodiversity database for use by scientists and the public. And who better to add to it than students? Across the world, students, teachers, and communities are working together to identify and record species in their areas to contribute to the database, which in turn gives scientists a tool for research and conservation efforts. NatureMapping teaches students about science while making a real contribution to the field.
Through third-party assessment of NatureMapping, there is a verifiable track record of connecting the scientific community with young students and improving student communication and presentation skills. We've found that this model can be adapted for many different age groups and environments, inspiring students with various backgrounds and education levels to learn about nature.
What NatureMapping Is Designed to Teach Students
These resources will help students develop skills in
species identification, taxonomy, and biodiversity through field work.
basic measurement, observation, note taking, mapping, and drawing.
estimations, size-distance relationships, and data analysis.
global-positioning-system tracking and data analysis.