Assessment
NatureMapping Takes Kids — and Technology — Outside and into Active Learning
A data-collection program brings real science to elementary schools — and startles the professionals.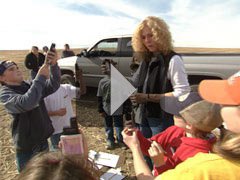 Editor's Note: Since we first reported this story, NatureMapping moved from the University of Washington to become an independent foundation, which gave the program more freedom to integrate student field research projects and the latest technology for data collection and analyses. The Adopt-a-Farmer Project has been going strong for more than a decade, and now every grade in the Waterville Elementary School participates. Click here for an interactive map of all NatureMapping projects.
Ian's work as a scientist began with a contradiction: "The scientists said that you can't find any horny toads here. And I said, 'My dad and I go out and catch them.'" The 13-year-old has now traveled to Idaho and California, where he and three classmates surprised working scientists by describing new discoveries about where the 3-inch-long lizards live and what they eat. "One man said that we presented better than most college students did," says Ian.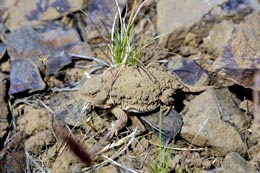 Credit: J.R. Hughson
Now You See Me: In just a few years, students have dramatically increased scientists' understanding of the horny toad.
Ian is one of more than a dozen of my students at Waterville Elementary School, in Waterville, Washington, who have spoken at scientific conferences throughout the country. Their subject: short-horned lizards (Phrynosoma douglasii), also called horny toads, which are native to our rural area and are a part of my students' world. The creatures aren't an obvious vehicle for teaching reading, writing, and arithmetic. But through their work on horny toads as part of a nationwide project called NatureMapping, my students honed those very skills and made a real contribution to science.
Before my fourth-grade class began collecting data in 1997, there were fewer than 100 documented lizard sightings, and most came from projects in the 1930s and '40s. Those records showed that the elusive reptiles existed only on undeveloped land, but this data was wrong, probably because no one had sampled private property. In just a few years, my students have quadrupled the number of documented sightings and shown that the lizards thrive on farmland.
In addition, we have shaken up decades-old assumptions about the animals' habitat and diet. For example, according to scientific literature, the lizards are specially adapted to eat ants, but in our observations they clearly preferred small grasshoppers. Besides, farmers say they see few ants in their fields for the lizards to eat. Those findings were presented at the Wildlife Society Pacific Northwest Regional Meeting, held in March 2000 in Post Falls, Idaho, where a grateful scientific community accepted the students and their data. (See also the presentation by Waterville Elementary School students at the 2003 NatureMapping National Meeting. (46.4 MB))
A Day in the Life of a Horny Toad
Even though our NatureMapping project is designed to fill gaps in existing information about where certain plant and animal species are located (see "How To: Start Counting Critters"), we didn't set out to challenge accepted scientific wisdom. In fact, when NatureMapping first became part of my classroom, it was in a very different form.
Shortly after I began working at Waterville, I was handed a binder of lessons to get me started teaching elementary school science. I quickly realized that the curriculum was boring and shallow. We had to do something different. I signed up for a NatureMapping workshop, and that got me started incorporating the program into my curriculum, beginning with birds, because I knew a lot of bird-watchers. The kids would bring in their own sightings and team with birders by phone to record what species they saw, and where. We would write up the information and email it to Karen Dvornich, the NatureMapping coordinator at the University of Washington, who added it to a growing collection of data about sites where common Washington species are found.
One day, Dvornich visited our classroom, and the students were talking about the short-horned lizards they often saw. Dvornich got excited, because the lizards were considered an at-risk species, so we started making lizards the focus of our work. We've been expanding the program ever since.
At first, I thought the students could collect the information themselves near their homes over the summer. Unfortunately, they would often forget or would look at the wrong time. I've never been shy about asking for help, and I thought that the farmers in our community could make the observations we needed. So, in 1999, I asked my students to make a list of every farmer they knew, and we mailed out invitations to be part of our school project.
For six years now, my students have worked with farmers in the community who agree to collect data about where and when they see the lizards in their fields. We start by imagining a day in the life of a horny toad, and then a year in the life of a horny toad. Next, we work on our reading. When you try to read a field guide, just about every word is hard, and every sentence is difficult. So we put notes in the margins, look up new words, and turn what we read into lists and tables. We compare what we read to what we first imagined about the animals, and, after we collect data, we compare our data to what we read.
Later, students use their experience with the horny toads to practice various kinds of writing: instructions to capture a lizard, a persuasive paragraph on the same topic, a description of horny toads' resemblance to a dirt clod, an explanation of how this appearance benefits the lizards.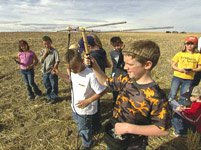 Credit: Edutopia
Outstanding in the Field: Students practice using radio telemetry so they'll be able to track short-horned lizards when the animals burrow underground for the winter.
Trend Spotting
Each student works with one farmer. On a given day, the farmers come to the school with the data they've collected, help students find their fields on a series of maps, and arrange their data in tables. This information tells us where, when, and how many horny toads the farmers see. Then we see whether the data can answer questions: Where are the horny toads the most common? When are the horny toads most likely to be in their fields?
We plot each sighting on a computer map, then put all the associated information on a large spreadsheet. From the spreadsheet, students select data to answer a question they have and use the computer to make a graph of the information. They scrutinize graphs for clarity and then write an analysis of the results, thus demonstrating a state standard -- analyzing data through graphing. This year, for the first time, we were able to overlay aerial photos of the farmers' lands onto the maps. Several farmers worked with students to plot very exact horny toad sightings.
We also decide what information is useful and what isn't, and we design the data sheet that farmers will use to collect data for next year's class. We also talk about the value of collecting the same data year after year to capture trends. NatureMapping also finds researchers who can help us plan studies to answer new questions as we think of them.
Recent grants from the Bill & Melinda Gates Foundation supplied the classroom with computers and computer support so the students can use geographic information systems (GIS) to look at data over time and space, and overlay it onto aerial photographs. But even without these tools, NatureMapping would be possible.
For example, one year, my students wanted to know what happened to our lizards during the winter. We started by consulting our field guide, which says they dig down about 2 inches and partially freeze. The soil-conservation agency, however, says that frost levels in our part of Washington reach an average of 18 inches below the surface. Do the lizards dig deeper than the field guide says? Or do they have something that keeps them warm? Do some end up freezing to death?
Keeping Track:
A lizard carries a radio transmitter on its back.
To answer these questions, the kids made an 18-inch-high pen of chicken wire with a wood floor and sank it into the ground. In October, we placed two lizards inside the pen. They immediately burrowed underground. When spring came, the students carefully dug out the pen with teaspoons. One horny toad had disappeared, but the other was flattened on the floor of the pen, having dug far beyond 2 inches specified in the field guide; it looked like it had tried to go even lower, maybe beneath the frost layer. We learned we should have made the pen higher, and the students gained a better sense of what "average" really means. This year, we're gluing radio transmitters onto a few lizards so we can track where they burrow for the winter. Then we'll see how deep they go and how they survive.
This project continually strengthens ties between the school and the community. I don't really teach my students mapping; the farmers do. For these people who work the land, anything connected with it is interesting; they'll sometimes call one another to find out how many lizards other farmers have seen.
A highlight of the year comes when students present their findings to the farmers, who get to see an analysis of the data they've been collecting in their fields. This involvement makes the students take their work more seriously; they perform tasks considered beyond the abilities of children at their grade level, like mapping data to find trends over time, or going to scientific conferences, which has become so commonplace that we've developed a system to figure out who gets to go. In September, students often walk into the classroom asking, "Where are we going to present this year?" Not a bad way to begin a school term.
Diane Petersen is a teacher at Waterville Elementary School.