Assessment
Educators Take on the Charter-School Challenge
How three high school teachers discovered a new way to teach.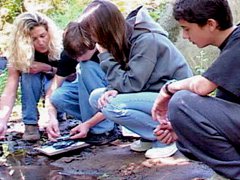 Credit: Edutopia
A New Way to Teach: Begin with the End
Editor's Note: Since this article was published in August 2004, the Marin School of Arts and Technology, one of five Envision Schools, has closed. Four other Envision School campuses continue to operate in the San Francisco Bay Area. Envision Schools cofounder Bob Lenz continues to blog for Edutopia; you may read his post on lessons learned from the Marin School of Arts and Technology.
The scene is familiar: Teachers are sitting around a large table. Some are finishing the last morsels of their lunches. Others are looking over tomorrow's lesson plans or sharing stories about their weekend activities. The principal calls everyone to attention, and the meeting begins.
During the next three hours, there will be plenty of discussion and debate -- typical features of every staff meeting at the Marin School of the Arts and Technology Charter High School (MSAT), a charter high school in Novato, California. But this meeting, held on a brisk January afternoon, is anything but typical. Today, the staff will be challenged to change how they think about teaching. They'll be asked to say good-bye to the long-held practice of working solely within their departments with familiar colleagues (English teachers with English teachers, math teachers with math teachers, and so on) in favor of interdisciplinary projects and activities. They'll be asked to rethink their time-tested curricula in favor of a new way of teaching and learning that takes students outside of the classroom and into the world beyond.
By the end of the sometimes emotionally charged meeting, three teachers accept the challenge and agree to work together on an interdisciplinary project. Over the next six weeks, they will discover the pitfalls and the rewards of project-based learning and absorb valuable lessons that will shape not only their own teaching practices but those of the entire MSAT staff.
What is project-based learning? It is an inquiry method of teaching and learning. For the students, the process starts with a driving question -- one that will guide their learning inside and outside of the classroom. Working individually and in groups, they conduct original research, write papers, create models, give presentations, and engage in other activities to show what they have learned. They share their projects and -- more importantly -- their newfound knowledge with an audience of peers, teachers, family, and friends.
For teachers, project-based learning starts with planning. At MSAT, the planning began with the selection of a theme: the local watershed. From there, teachers determined the scope of the project, selected the standards to address, and identified desired outcomes -- what the students would need to know at the end of the project, and how they would demonstrate this new knowledge. Finally, they devised a driving question: "What is the state of the Indian Valley watershed, and how does it compare to other watersheds in the Bay Area?" which guided all aspects of the project.
The MSAT teachers rally ideas and map the way for change.
Working Together -- Apart
This new semester-long effort changed the structure and flow for classes: Instructors had to make the switch from teaching their own subjects independently to becoming part of a team of teachers whose lessons were tightly integrated to address a common theme. The three educators who decided to work together around this theme were MSAT media instructor Tony Harris; the school's science teacher, Adrianna Smyth; and Justin Wells, its English teacher. Together, this threesome planned how the project would take shape in each of their classes. They discussed ways to assess whether students were connecting the learning across all subject areas, and they created rubrics to guide their students' work.
In science class, Adrianna introduced her class to the various components of a watershed. From there, students designed projects that addressed the aspect of the watershed they found most interesting. A bonus for her students, Adrianna has extensive field experience -- she spent six months in the Congo studying fruit dispersal by birds -- and enjoys the opportunity to take lessons outside of the traditional classroom. Still, she acknowledges that project-based learning requires her to work beyond her typical comfort zone. "I am constantly going back and forth, thinking [science] needs to be more hands on and more authentically project based," she explains, "but also wondering what I will have to give up in terms of the standards." Her passion for science and for protecting the local watershed enables her to work through these questions, though, and to find a balance between hands-on learning and standards-based instruction.
In media class, Tony, who is also a mentor for the MSAT teachers in art and technology, taught students skills such as digital photography, movie production, and multimedia presentations. Using the information gathered during science class, students created computer presentations about watersheds. Small groups also created a news show that was for a broadcast simulation; the students were responsible for everything from conducting interviews and writing scripts to filming and editing.
Students marvel at their creekside discoveries.
Knowledge Merges and Blends
Throughout the six-week project, students made several trips to the watershed. Using probes and handheld computers, they measured pH levels in local water sources, and, back in the classroom, the students analyzed the data they had collected.
On several occasions, the fieldwork analysis was halted so classroom time could be devoted to digging deeper into a subject or concept. For example, when the students were reviewing topographic maps of the area, it became clear that many had never seen this type of map before and were unable to read them. Adrianna immediately taught a lesson about the form and function of topographic maps, explaining what a contour line is and what it represents. With this foundation, the students were then able to continue with their learning.
"The most important role for the teacher in any project-based learning environment is not just to be an active facilitator, but to be the general manager," said Tony. "You have to be in there with the kids every day to some extent, checking in on what they are working on and what they are doing."
As the project progressed, it became clear that students were connecting their lessons in science, English, and media studies. "A lot of the writing skills that I was teaching carried over into their writing for scripts and for their presentations," said Justin.
Tony, too, saw that the students were bringing their new knowledge from science class into his class. In their slide-show presentations, for example, the students integrated maps they studied, data they analyzed, and charts they created. Their scripts for the news broadcasts demonstrated the students' ability to synthesize the information and share it with an audience.
Structured lessons complement hands on field experience.
The Project Comes to an End
There was excitement in the audience as parents, friends, teachers, and classmates found their seats. A group of students stood proudly at the front of the room with a scale model of a section of the local watershed -- including trees, a rock formation, and a waterfall -- as a backdrop. As the lights dimmed, all attention shifted to the presenters, and a student took the microphone and began to share all he had learned about the local watershed. His presentation was followed by those of his fellow researchers, each with new insights and facts to share.
Speaking to the audience that evening MSAT principal Bob Lenz talked about the value of projects and of student presentations: "How the students present is not only a reflection of their own learning; it's also a reflection of our teaching. It raises the stakes in a very powerful way."
Despite the high stakes and the inevitable bumps along the way, the presentations demonstrated the power of the projects to change how students learn and how teachers teach -- and how others can benefit as well: At the conclusion of each researcher's presentation, the audience applauded, acknowledging the students and congratulating the teachers.
"It felt like a celebration," said Justin, a fitting end to all of the hard work.
Roberta Furger is a contributing writer for Edutopia.
Marian Shaffner is a Technology Integration Specialist and an instructor in the Instructional Technologies Department at San Francisco State University. She is also a GLEF featured speaker.